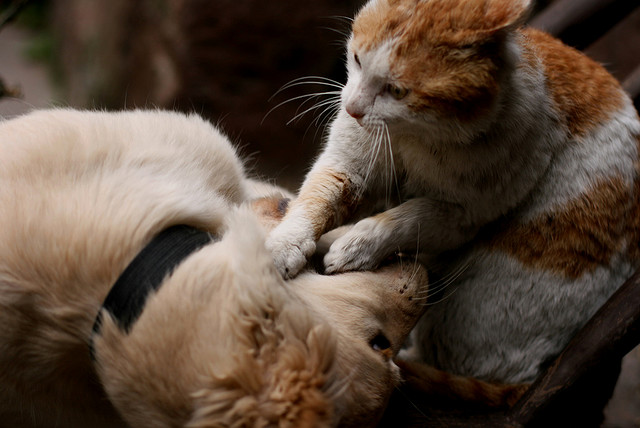 You've done your best to conceal your travel plans from your best friends… but somehow, those furry little creatures always figure out what we're up to. Will you be able to resist the whimpering and the pleading eyes? In case you can't, here's how to travel with your pets.
Iberia is one of the few airlines that permits the transport of live animals aboard its aircraft. Carriers are not obligated to transport them, and if they do so it must be according to strict rules stipulated by IATA (the International Air Transport Association).
Passengers traveling with animals should inform Iberia when reserving their flights, or at the very least 48 hours before departure, to ensure that the animal will be able to travel on the same flight as its owner.
Some pets, particularly dogs and cats, may travel as hand luggage in the cabin if the weight of an individual animal plus its carrier does not exceed eight kilos (17 pounds). Passengers may be accompanied in the cabin by service dogs at no additional cost.
Maximum dimensions for a pet carrier in the cabin are 45 by 35 by 25 centimeters (18 by 14 by 10  inches). All carriers must be able to prevent the animal from being able to escape on its own.
Due to certain particular characteristics, guinea pigs, rodents, and mustelidae (ferrets,  weasels and several related species) at present are not permitted in cabins as per IATA recommendations.
If the animal's allowable weight or its carrier dimensions are exceeded, it must travel as cargo in a more durable carrier.
The pet / carrier are not considered part of the passenger's baggage allowance, whether in the cabin or cargo hold. Here you can check pet fares and conditions of transport.

The maximum number of pets permitted in a given cabin depends on aircraft type.
Before checking pets in, passengers should feed and water them, as this is generally not possible once the flight is underway.
For international flights, it is necessary to comply with the documentation required by each destination country, most commonly a veterinarian's certification that the animal does not suffer from any illness which is contagious  or would prevent it from flying.  It's critical that the owner inform himself/herself well in advance of travel of the destination country's regulations, via either that country's diplomatic representative or the vendor travel agency.
A pet is always charged as excess baggage, even if a passenger carries no other bags.
Any passenger planning to travel with a pet who has any questions may consult Serviberia or the travel agency (online or brick-and-mortar) through which he or she purchased the airplane ticket.
image | picme1983