One of the premier hotel chains in Spain, NH Hotels, has just recently become the newest hospitality partner of  Iberia Plus — which is good news indeed for IbPlus card holders such as me, as I've long enjoyed staying at this chain's cool yet excellent-value properties in several countries. It's good news for you, too, with doubles as low as 44 € at some properties, and a terrific promotion through November 15th (more details below).
NH made its primary mark in Europe's business travel market (in fact, at the moment it's the number-three business-hotel chain on the continent), but its properties also make excellent bases for touring or just hanging out in various great cities (plus there are several resort properties in places like Marbella, the Canary Islands, and Cadiz).  Spain is, of course, where the brand is strongest, with 174 properties (39 of which are all over Madrid), but it also has a strong presence in Italy, Germany, and the Netherlands, as well as in the Americas, with hotels in nine countries. Besides innovation, affordability, and amenities (including free WiFi in all rooms, thank you very much), the chain is known for its environmental consciousness, winning various awards for tourism sustainability.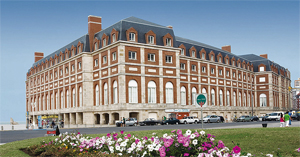 NH's properties are all stylish both inside and out, running the gamut from simpler façades in regular neighborhoods, to dramatic piles in prime urban locations. Several are downright grand and/or historic — the seaside NH Gran Hotel Provincial (left) in Argentina's resort city of Mar de Plata (rooms starting at just US$92), for example, or the even more dramatic NH Grand Hotel Convento di Amalfi, in a cliffside 13th-century monastery on Italy's Amalfi coast (just a wee bit pricier, starting at 374 €). Others are cutting-edge cool, especially the nhow sub-brand: consider the 304-room nhow Berlin (below), perched on the Spree River in exciting Kreuzberg. This avant-garde gem sports not only Jetsons-like décor but some mighty bold architecture—a shiny wedge plunked on top of a more conventional-looking building (with rooms from just 95 €). Meanwhile, the soon-to-open, 270-room nhow Rotterdam is housed in a spectacular highrise designed by one of the most famous architects on the planet, Rem Koolhaas.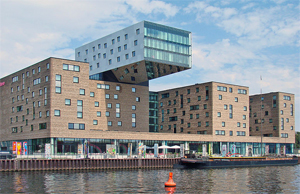 So beyond quality, comfort, value, and the indisputable cool factor, what's in it for you if you choose to park your bags at an NH property? Well, as an Iberia Plus member, you may now earn or book with Avios, of course — and, if you act very soon, there's a limited-time introductory offer that lets you earn double Avios (or, if you're paying in Avios, gets you a 50-percent discount). The offer expires November 15, 2013, so you'll need to act soon. To get more information regarding NH Hotels and Iberia Plus, click here.
images | NH Hoteles, dalbera