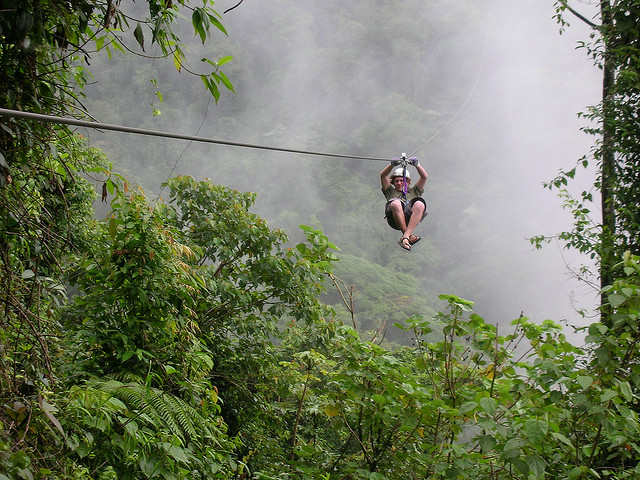 In many years of traveling to and writing about Costa Rica (including, most recently, one of Pauline Frommer's travel guides), I have never failed to be blown away by how it can pack a lifetime's worth of extraordinary experiences into an area smaller than the U.S. state of West Virginia and just 2/3 the size of Scotland. It's these many allures, matched with a stable democracy (and no military!), friendly people (referred to as Ticos), and some mighty canny marketing, that have turned this land in Central America into a powerhouse especially in ecotourism and adventure travel for pretty much any kind of visitor, from energetic youngsters to mellow seniors, even families with babes in arms. A quick tour of the six top reasons Costa Rica should be on the soon side of your bucket list:
Beaches  With coasts on an ocean and a sea, you'll never run out of sand here. The Pacific is known for its wide choice ranging from more developed resort areas like Tamarindo, Flamingo, and Coco, to nearly deserted strands in areas such as Santa Rosa National Park and the Osa Peninsula (some of these beaches, like Santa Teresa [above] have become world-renowned as some of the best spots for surfing). Over on the Caribbean side, I–without exaggeration–swoon over the lush sands of Limón province, in towns like Puerto Viejo, Cahuita, and Manzanillo.  Virtually all of the above also offer amazing snorkeling and diving experiences, as well. Plus in Limón you can dig the Rasta vibe of the English-speaking descendants of Jamaican immigrants and visit with some fascinating indigenous tribes in the nearby hills.  (For more on Pacific beaches, click here.)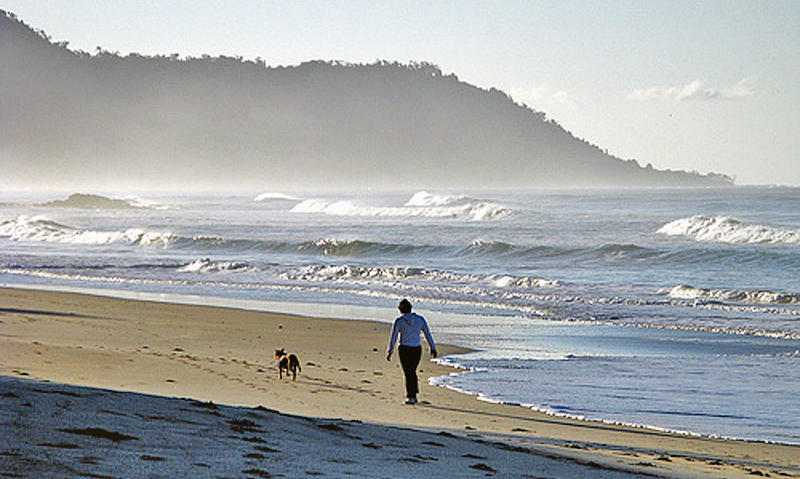 Volcanoes  There are scenic volcanoes scattered across the country. The most famous, Arenal, is not spewing lava at the moment but remains majestic and its surroundings offer the full menu of nature and adventure activities. Right now the most bubbly is Rincón de la Vieja near the northwest Pacific coast, and you can drive right up to two others, Poás and Irazú.
Hot Springs  With all those volcanoes come geothermal springs, and in various parts of the country you'll find "spas" to poach yourself in, from the Orosi Valley near capital San José up to Rincón de la Vieja. But the most elaborate are in Arenal: Las Fuentes, Baldi, Eco Termales, and especially Tabacón, an elaborately landscaped hot-water park you've got to see to believe.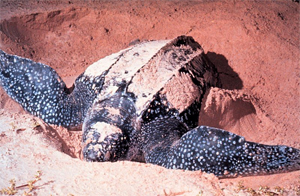 Wildlife/Nature Watching  Eco-opportunities range from tame but still very worthwhile attractions such as the Central Valley's La Paz Waterfall Gardens and Zoo Ave, to vast tracts of deep, secluded rainforest. There are way too many to name, but my favorites include the Monteverde Cloud Forest (home to the elusive quetzal bird), the Osa's remote Corcovado National Park, and Manuel Antonio National Park (famous for its monkeys) on the Central Pacific. In season, humpback whale watching is spectacular along parts of the Pacific, and both coasts offer a chance to witness – under careful supervision of conservationists – enormous sea turtles laying their eggs on beaches, then their babies hatching and heading into the sea for the first time. All year round, the entire country offers some of the world's top birdwatching.
Jungle Lodges  From rustic to luxurious – and some with a twist, such as yoga and wellness – top choices include lodges on the Caribbean coast's Amazon-like Tortuguero National Park and throughout the Osa Peninsula.
Adrenaline-Seeking  Oh, yes. Ziplines (aka canopy tours) were invented in Costa Rica, and they are everywhere. Monteverde boasts some of the zippiest, and Nosara on the Pacific coast has the longest. Whitewater rafting is also huge, with meccas including Central Valley's Pacuare and Reventazón rivers near Turrialba, and way up north on the Peñas Blancas, Toro, and Sarapiquí rivers. Other popular pulse-pounders include waterfall rappeling, canyoning, and caving.
Historic and cultural attractions are fewer and farther between (earthquakes have taken a terrible toll on the country's architectural patrimony), though I would recommend overnighting in San José for its gold and jade museums and a spot of nifty nightlife. As for food, don't expect spicy Latin fare: Costa Rican food is tasty and hearty, but not quite exotic in the way that Mexican or Peruvian cuisine are. Finally, many of the roads outside the Central Valley are, shall we say, not in top condition, but in the larger scheme of things, these are mere quibbles. Plan a trip to Costa Rica, and you'll fall in love with this peace-loving, ecofriendly country just as I did.
Start planning at VisitCostaRica.com – and check out Iberia's flight deals from Spain or the U.K.
Based in Miami, Florida, David Paul Appell is a longtime travel/lifestyle writer/editor who among other things is director of the travel/food social network and group blog Tripatini.com, as well as author of the new guidebook Frommer's Miami and Key West.
images | drjohnrx, clarque, NOAA