Now that summer's well and truly underway, Iberia is back to flying more than 50 routes, and Spain is once again welcoming visitors to its "new normal", among the airline's more noteworthy news is its new weekly route – every Saturday in July and August – between Munich and beautiful Minorca, second largest of the Balearic Islands. It's a paradisiacal destination of beautiful turquoise waters, powdery white beaches, and spectacular seaside sunsets, but also an impressive historical legacy dating back 4,000 years and a menu of delicious and diverse local culinary specialities. In short, a raft of unforgettable experiences on the sunsplashed shores of the Mediterranean Sea.
Though a top-class destination at any time of the year, Minorca shines even more in summer, when the mild temperatures (just 25° Celsius/77° Fahrenheit in July and August) enhance its incredible landscapes and the possibility of practicing water sports, getting to know its archaeological heritage up close or living with natural spaces acquire a higher level; yes, a full-blown oasis. The range of options offered by Menorca (as it's called in Spanish and Catalan) means you'll have no shortage of cool things to experience. But here are four which will especially make you fall in love with this island:
A Paradise of Turquoise Sea
For many, of course, this island's primary draw is its beaches, with fine white sand, clear turquoise waters, and the feel of a true earthly paradise. The coves along the Minorcan coast's 216 kilometres 134 miles) offer notable differences between the south (quieter and more accessible, with charming natural pools) and the north (with a greater number of hidden coves thanks to steeper, more rugged terrain).
If you ask most locals and visitors alike, Cala Macarella (top) along with smaller adjacent Macarelleta (which by the way is clothing optional) would probably be at the top of the list of Minorca's best beaches. That's thanks to its picture-postcard loveliness – the intense blues of the warm water, dotted by pleasure boats, and the pristine sands flanked by luxuriant greenery. Others also praise more rugged Cala Pregonda (above) in the north,  with its distinctive reddish sands (it's also a bit more isolated; you'll need to walk about a half hour from the car park). Other very honourable mentions among dozens more include Cala Morell, surrounded by cliffs; Platja de Son Bou, ideal for families thanks to its broadness and easy accessibility; and the especially pristine Cala Mitjana.
History from the Bronze Age to the (Previous) Brits

Minorca has been inhabited since prehistory, most notably by the Bronze-Age civilisation known as the talayotic (named after its distinctive spiral-shaped stone cones, called talayots). Dating back 3,000 to 4,000 years, it left severl important archaeological sites, such as the Naveta des Tudons, a stone tomb that's a become symbol of the island. It's part of a so-called "Talayotic Route" of monoliths, monuments, and settlements dotting the island.
And since that distant past, due to its strategic maritime location, Minorca continued to be a key point for commerce and culture, from the age of Roman Hispania to the Vandals; the Arabs for almost 400 years; and occupation by the French and British. The Brits ruled here for 71 years in the 18th century leaving a legacy that's seen in the so-called "British Route". This includes buildings such as the Marlborough Fort – also known in Catalan as Es Castell – in Maó (aka Mahón), the Minorcan capital; completed in 1726 and from where you will enjoy magnificent views of the port. Others include Isla del Rey, known as "the Bloody Island", where an old military hospital and the remains of a Paleochristian basilica stand out, and a palace called Gobierno Militar (Military Headquarters), seat of the British governor, with a large porch and a gallery on the first floor that allows access to the various interior rooms. Elsewhere on the island you can see more English vestiges such as the Torre de sa Mesquida, the Torre de Fornells (above) or the Camino d'en Kane.
Minorcan Delights


Minorca and the Balearic Islands in general boast a distinguished culinary history, with outstanding specialities such as sobrasada (a soft, highly savoury, and distinctive cured-pork sausage), buttery Mahón cheese, and flaons pastry. (Plus, here's a fun fact: mayonnaise, invented in Valencia in the 18th century, is said to have gotten its name from Maó when it made its way to France via the French conquerors of the island, as sauce mahonnaise.)
But the island's star dish is without a doubt caldereta de llagosta (lobster stew, above) – caldereta being the traditional clay pot in which it's simmered. Besides plenty of the titular crustacean, it includes various veggies, along with almonds and olive oil to yield a vivid reddish concoction that sings on the palate. One of the top places to sample it – sitting overlooking the water and caressed by the sea breeze – is Fornells, a charming fishing village just half an hour from Maó that's famous for Minorca's best calderetes.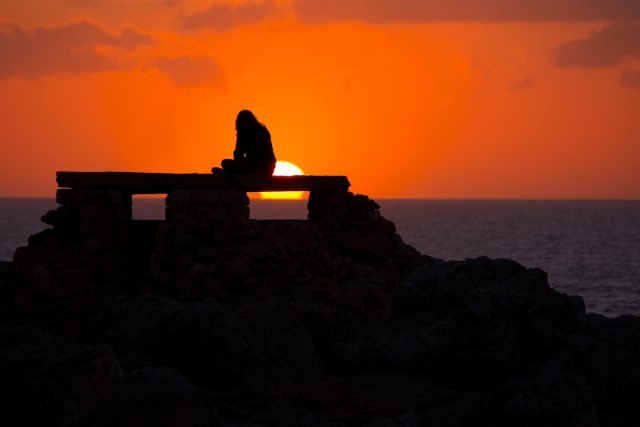 Spain's First Sunsets
Watching the sun go down is a treat from almost any point on the island, but one particularly special local twist is to take it in at one of its five romantic lighthouses, such as the one at Punta Nati (above), the closest to Minorca's other main city, Ciutadella, and surrounded by 19th-century fortifications. Another popular spot is the terrace of Cova d'en Xoroi, a bar/disco built into a cave right over by the sea (you can also hang out on the cliffs above if you don't want to spring for drinks). Wherever you take them in, also remember there's one more thing that's special about Minorcan sunsets: every day, they're the first in Spain, thanks to the fact that this is the country's easternmost territory!
So as you can see, the maxim "good things come in small packages" applies in spades to Minorca, with its abundance of beaches, nature, history, culture, and cuisine. It's about as magical as you can get in the Mediterranean; it's waiting for you this summer; and Iberia is waiting to take you there!