Ireland's fourth largest city (pop. 80,000), located roughly midway along the country's Atlantic coast – and a nearly straight shot of a bit over two hours west of Dublin – boasts a history stretching back nearly a thousand years. But today it's best known for its lively, often boho social, cultural, and music scene (turbo-charged by its youthful university population, a good 20 percent of all Galwegians, as locals are known), as well as its many festivals and events – some 175 in just a regular year.
It's always been a popular destination for visitors – and never more so than after its turn in the limelight in Ed Sheeran's 2017 hit Galway Girl (below). Galway is also known as "Ireland's cultural heart", and as it takes up the annual mantle of European Capital of Culture (together with Rijeka, Croatia), those events and cultural ferment will be hurtling into overdrive. A great year indeed to pay a visit to the "City of the Tribes" (a reference to the 14 great merchant families which ruled the city in the Middle Ages)!
Founded as a fort, Dún Bhun na Gaillimhe, in 1124 at the mouth of the River Gaillimh (the name Gaillimh gradually anglicised to Galway, and today the river more commonly known as the River Corrib), the fishing village that grew around it developed into a medieval walled town of around 3,000, and eventually achieved a measure of prosperity as an entrepôt for European trade. But after the mid-17th century, as a result variously of politics; wars; competition from other port towns; and later on the great potato famine, it got stuck in a long period of relative decline as something of a backwater which had its ups and downs over the centuries but was not really shaken off definitively until the late 1990s, the beginning of the era of Ireland's "Celtic Tiger" economy and its sometimes breathtaking social reforms.
Once you're here, you'll find an extremely atmospheric dose of Galway's earliest years in its lively  Latin Quarter, with cobblestone streets plied by buskers and old houses (some of them original stone) now home to shops, restaurants, cafés, and bars. Among the city centre's most notable remnants from the Middle Ages are St. Nicholas' Collegiate Church, built in 1320 and still Ireland's largest medieval parish church that's regularly used; also don't miss the open-air market outside every Saturday. (Fun Fact No. 1: Christopher Columbus almost certainly worshipped at St. Nick's on a visit in 1477; there were strong trade links with Spain in those days.) A couple of remnants of the old city walls, the Spanish Arch and the Caoċ Arch, can be found along the riverside, and then there's Lynch's Castle on Shop Street, a fortified town house once home to the most powerful of the local medieval ruling families (it's now home to a bank, and the ground floor is open to visitors).
If you're interested enough in the era to venture outside the city, the haunting ruins of 7th-century Kilmacduagh Monastery can be found in the eponymous village 40 minutes south. And about 15 minutes north of the monastery, and a half hour from the city, Ireland's most photographed castle, Dunguaire on the shores of Galway Bay (above), is certainly medieval-feeling, despite technically being built just after that period, in 1520; these days home to a life-and-times museum by day and by night a "medieval banquet" for tourists. A half hour east of the city, the town of Athenry, which preserves many 13th- and 14th-century buildings.
Back in centre city, its hub, several blocks in from the river, is Eyre Square, whose green lawn is offset by a strikingly angular fountain sculpture mimicking the russet sails of the traditional "Galway hooker" fishing boat; one of the streets that run alongside is pedestrianised and lined with shops and cafés. The street life is lively, accentuated by buskers along Shop Street as well as High Street and Quay Street (top) down near the riverfront. These include fiddlers and other traditional musicians, and in addition to that, there are plenty of Irish folk music performances (known as "trad sessions") most every night in Latin Quarter pubs such as The King's Head, housed in an 800-year-old building which among other things was the home of one of medieval Galway's many Lynch family mayors.
Also pop over Salmon Weir Bridge from the Quarter to 1.5-hectare (four-acre) Nun's Island, whose main landmark is the grey-limestone Galway Cathedral (above), which looks pretty old but was actually built in neo-Renaissance style in the mid-1960s with a few modern interior touches such as the stained-glass window depicting the only Irish-American U.S. president, John F. Kennedy, who visited Galway in 1963 and is still honoured throughout Ireland; another interesting one features St. Joseph plying his trade as a carpenter, with the Virgin Mary sweeping the floor. And at the southern tip of the island is the wee Nun's Island Theatre. (Fun fact No. 2: For all the talk about cathedrals and nuns, this island is actually the least religious part of town of all!)
Two other suggestions: check out the Galway City Museum, chronicling this region's past back into prehistory and offering plenty of interesting temporary exhibitions, as well. And shop for a claddagh ring, the traditional token of friendship which originated in in the 18th century in the fishing village of the same name, now part of the city. Sadly, there's not much to see here anymore, as the traditional thatched cottages gave way to charmless council housing nearly a century ago. You can, however, find on Quay Street Thomas Dillon's Claddagh Gold, combining a museum with Ireland's oldest jeweler, established in 1750.
And as in much of Europe, summer is a great time to visit, both in terms of weather and because it's festival season, with the two top events being the Galway Races (this year 27 July-2 August), at one of the country's most prominent horse racecourses, and the International Arts Festival (13-26 July), with a roster of theatre, music, comedy, visual art, dance, and literary events from a torrent of talented artists both from around the corner and across the world.
But as mentioned above, this year is extra special because beginning in February and running through next January, Galway 2020 (above) is poised to put the already packed local culture and festival calendar on steroids, with a very Irish twist, exploring themes of language, landscape, and migration and structured around the ancient Celtic calendar of seasons Imbolc, Bealtaine, Lughnasa, and Samhain. The truly exciting programme runs from the druidic/medieval/classical to mind-blowingly futuristic: check it out here.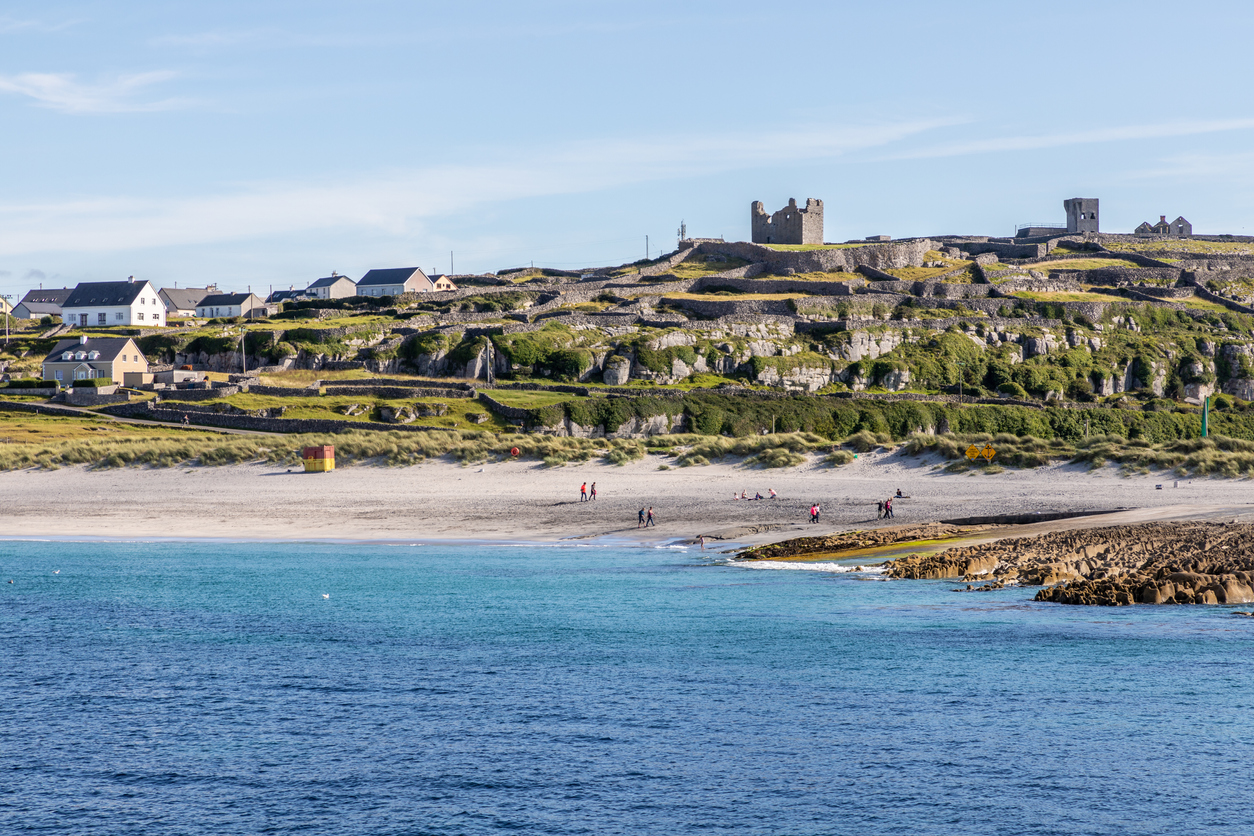 Finally, if you have the time, County Galway beyond the city offers ruggedly beautiful landscapes, especially through the spectacular Connemara Peninsula, with white beaches, cute villages, craggy hills, and bucolic vales. Offshore isles speckle the horizon – the most evocative being the three mythical, karst-limestone Aran Islands, an hour 15 minutes by ferry from a town called Rossaveal (an hour from Galway city) or ten-minute small-plane hop from Connemara Airport in Inverin. Here most of the 1,200 inhabitants live speaking Gaelic as well as English; ancient stone walls lace the low-slung landscapes, ending in sheer sea cliffs; Bronze- and Iron-Age forts like Dún Aengus, Dún Aonghasa, and Dún Dúchathair as well as more recent ones like 14th-century O'Brien's Castle. Accommodation is available in village bed and breakfasts, guesthouses, small hotels, and "glamping" sites. And finally, as long as you're in this part of Ireland, you really should pop 90 minutes down into County Clare to experience the spectacular Cliffs of Moher.
More info: GalwayTourism.ie, GalwayCity.Galway.Ireland.ie.