Spain's Andalusia region is packed with treasures both historic and natural, and its province Cádiz is no exception.  Its two main cities are exquisite – the eponymous provincial capital is Europe's oldest continuously occupied city, and Iberia destination Jérez de la Frontera also throws in its iconic sherry wine, flamenco scene, and horse culture. Beyond those, its historic, picturesque hill towns are a delight to explore, as are its stunning Atlantic beaches such as Tarifa and Bolonia. But if you're a real nature boy (or girl), you're sure to be wowed by the nature side of Cádiz, which you can experience in some two dozen natural reserves and parks. And today we're taking you to one of the biggest and best: Los Alcornocales Natural Park, where as it happens autumn is one of the very best times of year to visit.
Spanning 1,678 square kilometres (648 sq. miles) of native Mediterranean forestland, much of it primeval – and in fact abutting two other nature reserves, Sierra de Grazalema at its northern boundary and Estrecho at its southern end. You can of course visit on your own, but given its sprawl, I'd recommend hiring a guide, and you can do that as well as get oriented, at the visitor centres, one down south in the town of Huerta Grande near Algeciras and the other in Alcalá de los Gazules, less than an hour south of Jérez de la Frontera.
One of the things that makes Los Alcornocales so special is its particular microclimate – particularly breezy, warm, and humid, at times nearly subtropical rather than typically semi-arid Mediterranean. That combination adds up to luxuriant vegetation including Spain's (and one of the world's) largest forest of cork trees (alcornocales), which give the park its name, as well as a profusion of ferns, rhododendrons, bay laurels, oaks, and hollys. Another particularly distinctive feature is deep, narrow river valleys called canutos, harbouring subtropical forests like something out of The Land of the Lost and the only remnants of their type in Europe, with rare ferns and other flora from primordial times. In some areas they're also shrouded in the barbas del Levante ("beards of the east wind"), great fogs that create incredibly magical, mystical landscapes known as "cloud forests".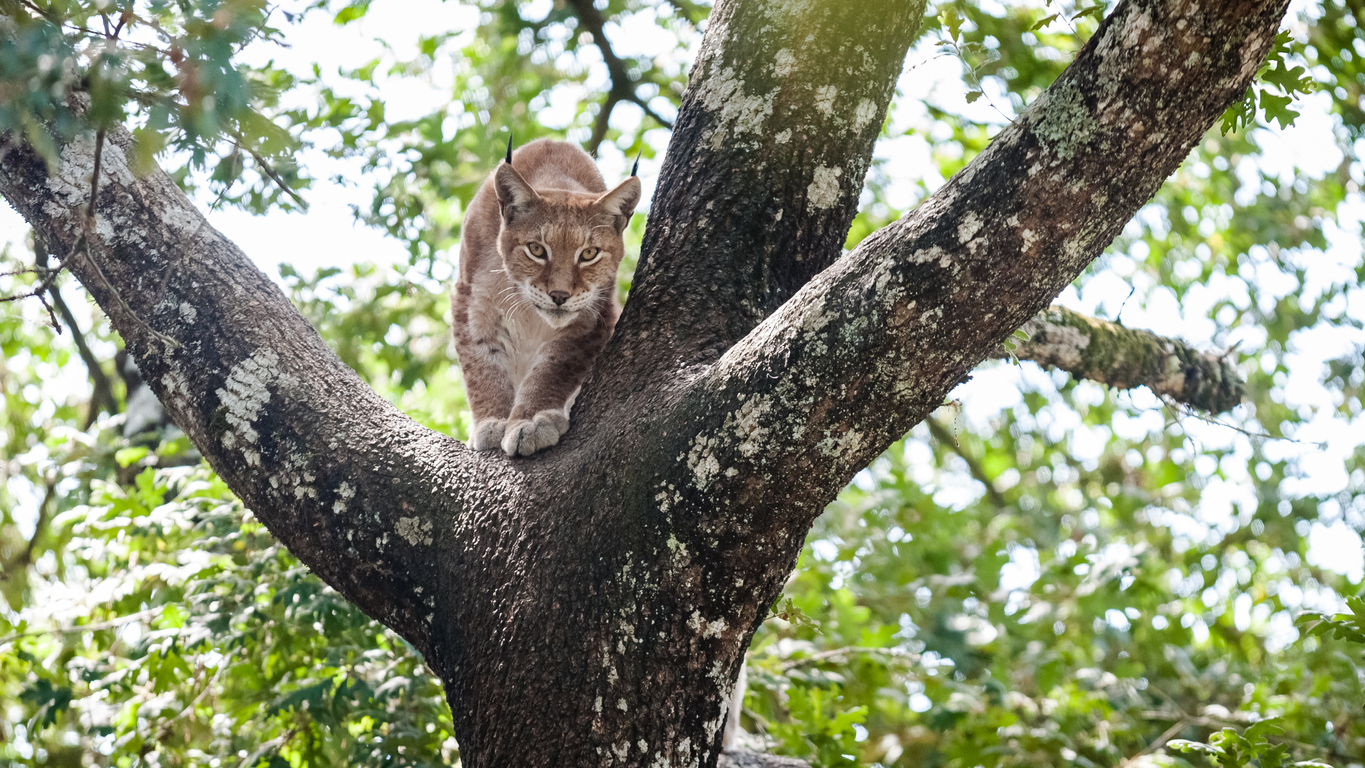 This extraordinary environment is also home to a spectacular profusion of fauna starting with birds such as peregrine falcons, and several species of vultures, eagles, buzzards, owls, and storks. On land, you'll find roe and fallow deer (whose mating season is another reason autumn is perfect for a visit here) along with weasels, wildcats, polecats, and even the rare, endangered Iberian lynx (above). You might even spot playful otters frolicking in the rivers!
Manuel de la Varga
Hiking is of course the main way in which visitors explore this eco-wonderland, with 18 trails leading through these luxuriant woods – and furthermore, autumn is also the season for picking mushrooms, a popular pursuit among locals (though here, unless you know your mycology, you'll definitely need the help of an experienced guide, to sort out the edible from the poisonous). Another great way to explore this eco-wonderland is by bike, with eight routes set up, including Berrueco-Cañillas and Puerto del Bujeo-Hoyo Don Pedro.
And amidst all this wonderful nature you'll also find some manmade standouts. I'm thinking in particular of the Tajo de las Figuras Caves, where you can see Neolithic paintings of birds and other figures. The caves are near the town of Benalup-Casas Viejas, one of several you may come across within the park's boundaries. Others – picturesque and historic – include Arcos de la Frontera (one of the classic whitewashed villages of Andalusia, hugging an impressive cliff), Castellar de la Frontera, and Medina Sidonia.
It all adds up to an extraordinary trove of natural and cultural heritage that magnificently displays another side to Andalusia you may not have suspected.