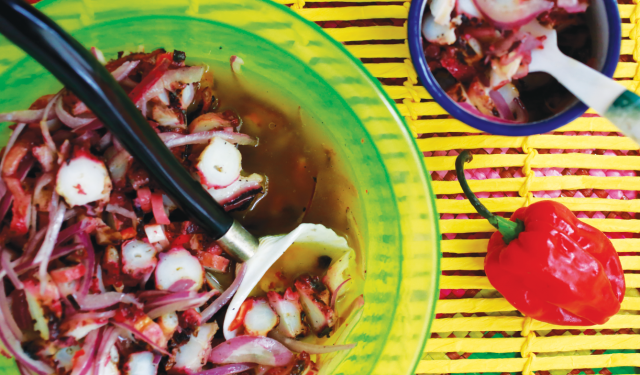 For visitors, Central America's southernmost and second largest country is quite the splendid package of sights, colours, textures, aromas, and feelings – as we've covered amply in this blog. And I should also definitely not leave out flavours, because here in Panama you'll be treated to a tasty menu influenced by the country's various cultural influences – especially Amerindian, Spanish, and African – served up in various ways and venues from humble street stands to world-class restaurants.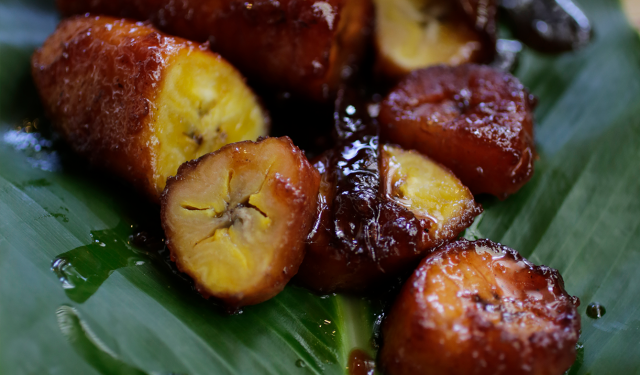 When it comes to the most characteristic Panamanian specialities, three fried treats jump immediately to mind. Patacones – also known as tostones (top) – are slices of green plantain fried to a crunchy texture; also found in other Latin countries throughout the Caribbean, they're usually served alongside main dishes though also as snacks accompanied by dipping sauces. Another even crunchier favourite is chicharrones, fried pork rinds. And most typically Panamanian of all, carimañolas are fried dough made from cassava and stuffed with a mix of ground beef mixed with onion and spices that give them a slightly spicy kick; they're served both for breakfast and as starters to lunch and dinner.
Speaking of plantain, by the way, another popular form is plátanos en tentación (above), fried with butter, sugar, and cinammon until golden brown and caramelised – commonly served as a sweet accompaniment to main dishes.

Moving into mains, the national dish is sancocho (above), Panama's distinctive and hearty version of chicken soup, with the meat accompanied by yams, corn on the cob, cassava, and spices like oregano and cilantro.
Two other popular mains are ropa vieja (literally, "old clothes") – shredded beef in a savoury light tomato sauce with onion and garlic, served with white rice and sometimes patacones – and gallo pinto (aka guacho), pork ribs or tail prepared with red beans, peppers, garlic, and white rice.
Feel like a littly briny dip? Panama's most popular seafood is ceviche (top, though the dish is Peruvian in origin), prepared with white fish like sea bass, shellfish like shrimp or clams, and/or octopus, and accompanied with a frosty pint; for the best experience, try it at one of the seafood restaurants lining the port of Panama City and its causeway, affording marvellous views of the Pacific Ocean. Other typical marine delicacies include corvina al ajillo (sea bass bathed in butter and garlic) and Pacific lobster, often served with coconut rice.
And of course let's not forget pudding. Here in Panama the sweet finale ranges from deliciously simple – fresh cut slices of locally grown fruit like papaya, guava, mango, passionfruit, and pineapple – to more elaborate. Three excellent examples of the latter are cabanga (made from a mix of green papaya, grated coconut, and honey; cocada (biscuits similar to macaroons, made with coconut, honey, and sometimes a touch of cinammon and/or ginger); and bienmesabe ("tastes good to me", above), a gooey and very sweet bit of business concocted with condensed as well as whole milk, cream of rice, egg yolks, and honey.
Quite a fetching menu for a fetching country. Come discover it with Iberia Airlines!