The handsome capital of the long, narrow, fascinating country at the bottom of South America allures visitors with architecture from colonial to cutting edge; interesting museums; delicious dining; captivating culture; and dynamic street life especially in neighborhoods like Bellavista; and dramatic day trips. And speaking of culture, as in many cities across the world, autumn brings a whole new, exciting cultural season to Santiago stages, museums, and other venues. So if you happen to be flying with us here in the next two to three months, here are some highlights, by date:
Now Through 29 September – "Traditional Costumes & Accessories of Latin America" Exhibition
The Museum of American Peoples' Art takes visitors on a fascinating and colourful tour of Chile and a dozen other Spanish-speaking countries across the hemisphere through ceremonial and traditional folk dress with roots dating back to pre-Columbian times.

Now through 6 October – "Hacking Antarctica" Exhibition
One of the city's most prominent museums, the Museum of Contemporary Art, is hosting media artist Alejandra Pérez' "Hackeando Antárctica", a creative, thought-provoking art-meets-science look at the world's least known continent (and keep in mind that Chile reaches far down into the polar region and even has an Antarctic research station).

11-16 September – House of the Spirits Ballet
Perhaps Chile's most reknowned living writer, Isabel Allende, is best known for her novel La Casa de los Espíritus, and the  Municipal Theatre of Santiago is staging a two-act ballet which brings the 45-year saga of the novel's Trueba family to dynamic life.
27 September – Europe in Concert 
It's the final countdown! "Rock the night" at the Movistar Arena with the greatest hits plus newer numbers from these iconic Swedish rockers, who enjoyed international acclaim in the 1980s and have been back in the game since 2003.
28 September – Jesse & Joy in Concert 
Looking to expand your musical horizons a bit? This Latin-Grammy-winning brother-sister duo from Mexico City serve up soulful yet catchy pop and have a great stage presence, which you can catch tonight at the Movistar Arena.
3-27 October – 11th Architecture/Urbanism Biennial
A trio of venues in the Santiago district Barrio Franklin play host to exhibitions exploring this edition's theme: lo común y lo corriente, meaning "everyday" architecture for "regular" people, with a focus on how architecture works for us in our day-to-day lives. Each edition also features a "guest city", and this time out it's São Paulo, Brazil.
13 October – Muse in Concert 
Hailing from England, another Grammy-winning international rock icon makes a stop on their Simulation Theory World Tour, bringing their high-energy alt-rock (sometimes called "space rock") to the more-than-48,000-seat Pista Atlética of Chile's National Stadium.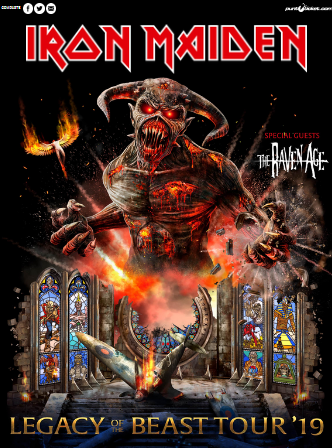 14-15 October – Iron Maiden in Concert 
At the Pista Atlética right on the heels of Muse, grab your number of the beast and get ready for some head banging with one of the classic heavy-metal bands of all time at this stop on their Legacy of the Beast Tour.  Hallowed be thy name!
1-3 November – SuperFest Chile
Held at the Centro Cultural Estación Mapocho, one of Latin America's top pop-culture cons (top), focusses on comics, movies, video games, cosplay, and the artists and collectors. Special international guests this year include US actor/mixed martial artist Jason David Frank (Power Rangers), British actor Finn Jones (Loras Tyrell in Game of Thrones as well as the eponymous lead in Netflix-Marvel's Iron Fist),  and US actor John Wesley Shipp (The Flash).
9 November – Michael Bolton & Air Supply in Concert 
Appearing together for the first time (give you chills, doesn't it? ;)), Grammy-winning U.S. pop-rock balladeer Bolton and Australian soft-rock duo Air Supply make a crowd-pleasing double bill at the Movistar Arena tonight.