Autumn is right around the corner, and what better moment to talk about the northeastern USA's diminutive "Green Mountain State" (its second smallest, in fact – just 260 kilometres/160 miles long and 80km/130 mi. wide)? Tucked away amid the six states of the New England region, Vermont is known for its quirky, individualist, and progressive vibe, and it also packs a lot of appeal into its small package beyond just some of the world's loveliest fall foliage, and it's just a three-hour drive northwest of  Boston (and around five from New York City). Let's have a go, shall we?
Surrounded by rolling hills in the northern centre of the state, its capital Montpelier is really little more than a small town, with barely 8,000 residents (though this swells to 21,000 during work days because of all the government and other jobs within city limits). It's a charmer for sure, with 450 buildings constituting its historic district. You can tour (with a live guide or audio guide) the country's oldest state capitol (above), a Greek-Revival affair dating back to the late 1850s.  It's also well worth a stop next door at the Vermont History Museum on State Street, with 465 square metres (5,000 sq. feet) of exhibits reaching  back to the Algonquin and Mohawk tribes which populated the territory prior to its settlement by French colonists in the 17th century.  And over on Barre Street, also check out the T.W. Wood Gallery, established in the late 19th century and home to a nice permanent collection of Vermont artists as well as temporary exhibitions. Nearby, the cute shops, galleires, and eateries along Main Street and Langdon Street are also a delight.
Other top spots to definitely put on your Vermont itinerary:
This cute, 258-year-old town of 2,300 (above) in the state's southwest – and very near the New York State border – is like something out of a Norman Rockwell painting. And what do you know, this is where the famed artist of Americana himself lived from 1939 till 1953. You can not only visit the Norman Rockwell Studio but stay overnight, as it's now a bed-and-breakfast.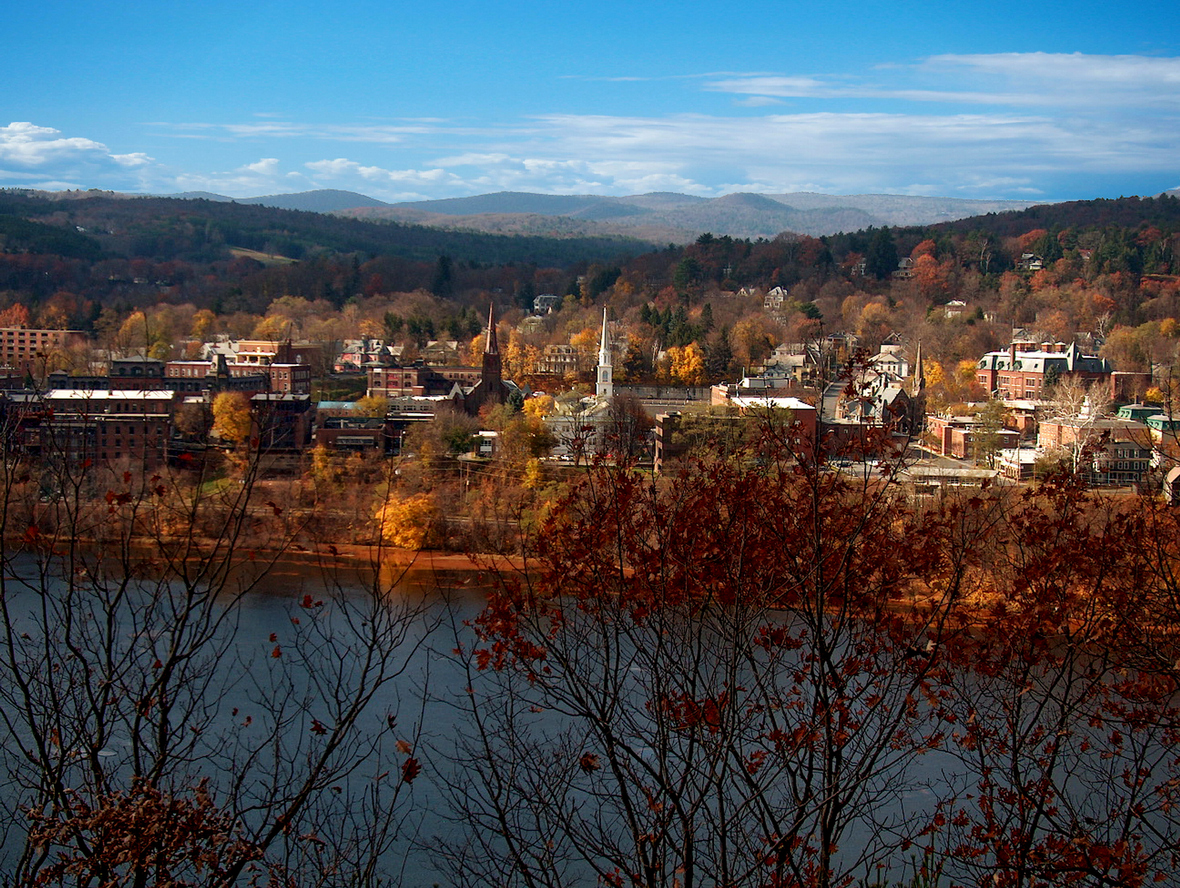 Over in the southeast corner, one of the state's larger (pop. nearly 12,000), artsier, and crunchier communities has a lively arts/cultural scene with galleries, performance venues, and the Brattleboro Museum & Art Center. It's also a place to experience aspects of traditional Vermont culture such as wool spinning (at the Green Mountain Spinnery, a co-op where you can watch workers using vintage equipment to spin yarn) and production of luscious maple sugar (you can find a list of sugaring farms here and elsewhere in the state at VermontMaple.org).
Up in the northwest, on the shore of Lake Champlain, Vermont's largest and most important city (pop. 43,000) is attractive, dynamic, and creative, home to a vibrant arts and music scene (and parenthetically, was also the place where Democratic Presidential candidate Bernie Sanders got his start in politics, serving as mayor from 1981 to 1989). Sites of particular interest include the Church Street Marketplace (a four-block pedestrian mall in the heart of town); the red-clapboard Ethan Allen Homestead (the homestead and museum of the iconic Revolutionary War figure who was one of the founders of Vermont); the 16-year-old ECHO Leahy Center for Lake Champlain (highlighting the lake's history and nature), the University of Vermont's Fleming Museum of Art (world art and anthropology); and the Ahavath Gerim Synagogue (at 134 years one of the USA's oldest). and the Art Deco Flynn Center for the Performing Arts (hosting a variety of performance groups large and small); and the original Ben & Jerry's ice cream factory.
Coming back to this 172-km-long (107-mi.) lake – shared with New York State and the site of much history – there are a number of charming communities besides Burlington lining the Vermont side, such as Shelburne (home to the Vermont Teddy Bear Factory) and Swanton (known for its swan mascots). And it's well worth taking the ferry or bridge across to the quartet of islands above Burlington, fantastic for water sports, biking, and scenic drives. In addition to exploring their bucolic villages, highlights of North Hero, South Hero, Isle La Motte, and Grand Isle include South Hero's Bicentennial Museum, Snow Farm Vineyard/Winery (Vermont's first, since 1996); and Hyde Long Cabin (at 236 years the USA's oldest surviving specimen); St Anne's Shrine on La Motte (site of a French fort and chapel established in 1666); and several state parks/wildlife refuges.
Pretty much in the centre of the state, there's not much to this tiny town (pop. barely 1,000) except for nearby Killington Resort, the largest skiing/winter sport mecca in the eastern USA, centred on the eponymous peak, Vermont's second highest at 1,289m (4,229 ft.) and dubbed "the beast of the East" because it boasts the largest vertical drop in New England; there are also five other peaks here, with 21 lifts and 155 trails for beginners up to experts. There's lots to do in summer as well (above), including the East's largest mountain/dirt bike park; hiking; golf; ATV; kayaking/paddleboarding; rock climbing;  concerts; and an adventure centre with trampolines, mazes, jump tours, rope courses, and more.
In the north centre an hour east of Burlington, established in 1763, this town of 4,300 is set amid lovely valleys and hills (including Vermont's highest peak, Mount Mansfield, at 1,340m/4,395 ft.). These days it's considered another huge skiing/snowboarding/winter sport magnet thanks to the Stowe Mountain Resort, with 116 ski runs and a dozen lifts. In fact, there's a Vermont Ski and Snowboard Museum here, and another unique point of interest is the Trapp Family Lodge, founded in the 1940s by the famous Austrian family of singers fictionalised in The Sound of Music; rebuilt after a fire in 1980, it's a luxurious 93-room ski lodge in Austrian Alpine style that also has extensive cross-country ski trails and has in the past decade also added a beer brewery. In the summertime, like Killington Stowe has great outdoor activities, as well hosting cool festivals and events like the British Invasion car show (this year, 13-15 September).

Vermont's Most Fab Foliage Drive

Also one of New England's loveliest, Route 9's "Molly Stark Byway" along the southern half of the state – just 77 km (48 miles) is a meandering, marvelous mix of chromatically lusicous leafiness and engaging historic villages, towns, and small cities such as Bennington, Brattleboro, Marlboro, Searsburg, Wilmington, and Woodford – all of boasting various museums, monuments, and architecture that is New England to a T. More on Vermont foliage.
More info: VermontVacation.com,