You could be working in a city – familiar or not – or maybe you are planning a weekend break. Either way, if you're a keen skier or snowboarder you might think about adding a few days on the slopes as a way of extending your holiday or business trip.
Here are a dozen resorts within easy reach of airports you wouldn't normally think of as hubs for skiing. It's best to avoid weekends at these places if you can, because the slopes are likely to be at their busiest.
BULGARIA
This is the only major European capital with a big mountain quite close (barely 15 minutes) to the city centre. Now, as a winter resort, Vitosha is quite simple and not highly developed, but it does offer good conditions and great panoramic views over the city. The six pistes measure 13.6 kilometres (8½ miles) in total, and other exciting winter sports you can try here include ice climbing, paragliding, and snow kiting.



CZECH REPUBLIC
Up in the Krkonoše Mountains an hour or so from the Czech capital, Víkovice Aldrov is a small resort at a fairly low altitude (733 metres/2,405 feet), with eight lifts and four kilometres (2½ miles) of piste.  The slopes are lit up for night skiing/snowboarding; there are cross-country trails; and a snowpark called Snowbitch (cute, eh?). A dozen hotels, lodges and family-run pensions offer simple accommodation in the village of Vítkovice v Krkonoších and the surrounding area.



FRANCE
Arriving in the south of France with a pair of skis certainly got me some odd looks at Nice airport, but it only took 90 minutes to be whisked by taxi up into the mountains to the purpose-built resort Isola 2000. From the top piste at 2,610 m (8,563 ft.), when the weather is good you can see all the way to the Mediterranean. The ski area is divided into three sectors with a total of 20 lifts and 42 pistes, of which the majority are graded blue (easy). It's a particularly good destination for families, with a snow park for kids and a big area set aside for après-ski sledding.

Grand Tourmalet (above), two to three hours from the airport (depending on how you go) has two bases: France's second oldest ski resort (second to Chamonix) in the ancient spa town of Barèges and purpose-built La Mongie. The two share 100 km (62 mi.) of piste and 34 lifts, making it the biggest ski area in the French Pyrenees. The terrain is especially well suited to intermediates, with tree-lined slopes set above the town and a skiing treat in the form of the long and scenic Les Bergers piste in La Mongie. The main mountain, the Pic du Midi, is famous for the observatory on its 2,877 m (9,439-ft.) peak (the first use of the mountain for research purposes began in 1774, and in 1963 NASA funded a telescope to take pictures of the moon's surface in preparation for the Apollo missions; Toulouse also features a very interesting space museum).
ITALY

Campo Felice is a small resort that provides the closest skiing, with 30 km (19 mi.) of piste – a third of which can be covered by artificial snow when needed.  The 20 pistes include six black runs, and there is a modern lift system. There's no real ski resort base or village as such, but there are several restaurants on the slopes as well as ski rental shops.

Folgaria lies a 90-minute drive from Venice, but bigger and better-known Cortina d'Ampezzo (above and top) is two hours away. On one occasion some friends and I took a water-taxi from Marco Polo Airport into old Venice for lunch before driving up into the mountains afterwards. It was the perfect antipasto for a week in Italy's most chic winter destination, a town that is dominated by its magnificent green-and-white bell tower and a gorgeous collection of grand 19th-century mansions. The resort's three ski areas are connected by a free ski bus and offer 115 km (71 mi.) of slopes – with 95-percent artificial snow-making coverage when needed.



GREECE
Yes, Greece. And one of the next closest ski resorts to Athens is Mount Parnassos, which also happens to be Greece's largest and most popular ski resort. It is about two hours' drive from the capital and also close to the world-famous archaeological site/museum of Delphi, as well as to thermal springs.  There are 17 lifts, two cafés, a restaurant, ski/snowboard schools, and ski/snowboard equipment rental. It's open for skiing from December until the beginning of May.
MOROCCO
And yes, Morocco. As I reported in a recent post, the resort Oukaïmeden is in the Atlas Mountains, 45 minutes south of Marrakesh, and sits 2,600-3,200 m (8,530-10,499 ft.) up, with six lifts, and there are a few hotels and ski rental facilities nearby. You can also heli-ski in the area, with drops of more than 4000m. Snow conditions are similar to those of the Alps, but the terrain is rockier and treeless.  When you're not skiing, what better than to visit Marrakesh's traditional covered souk, where you can bargain for eclectic goods (best buys: rugs, polished wood, leather, and glass).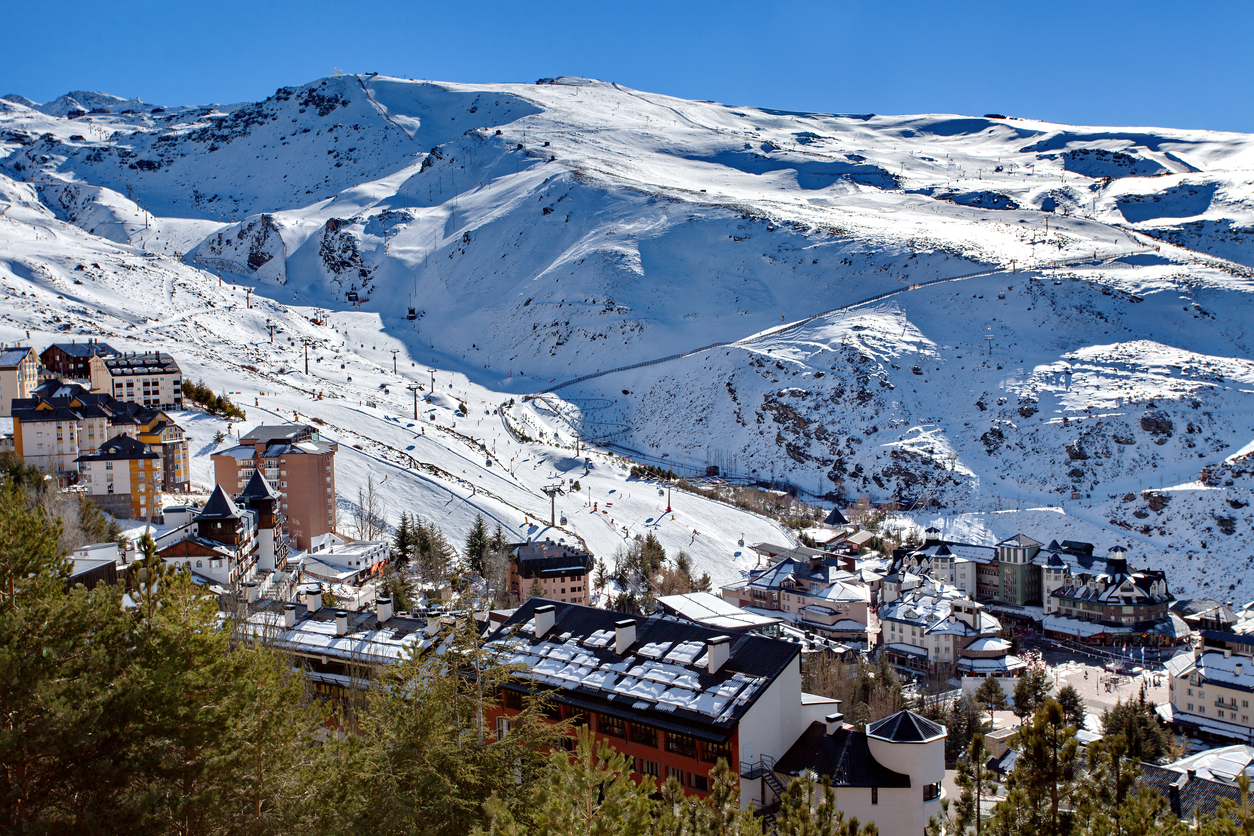 SPAIN
Some of Spain's best skiing is found at La Molina in the Catalan Pyrenees, whose winter-sport history dates back to 1923 when the railway line was built, and in the 1940s Spain's first ski lift and ski school opened here. Today the resort forms part of the Alp 2500 ski area together with neighbouring Masella, with 32 lifts and 141 km (88 mi.) of piste for all standards.  Drive time is about two hours from both Barcelona and Girona.
The ski resort of Sierra Nevada (above) is located just 30 to 40 minutes up a scenic and winding road from the ancient city of Granada, with its Moorish wonders such as the Alhambra. This is actually Spain's best-known resort, set in the mountains of the same name, yet also close enough to the "fleshpots" of Málaga (just over two hours) and Marbella (2½ hours) that you can combine snow and sand on the same day. A ski resort seems unlikely here, but its altitude usually ensures good snow – although not always fine weather. In any case, on a clear day you can see the mountains of Morocco from the top lift.



USA

Big Bear Mountain Resort is more or less two hours from Los Angeles Airport and consists of two bases: Bear Mountain and Snow Summit, both of which come under the umbrella of the much bigger and better-known Mammoth Resort. Big Bear Mountain is home to the largest beginner's area in southern California, as well as having the area's only half-pipe. Snow Summit is a family-friendly destination with 14 chair lifts and 31 trails for all abilities.

Hunter Mountain is located at an altitude of 1600 m (5,249 ft.) in the northern Catskills Mountains, 3½ hours north of John F. Kennedy Airport and the rest of NYC. Four separate mountains open up a wide variety of terrain that caters to skiers and riders of all levels, from beginner slopes to steeps and bumps for experts. Hunter Mountain also boasts the longest and highest zipline in North America.
Felice Hardy is co-editor of the ski information website www.welove2ski.com