Yoga lovers and scientists alike know that this ancient discipline – originated in India hundreds, maybe even thousands of years before our Common Era – is fantastic for decreasing stress and increasing energy. Travel also offers this same potential, and combining the two has become an increasingly popular pursuit in recent years.
The Americas in particular have seen an increasing diverse menu of yoga retreats, from the wilds of Patagonia up to even the wilds of Canada's far north. Two stars of the yoga holiday trend in particular are Costa Rica and Peru.



Yoga in Costa Rica
Last I counted, there are more than 330 yoga options – from programmes and studios to full-blown resorts – in this diminutive country, known for its beaches, ecotourism, and adventure travel. You can do your downward-facing dog and Bharadvaja twist in the jungle, beachside, in the shadow of a volcano, or on the lively streets of San José. A perfect opportunity to combine some healthful stretching with cool stuff like wildlife spotting, river rafting, and – especially at funky beach towns like Santa Teresa – surfing.
Once a quiet, ramshackle fishing village, Santa Teresa – on the coast of the Nicoya Peninsula about four to five hours west of San José by road and just a half hour by air – has become one of Central America's top surfing meccas, and alongside that, now one of its great yoga meccas. And when you're not twisting on a mat or hanging ten, there are also plenty of fabulous eco offerings in easy reach. Perhaps the best example is the Cabo Blanco Absolute Natural Reserve just five kilometres (three miles) away. Established in the early 1960s, Costa Rica's oldest nature reserve covers 12.7 square kilometres (five sq. miles) on land, and another 17.9 (seven sq. mi.) on water. You need to reserve well ahead, as only 40 visitors are allowed in each day, but you'll be treated to some of the country's most pristine beaches as well as a landscape of Pacific lowland tropical forest alive with monkeys, agoutis, peccaries, armadillos, squirrels, sloths, deer, and raccoons (offshore, you can even spot dolphins and orcas), and along with hundreds of species of birds including sea birds such as brown pelicans, fishing eagles, and black-headed gulls.
Meanwhile, beach towns Montezuma and Mal País near Santa Teresa also offer great beaches and funky barefoot scenes, featuring intimate lodgings and small, laid-back restaurants and bars.
And if you can make it down here in late February/early March (dates in 2019 are 28 Feb.-3 Mar.), I'd highly recommend an annual event – now in its ninth year – that has become one of the top musts on the yoga calendar. The Envision Festival is a four-day extravaganza mixing yoga workshops with a lineup of international music headliners, surfing, and other events (and of course parties) in the Pacific-Coast town of Uvita.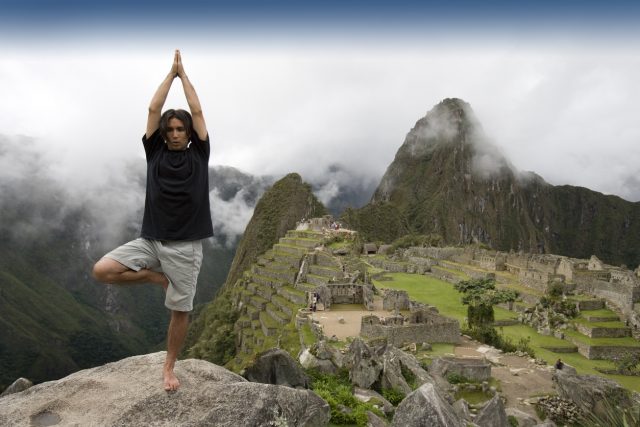 Yoga in Peru



Here, too, you'll find asanas from Pacific beaches to Amazon jungles to the soaring heights of the Andes. And it's in this last spot that you can experience the joys of this ancient practice amid the evocative ancient setting of the verdant Sacred Valley of the Incas north of Cuzco at a choice of dozens of yoga retreats, some in the countryside, others based in charming colonial towns such as Ollantaytambo, Pisac, and Urubamba – also centres of today's traditional Inca culture.
Between sessions, explore magical Inca ruins – yes, the spectacular Machu Picchu is just an hour an a half away, but you'll also find astonishing ancient sites at Huchuy Cusco, Moray, Ollantaytambo, Pisac, and Salinas. Explore Pisac's colourful Sunday crafts market and witness ancient rites such as fortune telling, blowing conch shells, and burning pungent copra incense. Among other activities, you can also take cooking classes; learn Spanish (or even the still widely spoken Incan language Quechua); experience bungee jumping and/or Peru's longest zipline; go hiking and/or mountain biking; and go whitewater rafting on the Urubamba River.