For years now, this blog has gone on at length about the allures of Iberia destination Shanghai, but among its allures are the cool places reachable as day trips or overnighters from this great city. At or near the top of my list would be the city of Hangzhou, just over two hours' drive southwest. On its face this is another one of those enormous, somewhat impersonal modern cities of which China has so many (pop. eight million, metro area a mind-boggling 22 million). But in addition to a number of historic landmarks still hanging on amid the urban sprawl, Hangzhou has a secret weapon that should be on the bucket list of any visitor to this part of China: Xī Hú, aka West Lake. 
Some 20 minutes' drive from downtown, freshwater West Lake is approximately 3.2 kilometres (two miles) from north to south and 2.8 km (1¾ mi.) from east to west, and in 2011 was declared a UNESCO World Heritage Site because as Lonely Planet puts it, this is "the very definition of classical beauty in China". Over the centuries it has influenced the aesthetic of art and gardens not only in this country but throughout East Asia with its willow-lined banks, floating lotuses, bamboo groves, plum blossoms, pagodas, misty hills, gardens, shrines, a pair of pedestrian causeways, and charming lanes painting a picture that anyone with even a passing acquaintance with Chinese art will recognise immediately.
West Lake of course makes a lovely day trip, but I would highly recommend spending a night to get the full effect. On my own night there, a highlight was dinner at one of the lakeside restaurants – the only Westerners surrounded by a hodgepodge of couples, families, and groups of friends and business associates. In the dim light, we struggled to make out the menu, though the smiling server did her best to help. When all was said and done, as usual for us in China, we ended up with far more tasty dishes than we could possibly handle – though we sure had a wonderful time trying!
As I said, devoting an overnight to here at one of the charming small inns is ideal, to experience the magic of sunset over the lake, followed by lakeside lights and dining, and the next morning indulging in a bicycle ride around its serene waters. At one point we parked our electric bikes (my first time on one!) at a small wharf to hop a ferry over to Xiao Ying Zhou, largest of the lake's three islands, created during the Song Dynasty (960–1279). It's built in a wheel-like configuration containing a quartet of lotus ponds, bridges, pavillions, a restaurant, a shop, and Three Pools Mirroring the Moon (above), a trio of little towers in the water, each with five holes that release shafts of candlelight on the night of the mid-autumn festival (so iconic they're pictured on China's currency). A perfect encapsulation of the lovely aesthetic of the larger lake around it.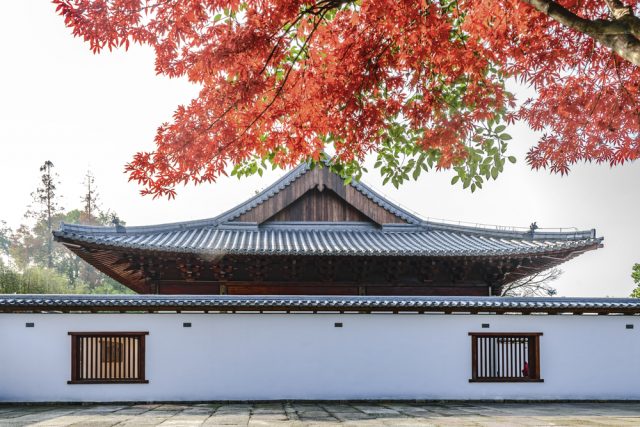 HelloRF Zcool
Other landmarks on and around West Lake include Buddhist temples like Jingci (above) and Lungyin; tombs/memorials such as that of Yue Fei, a Song Dynasty general, and Su Xiaoxiao, a 5th-century courtesan and poet; and the Long Jing green-tea farms in the nearby hills. There's also a West Lake Museum chronicling the lake, its natural history, and its impact on Chinese and Asian culture.
More great excursions from Shanghai:
8 Extraordinary Old 'Water Towns' Near Shanghai
Terrific Green Tea Near Shanghai