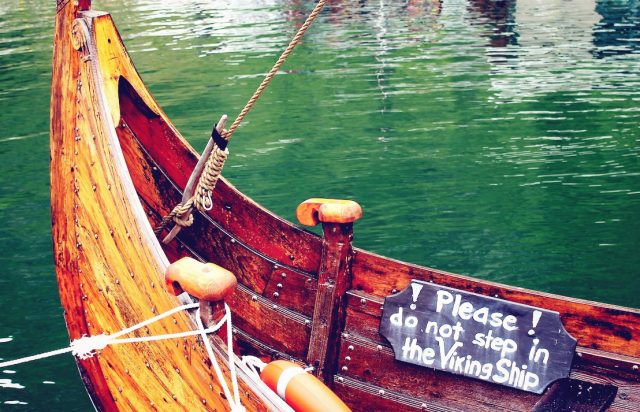 I'm a huge fan of the cable series Vikings, made for the USA-based History Channel (the new episodes of Season 5 start November 28; trailer below), and it inspired me (along with many others) to visit Scandinavia to explore the history of these legendary Norse peoples whose heyday was the 8th to 11th centuries. They were widely and infamously feared for centuries for the ferocity of their raiders, but more recent scholarship has revealed a more multidimensional aspects of Viking culture and society, and Denmark is one of the prime places where these can be explored. So hop aboard Iberia to Copenhagen and explore with me!
One of the primary spots on Denmark's Viking trail is the small city of Roskilde (pop. just over 50,000), about a half hour west of Copenhagen. One of the country's oldest cities, these days best known for its massive music festival (next held 29 June-6 July 2019), a millennium ago it was a primary hub of the Viking world's land and sea trade routes.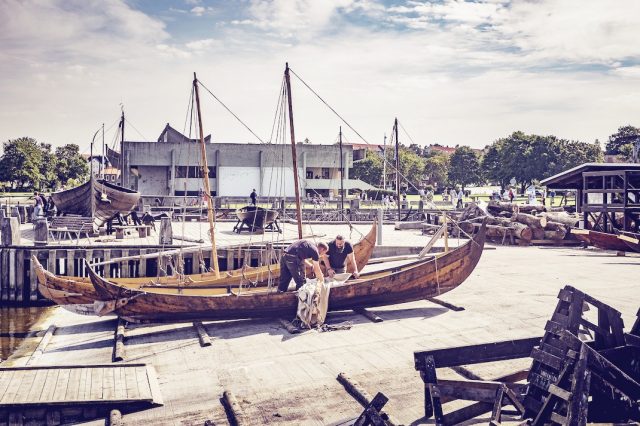 Roskilde boasts two main attractions; its 12th-century Gothic brick cathedral is one, but more relevant to my quest is the Vikingeskibs Museet (Viking Ship Museum) on its harbour, centred around a quintet of 11th-century Viking ships, along with a variety of multimedia exhibits and several reconstructed Viking boats – on one of which you can take a cruise on the nearby fjord from May through September!
A bit farther west from Copenhagen (about an hour 15 minutes), and an hour west of Roskilde, the town of  Slagelse (pop just over 32,000) was next on my list, because of its Trelleborg, an imposing round Viking fortress dating back to the end of the 10th century (not Denmark's only such fortress, but certainly the best preserved). It's now home to a museum as well as reconstructed structures such as an impressive longhouse, and in summertime visitors can also enjoy a cool Viking market set up on its grounds.
https://youtu.be/b8sP7k0QWxM
Lastly, I end up at Denmark's oldest still existing town of all, Ribe (pop. 8,100), on mainland Denmark's North Sea coast just over two hours west of Slagelse and three from Copenhagen, and whose main stars for visitors besides its charming, cobbled mediaeval quarter are like Roskilde's its cathedral and Viking museum. Our Lady Maria Cathedral actually dates back to the Viking age, finished in the mid-13th century, and its Denmark's oldest Romanesque church, though its architecture reflects myriad styles added over the centuries. The Museet Ribe Vikinger is located where the old port, and is especially notable for its recreated Viking marketplace circa 800 AD and a small Viking ship. Continue the theme in an especially interactive way at the Ribe VikingCenter (above), an outdoor "living history" village which besides its usual activities hosts a big International Viking Market the first week of each May
Other worthwhile spots I didn't get to on this trip include Jelling (a bit over an hour north of Ribe, a UNESCO World Heritage Site with a large stone ship, burial mounds, rune stones, and a Viking church), Lindholm Høje (settlement ruins and burial site outside the mainland city of Aalborg); and the Ladby ship and museum an hour west of Slagelse).
Amidst all this, I'd like also to mention one local mealtime lifesaver: Denmark's dark, delicious, and healthy rugbrød (rye bread). But it's not like the rye you may be familiar with; chewy rugbrød often has no caraway seeds but is packed with lots of other tasty stuff – not just cracked rye but also with other grains and seeds. Based on sourdough, it's eaten at all times of day – at breakfast with cheese; at lunch open-faced with butter, sausages, boiled eggs, liverwurst, and other accompaniments (making for meal that's delightfully cheap, too); and on the table at dinnertime as well. Lækker!
Longhouses, longships, fortresses, and rye – oh, my! Ragnar, Lagertha, Floki, Ivar the Boneless and the rest of the gang would be right at home…
More info: VisitDenmark.com.