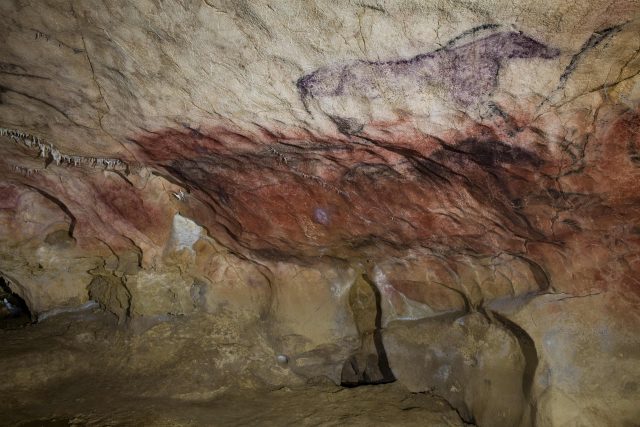 North Spain's verdant Asturias region is having quite a run of anniversaries in 2018, most notably of the epic Battle of Covadonga, which in 918 launched the forging of modern Spain. And to those it behooves me to add yet another – the most recent, yet relating to the most ancient: it marks 50 years since the discovery of one of this country's most amazing prehistoric cave complexes: Tito Bustillo.

Similar to Altamira Cave in neighbouring Santander, as well as Lascaux in southern France, Tito Bustillo Cave is a dramatic network that's become reknowned for the quality and quantity of its prehistoric art, created more than 10,000 years ago – a mix of animals, humans, and geometric symbols. Right alongside, the interactive, multimedia Tito Bustillo Centre of Cave Art, founded seven years ago to put all these marvelous images in context for visitors. The whole thing is located a two-hour drive from Gijón and hour 25 minutes from Asturias' capital Oviedo.
This underground network was discovered in April 1968 by a group of spelunkers exploring the Ardines Massif, a karst system around the lovely coastal city of Ribadesella, and named after one of these spelunkers, killed in a mountaineering accident shortly after this discovery. Word of the sheer quality and fine state of conservation of these hundreds of images quickly spread across Spain, Europe, and the world, culminating in their designation as a UNESCO World Heritage Site in 2008 (together with Altamira and other rock art of Asturias), even as additional underground discoveries continued to be made.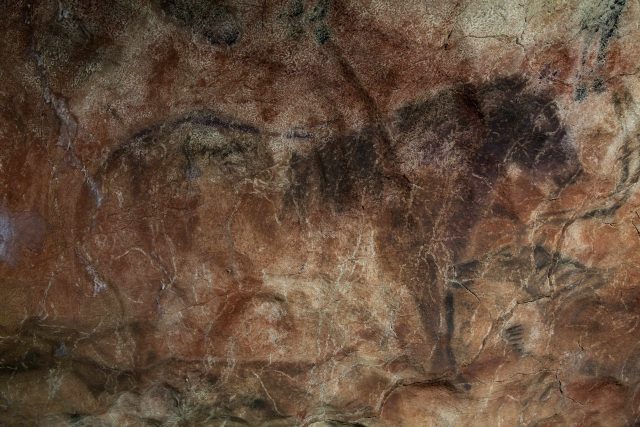 The cave-art centre revolves around a passageway whose sections light up as visitors pass through, punctuated by interactive displays explaining the details of what they're seeing and the techniques with which they were created. Due to the need to preserve the artworks, as well as the inaccessibility of many of them, visitors may access only the Panel Principal, the caves' main chambre. But what's presented here is astonishing enough: nearly a hundred paleolithic depictions created in two stages thousands of years apart – predominantly dozens of deer, reindeer, goats, horses, and bisons, many accompanied by geometric symbols. The vast majority are rendered in reddish hues, mixed with blacks and violets, and some are enormous, more than two metres (6½ feet) long.
Other areas of the cave currently closed to the public are recreated at the centre, including:
The Anthropomorphic Gallery, centred around a pair of human figures rendered in red, located in a nearly inaccessible part of the caves and their oldest artwork, dated back more than 40,000 years.
The Gallery of the Horses, with six equine figures, along with that of a bear and an auroch, the ancestor of today's bisons and cattle. Projections on the rock walls help visitors make out these finely rendered engravings.
The Chambre of the Vulvas holds some of Europe's  very rare paleolithic representations of female human sexual organs. They're evocative and symbolic – one is even rendered within the profile of a woman.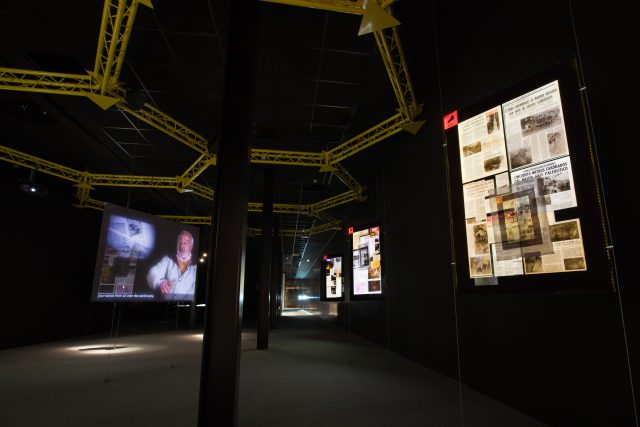 The 6,500 square m (69,965 sq. ft) of the centre's space culminates in a permanent exhibition (above) which includes media accounts of the discovery; audiovisual testimony from the discoverers; various other aspects of mountaineering and spelunking; and replicas in stone and bone of artifacts found in the caves, relating to fishing, hunting, personal ornamentation, and other aspects of paleolithic daily life.
Here, too, you'll find an imposing scale model of the karst massif in which the cave is located, punctuated with locations and photos of the main artwork; a series of interactive touch screens to test your newly acquired knowledge; and a large electronic mural recreating the sights, sounds, and experiences surrounding the art's creation. Furthermore, between June and October this year, the centre will mark the half-century anniversary of the momentous discovery with a special exhibition of original artifacts from the caves.
Asturias is also home to several other remarkable caves with prehistoric art, such as El Pindal and La Peña de Candamo in the centre of the region (and both a short drive from of Oviedo/Gijón), as well as east of Tito Bustillo, Llonín (about and hour) and La Covaciella (40 minutes). But it's this one, Tito Bustillo, which remains the "big kahuna" of them all, and truly a unique bucket-lister for any visitor to Spain.
More info in English can be found at TurismoAsturias.com, CentroTitoBustillo.com.