photos | Luca Parisse
If you've ever braved the crowds and craned your neck up at the ceiling and walls of the Vatican's Sistine Chapel, you've been privileged to lay eyes on perhaps the most epic, prestigious commission ever received by any artist in history, executed under Pope Julius II between 1508 and 1512. Centred around The Last Judgment and the The Creation of Adam – images from which most of us have seen hundreds if not thousands of times over the course of our lives – the chapel also includes the work of illustrious names such as Sandro Botticelli, Domenico Ghirlandaio, Pietro Perugino, and Raphael.  
But now, as if the High Renaissance original weren't already spectacular enough, the increasingly media-savvy folks in the capital of Roman Catholicism have ramped it up even a few notches more, by approving and abetting an eye-popping multimedia show – directed by Marco Balich (a veteran of the opening- and closeing-ceremony extravaganzas at various Olympics), scored by Sting, and its English version narrated by Susan Sarandon – that debuted in March at Rome's Auditorium Conciliazione.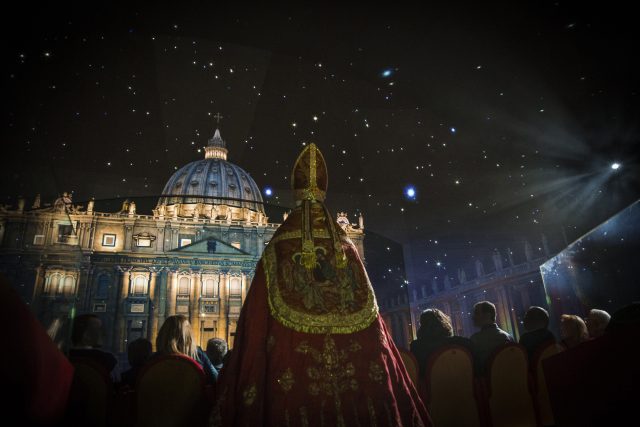 For 60 riveting minutes, Giudizio Universale: Michelangelo and the Secrets of the Sistine Chapel takes the audience on a lavish, "artainment" tour de force not just covering Buonarroti's career and masterpieces but of many other aspects of the Vatican museum collections and the institution of the papal enclave, incorporating live actors, dancers, musicians, acrobats, laser lights, and more. A little Cirque du Soleil, a little Star Wars, and a who lot of slickly, sumptuously presented art and history
No closing date has been announced, but the show is expected to run at least a year. And if you care about the sumptuous classical artistic heritage of Europe and the world, it behooves you to make this event high on your list of upcoming travel priorities this coming summer through spring 2019. Tickets prices start at 26 euros (ages 14-25 26.20, ages 5-13 13.12).
More info: GiudizioUniversale.com.