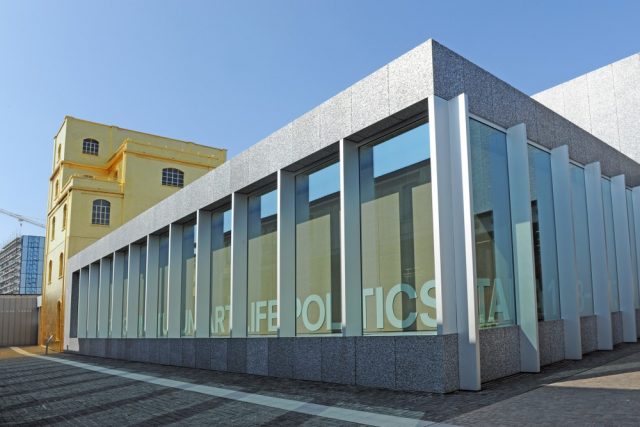 Italy's business capital can certainly boast its fair share of innovative modern architecture, cuisine, and of course fashion, but when it comes to other culture and especially museums, much of this tends to be fairly hidebound and traditional – and on top of that, when it comes to modern art in Milan, there's been precious little beyond a handful of private galleries.
The legendary Prada haute couture house changed that in 1993 when it opened the private Fondazione Prada in 1993. A pair of blocky buildings wrapped in gold and silver foil (below) in the posh Porta Romana district, 20 minutes or so south of the Duomo cathedral by taxi or bus, just last month, the FP marked its 25th anniversary by inaugurating a new eight-storey tower (top) designed by the firm of Dutch starchitect Rem Koolhaas.
Angular and white, these eight storeys add plenty of space for permanent collection stars like American sculptor Robert Gober, French-born Abstract Expressionist Louise Bourgeois, and German sculptor/photographer Thomas Demand, whose 2006 Processo Grottesco here is an astonishing, surreal recreation of a cave on the island of Majorca.
There are also a number of compelling rotating exhibitions such as Roma 1950-1965, (through 27 May) exploring the ferment of the post-World-War-II art scene, and Torbjørn Rødland: The Touch That Made You (through 20 August), exploring this groundbreaking Norwegian's early-21st-century photography and videography. The latest and and largest blockbuster, through 25 June, is Post Zang Tumb Tuuum. Art Life Politics: Italia 1918-1943, focussing on Italian avant-garde art between World Wars I and II, and how it came to collude with Benito Mussolini's fascist movement (especially and sadly relevant these days, notes the museum, given the current resurgence of neofascism in Italy).
Fondazione Prada
Apart from the art, film buffs will enjoy the museum's Bar Luce, designed by acclaimed director Wes Anderson (The Royal Tenenbaums, Moonrise Kingdom, The Grand Budapest Hotel) in the style of a classic Milanese café of the 20th century and including elements from the city's iconic Belle-Èpoque shopping mall Galleria Vittorio Emmanuele.
Speaking of film, there's also an actual cinema with at least ten screening a week, a mix of  classics, experimental works, first releases, blockbusters, avant-garde features, TV productions, and rare and restored films.  And of course you'll want to save time for another bar on the roof – or maybe just a visit up here to get an eyeful of the Duomo, the Galleria, and the rest of the Milan skyline from the observation deck – another work of art in and of itself!