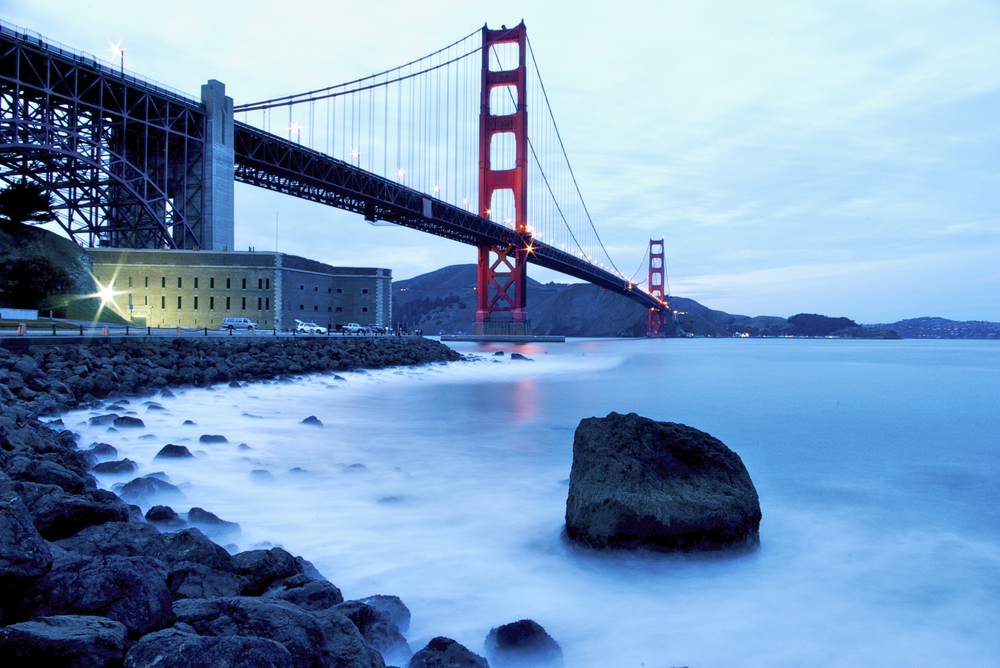 There are excellent reasons Northern California's "City by the Bay" is one of America's most storied cities (if far from its most typical). Born as a colonial Spanish mission and fort on the tip of a peninsula, San Francisco was transformed by the gold rush of the 19th century; spectacularly destroyed by the Great Earthquake in the early 20th; home of the 1960s "Summer of Love"; and in the 21st, once again reinvented as the pre-eminent world capital of high tech. This is an entertaining drama queen indeed, and one of this country's most fun and fascinating cities to explore. 

San Francisco Attractions
Wow, where do I start? There are several very good options, but why not where it all began – coincidentally in 1776, the year the thirteen English colonies on the other side of the continent declared independence from the mother country. Though now a park spectacularly sited by the bay, back when, the Presidio (top) was the fort established by Spanish explorers, and after the city was won in the Mexican-American War was continued  as a base by U.S. military until 1994 till it passed to the National Park Service. Its oldest extant structure, Fort Point, dates back to 1861, and there is a very good visitors' centre telling the story over the centuries.
The Presidio now forms part of Golden Gate Park, whose long main section is actually a few blocks south, a positively delightful mix of greenery, gardens, wooded areas, lakes, and cultural institutions such as San Fran's oldest museum, the De Young, a superb collection of American art going back to the Spanish colonial period, as well as treasures from Asia, Oceania, and pre-Columbian Mexico. Other park highlights include a gorgeous Japanese Tea Garden, the San Francisco Botanical Garden, the Victorian-era Conservatory of Flowers, and the California Academy of Sciences, with its aquarium, planetarium, and natural-history museum.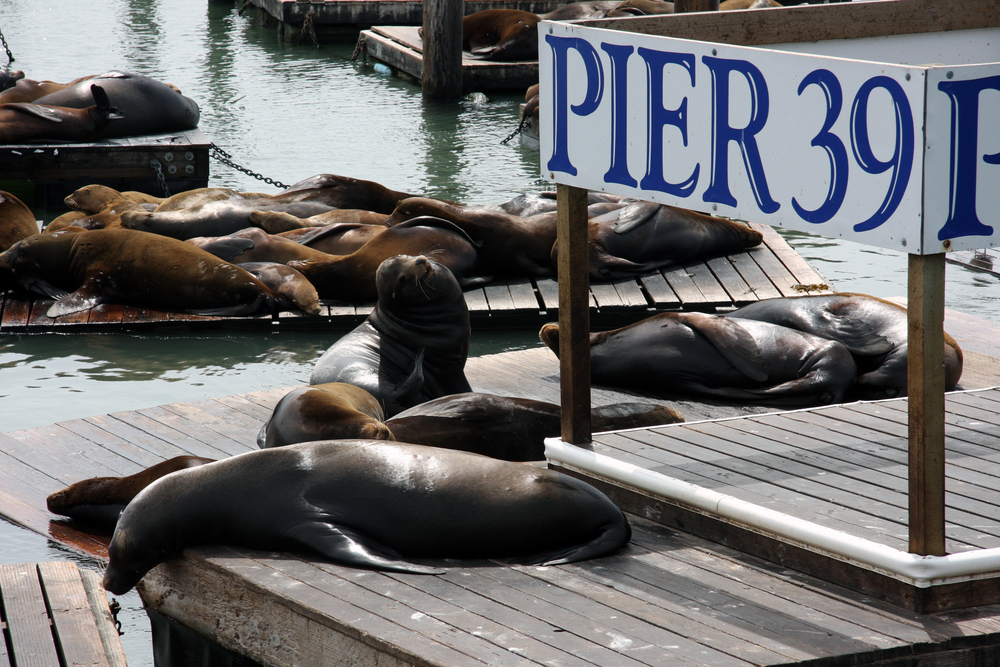 Wharf Speed
San Francisco's single most popular visitor allure, however, is hands-down Fisherman's Wharf, at the peninsula's northeast corner. A bit of a touristy, carnival atmosphere, for sure – but undeniably fun, and just as undeniably a must for first-timers to the city. A central feature here is Pier 39, with buskers, myriad shops (don't miss the original Ghirardelli Chocolate shop/café!) and restaurants (one of which, Forbes Island, is especially cool – on a converted houseboat boasting a lighthouse and even dining below the water line); rides including a two-storey carousel; and the Aquarium of the Bay; as an extra adorable bonus, in recent years, hundreds of the bay's sea lions have taken to hanging out on some of the piers lower docks – a wonderful photo op, indeed! Other Wharf attractions include historic ships such as the 19th-century Balclutha and the World-War-II sub USS Pampanito; attractions such as a wax museum and a Ripley's Believe It Or Not! "odditorium". And here is where you catch harbour cruises, including excursions to another huge visitor favourite, infamous Alcatraz island and prison (seen in background below). OMG, you could easily spend more than a day at the Wharf.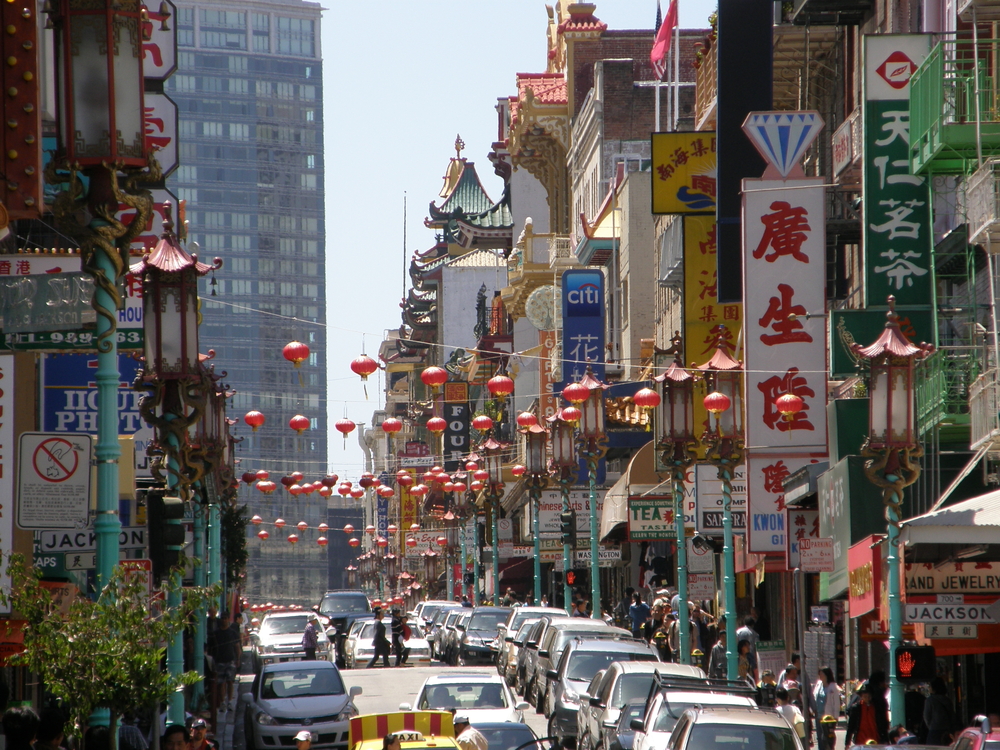 Downtown Delights
Below here you'll also want to explore downtown, a shopping, financial, and San Francisco hotels district with Union Square as its hub. Out here on the "Barbary Coast" waterfront you'll find the the Embarcadero, with its markets and food halls, while heading away from the water is the monumental Civic Center area, packed with grandiose neoclassical architecture and cultural spots such as the Asian Art Museum, concert halls, and art galleries.
Speaking of items Asian, also several blocks in from the Embarcadero, north of the great downtown dividing line that is Market Street, is Chinatown – one of the world's most famous – covering 24 blocks with a fantastic array of dining and shopping options, as well as places to learn about Chinese-American history and culture such as the Chinese Cultural Center of San Francisco and the Chinese Historical Society of America Museum and Learning Center.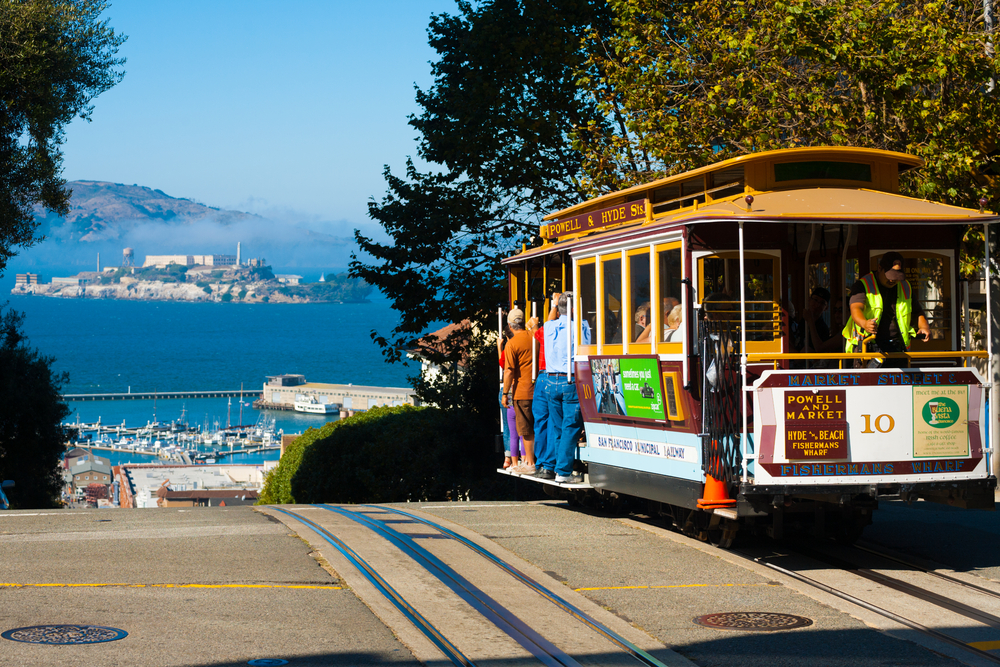 'Downmarket' Draws
South of Market Street, top of the list of districts not to miss – especially in you're into "alternative" vibes, is SoMa, a onetime area of warehouses and rundown Victorian clapboards which artists started reviving in the 1980s. The tech boom brought major gentrification to the neighbourhood, but the boho flavour is still in evidence (as well as some of the city's hotter music clubs and its most eclectic dining), and corners of it even remain a bit dodgy, especially at night. Here's also where you'll find the baseball stadium that's home to the San Francisco Giants, as well as the lovely Yerba Buena Gardens, an 87-acre (35-hectare) multi-use park that's the site of a skating rink, the cool Metreon shopping centre and a bevy of museums including the San Francisco Museum of Modern Art, Children's Creativity Museum, and the Museum of the African Diaspora.
A bit farther down Market, the Castro District has famously been one of the world's most progressive city's most iconic gay neighbourhoods for generations now, with one of its latest additions a Hollywood-style footpath "walk of fame" celebrating LGBT history-makers including the likes of Alan Turing and Oscar Wilde. There is also some superb historic architecture hereabouts dating back to the Victorian era, and if you're into funky, right above it you'll want to check out the Haight right next door, which was the epicentre of the 1960s hippie "Summer of Love" and remains an eclectic – dare I say groovy – mix of counterculture and black culture.
Then of course there are many of the streets of San Francisco themselves, crisscrossing the famously hill cityscape. A stretch of one, Lombard Street between Hyde and Leavenworth, is dubbed the world's "crookedest" (not actually so, but its eight hairpin turns are quite a sight to see). Others, such as Powell, California, and Mason, offer the chance to ride an actual national landmark: the famous San Francisco cable cars in operation since the 1870s (those which, as singer Tony Bennett famously crooned, "go halfway to the stars").  Just another of the many reasons why you, too, will be left singing "I Left My Heart in San Francisco".
And believe it or not, all the above is just scratching the surface. For more on San Francisco sights, as well as dining, lodging, and more, start with SanFrancisco.travel. For another cool twist on San Fran, check out some of the local shooting locations for films like Vertigo and Rebecca from master of suspense Alfred Hitchcock.
More info: SFTravel.com.
Best fares from the U.K., from Spain.


images | RRuntsch, Ritu Manoj Jethani, Pius Lee