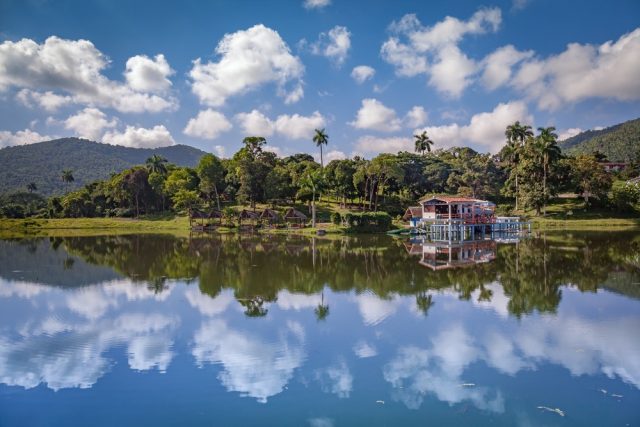 The main reasons millions come to Cuba each year are beaches and culture. But the lag in the country's development since 1959 has been a boon for ecotourism, leaving the island with quite a few natural treasures for visitors to discover, from hidden waterfalls to castaway beaches, national parks, and conversatories. I recently discovered one such gem in the Sierra del Rosario mountains just over an hour's drive west of capital Havana.   Allow me to introduce you to Las Terrazas. 
This hilly mix of tropical and evergreen forests is a UNESCO Biosphere Reserve covering some 27 square kilometres (103 sq. miles), centred on an ecological research station and village with a population of about 1,000, where visitors eat, shop, and overnight.
As I approached the eastern gate of the reserve, I felt as if I had gone back in time, rolling up in a beige 1950s Chevrolet Deluxe (very typical in a country known for its resourcefulness in keeping old U.S. cars running). As the Chevy heavily hummed its way up a steep hill leading to one of Cuba's oldest coffee plantations, I jumped out to let it roll back down. The old girl definitely needed a break after the drive in from Havana.
Jazzmine Raine
The plantation was built in 1801 and remains only partially restored. The quarters were home to over 126 Haitian slaves, owned by French-Cubans. The masters' house, now a lovely little restaurant with a spectacular view of the green mountains, was used for bean storage. Also onsite sits an authentic, grand grindstone, pulled by a slave or mule to crush beans and millet flour back in the day. As I watched, a few French tourists try their hand at pulling the grindstone around in its circle (ironic, n'est-ce pas?).
I was feeling adventurous, so just behind and to the left of the grindstone is a short hike ( 15 minutes each way) to one of the most beautiful lookouts (above) onto the Sierra del Rosario mountain range. I just loved seeing the colourful roofs, windows and balconies out in the distance against the green of the reserve.
The town itself is full of trees and features a beautiful, French-colonial-style hotel, built on stilts to help ensure nature is undisturbed by its activities, with holes cut through its ceilings to accommodate for the grandfather trees sprout across the hotel's property. Although Las Terrazas doesn't necessarily market itself as an eco-village, its innovation gives me optimism for the future of tourism.
I began to notice its push for sustainable development as I sat for lunch at a zero-waste vegetarian restaurant. The charming little eatery overlooks dozens of balconies and greenery, and serves up spectacular dishes of almost completely locally sourced items found within the village, from tropical fruit juices served with bamboo straws, to creative yucca recipes. Walk three doors down and you are overlooking the entire village, sipping the most delicious, 100-percent Cuban coffee, roasted onsite. On the other side of the restaurant, a local artisan market where villagers come to sell their handmade jewelry and handicrafts, the ideal handmade souvenir, empowering entrepreneurs right within Las Terrazas.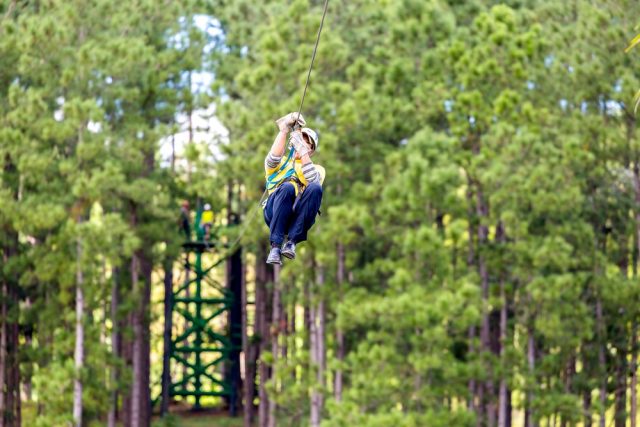 After digesting my delicious lunch of mashed yucca with diced vegetables and pasta, I was kitted out for a zipline tour, which starts at the top of the village on a large hill, zipping over lush greenery and homes, and into the centre of town. There you can stop to check out the arts and culture the village has to offer, from their art museum to the local community centre, offering music and cultural programs on a weekly basis. As you continue down the zipline, you pass over the lake that pours out from the town and down into Baños del San Juan, a river basin for swimming and hiking. The final line is a lengthy one, descending over trees and water, allowing you to spin around and find your grip again before pressing your break (or slamming into the operators – which I found hilarious every time).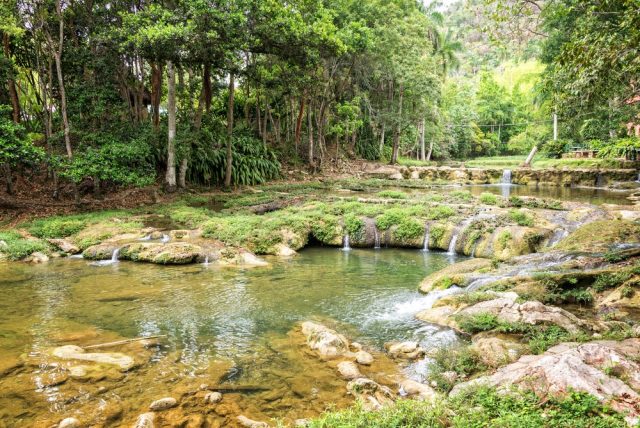 The Baños are just outside the town and great for cooling off in its fresh waters or alongside (on weekends and especially hot days, locals flock here for family get togethers, taking large picnics along with them). If you're staying overnight in Las Terrazas, you can also choose to sleep in one of the cabins available along the Baños. Surrounded by wildlife and royal palms, it's a paradise you could spend all day in, adventuring down the river basin or into the oasis.
After a day exploring this utopia, brimming with tropical wildlife and ornate greenery, it was almost a shock to drive back into bustling Havana. Las Terrazas was exactly the escape I needed from city living and has now become my go-to recommendation when visiting Cuba. Support environmental action, entrepreneurship, arts, culture and heritage all within a few miles, while experiencing the true Cuba unattainable in the city or on the beach.
Toronto-based Jazzmine Raine social entrepreneur and writer specialising in responsible travel. Follow her adventures at SunshineandRaine.com and check out her zero-waste guesthouse in Bikaner, India at HaraHouse.org.