all photos | Autoridad de Turismo de Panamá
Very much in the "good-things-come-in-small-packages" category, for such a wee country Panama packs in a remarkable variety of allures for travellers of all inclinations and tastes – whether for its amazing ecotourism; bodacious beaches both Pacific and Caribbean; and the exciting urban vibe of Panama City with its heady mix of colonial and modern architecture, dining, and nightlife, to name a handful.
The place to start, of course, is with Mother Nature. One of the Americas' most biodiverse countries, Panama has set aside a whopping 40 percent of its territory as protected areas – which includes nearly 3,000 kilometres (1,864 miles) of splendid coastline, much of it with tawny beaches crystalline waters, as well as thousands upon thousands of plant and animal species, some of them found nowhere else in the world. But I want to get past the numbers game, because after all, adventures are about stories, and Panama has so many cool stories to tell.
Jungles, waterfalls, islands, volcanoes, mangroves, rivers, mountains, coral reefs – all await lovers of nature and green tourism. And great places to start are a pair of national parks: Chiriquí Gulf National Marine Park and Coiba National Park. Both are located off the Pacific coast and centre around the biggest coral reef of the western Pacific, as well as lovely beaches for bathing, snokeling/diving, spearfishing, and surfing, such as Santa Catalina. Here you'll also find traditional fishing villages like Boca Chica, all perfect examples of sustainable tourism. Distinctive marine species here include hammerhead sharks and humpback whales, who migrate here to give birth every year from June through November – a miraculous spectacle of nature that many find life changing.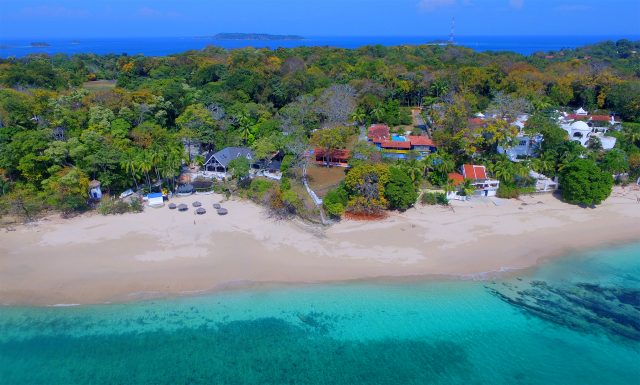 More toward the centre of Panama, another pair of nature reserves are also well worth a visit. The Archipiélago de las Perlas (Pearl Archipelago) is a gold mine for fans of water sports, whether it's kayaking or snorkeling/diving amid dolphins and manta rays. And Contadora Island (above) offers a tropical paradise with the added attraction of exquisite luxury resorts.
In the mountainous highlands away from the coast, the Altos de Campana are perfect for a camping getaway, with good hiking trails where you can spot more than 200 species of trees and nearly 300 of tropical birds.
To round out this country's world-class natural allures, I also love another pair of national parks, Darién and Amistad, both with UNESCO World Heritage status. But really, you'll find extraordinary examples throughout the rest of Panama, too – for example, spotting its free-flying national bird, the harpy eagle; experiencing the beauty of its tallest peak (3,475 metres/11,400 feet), Barú Volcano, in the far north; and witnessing another moving spectacle of nature as five species of giant marine turtles nest on the sands of Caña Island and La Marinera Beach from July through October.
On the other side of the ledger, Iberia's destination Panama City may well be Central America's most all-around exciting city, with highrises, casinos, and hopping nightspots  on one side, and across the causeway, one of the region's most appealing Spanish colonial quarters, the Casco Antiguo, with a gracious mix of architecture reaching back to the mid-17th century (plus the nearby UNESCO World Heritage ruins of the original city, Panama Viejo, founded in 1519 as the first settlement on this continent's Pacific coast but destroyed by pirates 160 years later).
In the increasingly restored Casco Antiguo, landmarks include Las Bóvedas, the 18th-century defensive wall of the Plaza de Francia; the Bolívar Palace, built that same century as a convent, later renamed after Latin America's greatest independence hero, and now home to the Panamanian foreign office; the neoclassical National Theatre, built in the first decade of the 20th century; and the Basilica Cathedral of Santa María (finished in 1796), with honourable mention due to Casa Góngora, one of the city's oldest remaining houses, dating back to 1760.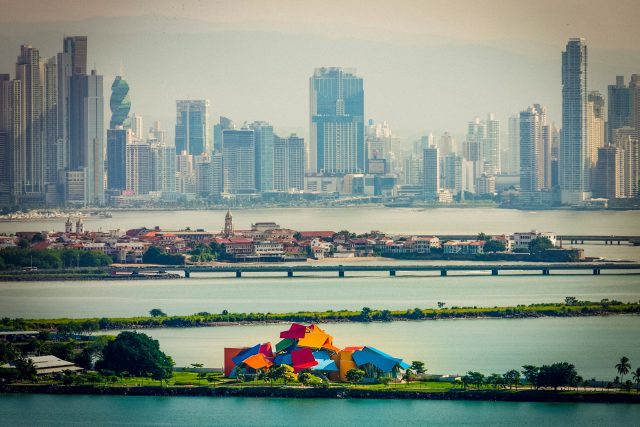 But what perhaps most defines Panama City these days its its modern skyline, with notable buildings including highrises like the whimsically twisty F&F Tower, built in 2011, and the low-rise Biomuseo (above), opened in late 2014 on a causeway between the old and new areas of town. The latter, starchitect Frank Gehry's only work thus far in Latin America, has become a particular point of Panamanian pride and even something of an icon, with 4,000 square m (just over 43,000 sq. ft.) and eight exhibition halls emphasising biodiversity as well as the Isthmus of Panama has affected the history and biology of our planet.
Another recent project that spans old and new is the Cinta Costera (Coastal Beltway), more than 35 hectares (86 acres) along the bay, letting visitors stroll, skate, and bike from historic Panamá Viejo to Punta Paitilla, the highrise district famous for its shopping malls and restaurants (especially kosher!). The Cinta is full of green spaces, with tropical trees and vegetation, dotted with fountains and amenities including sports facilities and a number of eateries serving up local seafood including Panama's signature ceviche.
More info:  VisitPanama.com.