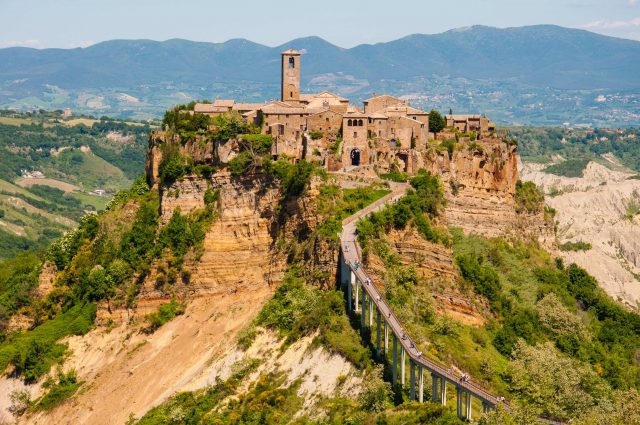 What comes to mind when you think of Italy? Not hard to imagine – the canals and gondolas of Venice; Rome's Colosseum and Vatican; and the Duomo and Ponte Vecchio in Florence no doubt figure high on the list. And this blog has covered many other fantastic cities offering their own marvels, such as Bologna, Catania, Milan, Naples, and Turin. But for sumptuous architectural, artistic, and cultural heritage, it's also well worth remembering that small is beautiful, too. As in the lovely small towns which in many ways embody the essence of la bell'Italia, and along the way deliver rewarding road trips through some of the country's most appealing landscapes.
And if in the old quarters of places like Venice, Florence, and Rome you feel like you're on the set of some fabulous period movie, in these small towns and villages it's the same feeling, on a more intimate scale – with the added benefit of being able to more easily rub shoulders with the friendly locals and not have to share the cobblestone streets with hundreds, sometimes thousands of fellow visitors (and by the way, several of these towns have in fact served as backdrops for plenty of Italian as well as Hollywood films).
For the past 16 years, nearly 300 of these towns and villages have banded together in a consortium called I Borghi Più Belli d'Italia (Italy's Most Beautiful Towns), to celebrate, preserve, and promote their amazing heritage and local culture. Each is certified according to strict criteria and under careful supervision, and in addition to history, architecture, and mediaeval or Renaissance ambiance, also offers plenty of opportunities for wonderful local dining, shopping, and in many cases outdoor activities, for a truly complete holiday experience.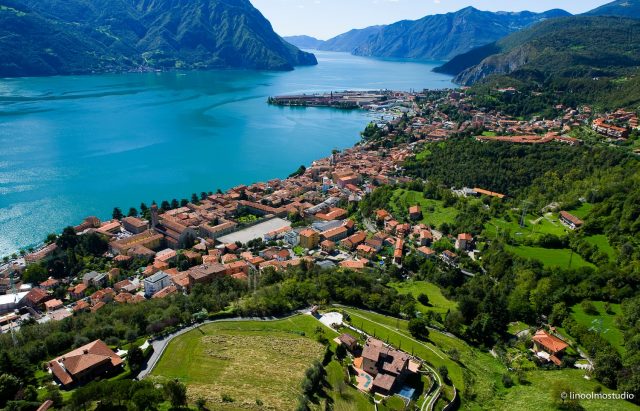 It's a highly varied mix of coastal fishing villages and interior hill towns from the rugged landscapes of Sicily and Sardinia to the rolling wine country of Tuscany up to mountain outposts in the Alps.
In the north, just a couple of hours' drive from Milan, Lovere (above) at the northwest end of sinuous Lake Iseo is a perfect example. Dating back to a 5th-century-BC Celtic settlement, it's packed with narrow cobblestone streets, charming piazzas, and handsome churches. This past September, Lovere also played host to Italy's first annual National Festival of Most Beautiful Lake and River Towns. Another Lombardy town worth mentioning is Sabbioneta, near the cities of Mantua and Parma, surrounded by ancient walls and declared a UNESCO World Heritage Site due to representing the ideal application of Renaissance urban planning theories; its two top landmarks, built by Mantua's ruling Gonzaga dynasty, are the mid-16th-century Ducal Palace (today the town hall) and the also grand Degli Antichi Gallery, once an adjunct to the local castle (sadly razed by Napoleon Bonaparte).
Elsewhere in northern Italy, you'll find true gems such as Bard (below), up in the Alps' Aosta Valley) with various 16th-century buildings and an imposing 19th-century fort from which visitors can drink in craggy panoramas so spectacular they've been used as movie backdrops, for example by the 2015 superhero flick Avengers: Age of Ultron. Over on the Swiss border in South Tyrol not far from Bolzano, Glorenza (also known as Glurns, in the local Germanic dialect) has a population of less than a thousand as well as perfectly preserved walls and buildings from the Middle Ages. Out east in the Veneto just over an hour from Venice, Follina is famous for its 12th-century Cistercian abbey (now a luxury hotel), fine cuisine, and prosecco, Italy's answer to Champagne (Follina is included on the Treviso region's Prosecco Road). Just over an hour north of Venice and near the city of Belluno, Polcenigo boasts a fine castle, an ancient Roman necropolis, and the Museum of Gastronomy Culture, and is especially notable for its superb natural setting.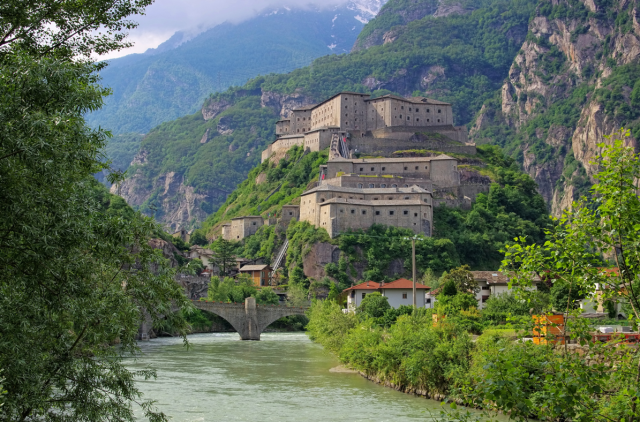 Heading south to the centre of the country, Viterbo's Civita di Bagnoregio (top) is truly a bucket-lister par excellence. Just under two hours north of Rome, it's a tiny, densely packed mediaeval jewel perched atop a petite plateau of volcanic rock, with a tiny population – sometimes as few as 12, in summer maybe a hundred or so (though it attracts some 850,000 visitors annually). Founded by the pre-Roman Etruscans, its isolation has left it a nearly perfect time capsule with steep cobblestone lanes, centuries-old stone buildings, and spectacular countryside views, all accessible only via a modern footbridge across the gorge below. But that oh-so-picturesque perch also has endangered this village, due to constant erosion that has led to falling houses and other structures, leading to the moniker "the dying city"; efforts are underway, however, to reinforce the plateau.
An hour north of here, in lovely Umbria, the Perugia hill town Deruta is not just a charmer but also reknowned for its particularly beautiful styles of maiolica ceramics. For lovers of both wine and nature, give a thought to the many borghi più belli scattered throughout Tuscany, a bit farther north still; Buonconvento near Siena and Raggiolo near Florence are especially marvelous for nature lovers, exuding a sense of harmony and tranquility. Honourable mention is also definitely due as well to the largely Renaissance hill town Castel del Monte, an hour northeast of Rome in the Abruzzo region, with a population of around 500 and known for its canestrato cheese and mid-August folk drama "Night of the Witches" (fun fact: this was where hitman George Clooney holed up in the 2010 thriller The American).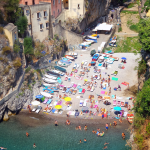 Wait, there's plenty more! No shortage of borghi più belli down south in Italy's Mezzogiorno. For example, an hour from Naples you'll find Furore (left), a magical village of 850 souls squeezed into the end of a dramatic fjord on the Amalfi coast. Apart from delighting in its lovely colourful fishing boats, cute little beach, and spectacular sunsets, your jaw will drop at the sight of the old local houses seemingly hanging from the steep cliffs. Over in Puglia, check out also seaside Otranto, founded by ancient Greeks and located practically on the heel of the Italian boot (it's in fact the country's easternmost point). Its mid-12th-century cathedral and late-15th-century castle are typical of the marvelous mediaeval vibe here. And not far to its south (just under an hour),  inland Presicce is a small but lively mélange of mediaeval and Baroque. On the other side of Italy's far south, in Calabria, Altomonte (perched atop a promontory some three hours south of Naples) is another mediaeval charmer, with a 12th-century castle and a very atmospheric, 14th-century Gothic church among its more notable landmarks.
Finally, continuing south off the mainland, Sicily, too, has more than its share of candidates. One that's particularly outstanding is Cefalù, on the north coast a bit over an hour east of Palermo. One of the larger borghi più belli (pop. 14,000), it like Otranto above was founded by the Greeks, and offers a window into various periods of history, including megalithic walls, Roman baths, an Arab fortress, a Norman castle, and various mediaeval, Renaissance, and 19th-century architecture. The seafood here is outstanding, and each June Cefalù hosts an annual regatta of the borghi più belli. So charismatic is this small city that it was chosen as the location for the 1988 art-house hit (and Best-Foreign-Language-Film Oscar winner) Cinema Paradiso.