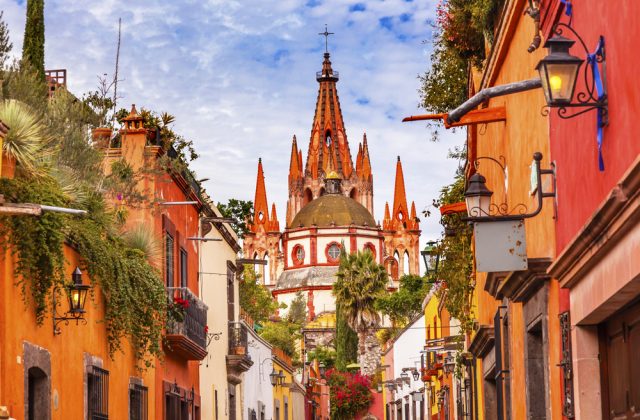 Everyone remembers their first visit to this splendid colonial city in Mexico's central highlands. Mine was in 2013 with my good friend Chava, not just one of those people who exudes bubbly enthusiasm wherever he goes, but also passionate about and proud of the treasures of his own country. "You're going to love it", he told me – and was he ever right, so much so that I've since been back to visit four times, and firmly feel that this UNESCO World Heritage Site is one of Latin America's loveliest cities, and of course a true bucket-lister for any visitor to this marvellous country. There's definitely a reason why the readers of Travel+Leisure voted San Miguel de Allende best city in the world for 2017.
After the Spaniards arrived in 1541, the former Chichimeca village of Izcuinapan was named after an early settler, Father Juan de San Miguel (and in 1826 tweaked to honour Ignacio Allende, a local hero of the fight for Mexican independence from Spain). Vicissitudes of history left the city depleted by the early 20th century, until its Baroque/neoclassical architecture started attracting artists and writers both Mexican and American in the 1930s, then hippies in the 1960s, then tourists as of the 1980s, and foreign retirees and expats beginning in the 1990s.
Was it the city's innate charm or could it also have something to do with the powerful spiritual/healing energy of the quartz bed that lies beneath? Whatever it is, San Miguel today (pop. 140,000) is a vibrant city full of historic attractions and museums, as well as galleries, shops, and cultural venues, boosted especially by the presence of urbanites from Mexico City, Guadalajara, and other cities, along with more than 10,000 expats, mostly from the United States.
The historic core here tends toward cobblestone streets, lowslung buildings of various fetching hues (many of them now hotels, guesthouses, shops, cafés, galleries, and restaurants), and charming little gardens. Visitors and locals alike especially love Calle Aldama, its star attraction a splendid view of the iconic, 16th-century San Miguel Arcángel Church (top), later remade into a neogothic landmark of striking "wedding-cake"spires and reddish hue that's especially dramatic when lit up at night.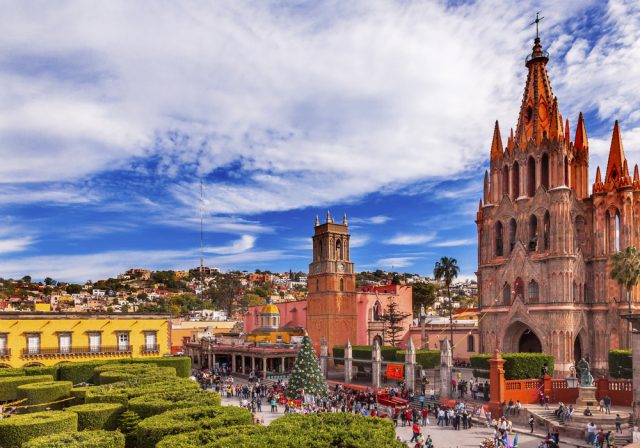 Colonial Mexico was of course big on churches, and three others here in town of particular note are the diminutive Nuestra Señora de la Salud on Plaza Cívica, with an impressive Baroque façade; the 18th-century Oratorio de San Felipe Neri, especially prominent during the city's traditional Easter week festivities; and the also 18th-century Church of San Francisco, with its lovely interior.
The old town's epicentre is Jardín Principal ("Main Garden"), a lovely, leafy affair popular by day and especially by night as San Miguel's open-air "living room", with locals of all ages enjoying strolling, sitting, and enjoying shaved ice and other local snacks. Other attractions on the square besides San Miguel Arcángel include the Museo Casa de Allende, the neoclassical onetime abode of the aforementioned independence hero Ignacio de Allende and now housing exhibitions on the history of the city and region. Other outstanding include Fábrica La Aurora for modern art and the Museo La Esquina with an amazing collection of traditional Mexican toys.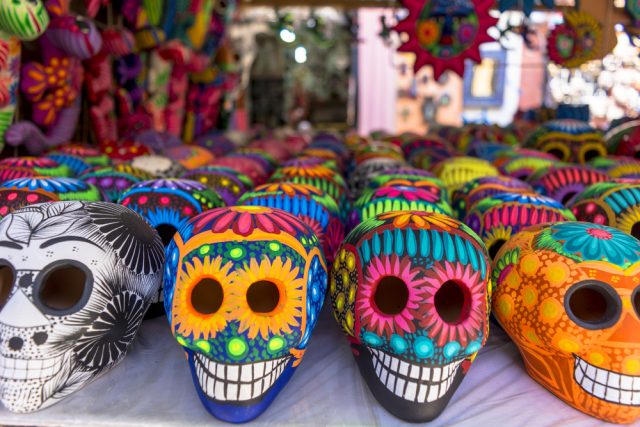 Perhaps more than any of that, however, what most fascinates me is visiting the Mercado de Artesanías (Crafts Market, above), with its exquisite selection of decorative items; silverwork and other jewelry; household utensils both traditional and modern (to this day I treasure the chocolate grinder I bought here), colourful glasswork; wool carpets and garments with pre-Columbian patterns and themes; and traditional toys and ceramics (my Talavera dinnerware is an ever-present reminder of my love for this town). And yes, the inevitable lucha libre masks.
Special attention at this market is due to the section devoted to the regional sweets such as marzipan, rompope (a slightly alcoholic yellow beverage made with eggs, vanilla, and cinammon), xonocostle (cactus fruit further sweetened with sugar and cinnamon); and tumbagones (tubular wafers dusted with cinammon and powdered sugar, with a history dating back to the mid-16th century).
Speaking of edibles, San Miguel has also become one of Mexico's foremost gastronomic capitals, these days especially for its nouvel cuisine, but also of course for its delicious traditional Mexican cuisine. In fact, I love fancy feasts plenty, but there's really nothing like a classic – and so let me sign off with a tidbit about the best tacos I have ever had in Mexico (and I lived there for years and even wrote a blog about it): they can be found at a humble street stand in the city's central square, El Jardín. I won't tell you which one, though – that you'll have to find out for yourselves! ?
More info: VisitSanMiguel.com.