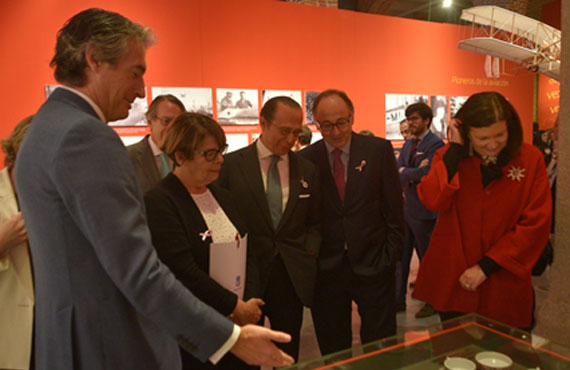 As we've been reminding you throughout 2017, we're in the midst of a big birthday this year: the 90th anniversary of our founding! We've been marking the occasion in various ways in the past month, and the most recent just opened to visitors at Madrid's Centro Cultural Conde Duque, near downtown's Plaza de España: organised by us in conjunction with the Spanish news agency Agencia Efe, it's called El Sueño de Volar (The Dream of Flight). And we invite you to share that dream. 
The exhibition provides a fascinating look back at the history of Spanish civil aviation throughout the 20th and 21st centuries, including photos, interactive videos, documents, newspaper clippings, and scale models including aircraft and even one of our famous Hangar 6 at Barajas airport, Europe's largest aircraft hanger without intermediate supports. There are also plenty of artifacts such as posters; crew uniforms; inflight meal and entertainment menus; airline tickets; aircraft parts including a jumbo jet wheel and black box.
"Dream of Flight" is divided into three parts:
One section is devoted to the pioneers of aviation, both in Spain and internationally, reaching back to Leonardo da Vinci and up into the 20th century's Wright Brothers and Juan de la Cierva, the Murcia-born engineer who among other things invented the autogyro in the 1920s.
Then comes the "nuts-and-bolts" part many avgeeks will especially love, all about the mechanics of aviation and the ins and out of commercial aviation in particular, such as what is an airport slot, the aeronautical alphabet, and the various technical aspects of flying and the system that keeps airliners and airports moving smoothly. All explained engagingly for the general public, of course.
The third section perhaps is the most fun and interactive, with various installations and activities relating to flying and aircraft. There's even one where you can get a photo op seated in a mock-up of the cabin of Iberia's first commercial aircraft in 1927 – with seats made out of wicker! Yes, we've come a long way in 90 years…