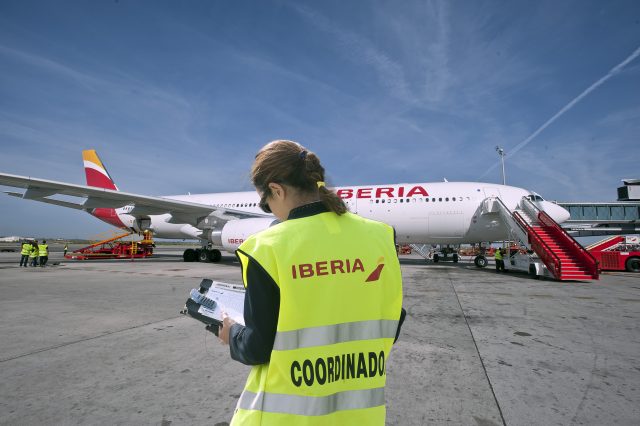 We at Iberia have followed humanity's fascination with flight, from Greek mythology's Icarus to the Wright Brothers to the latest, cutting-edge aviation technology. Along the way, we've racked up some pretty impressive history and statistics of our own. Following up on our first and second installmentes, allow us to share 15 more fun facts with you, following our first and second posts of 90 cool facts for our 90th birthday.
31. In 2016, Iberia Maintenance carried out more than 1,100 flight checks, 140 engine repairs, and 44,000 parts replacements.
32. Each aircraft takeoff requires the efforts on more than 100 employees, between check-in, boarding-gate staff, baggage management, aircraft loading, refueling, cabin cleaning, catering, cabin crew, aircraft maintenance personnel, security agents, shuttle-bus drivers, tarmac coordinators, air-traffic controllers, and more.
33. We employ more than 8,000 pieces of equipment – Spain's largest contingent – to attend to aircraft at the country's various airports – and of the motorised ones, 20 percent are zero-emissions electric.
34. In 2016, our handling division assisted 88 million passengers and more than 340,000 aircraft.
35. Terminal 4 of Madrid's Barajas Airport, our main base of operations, has won awards for its design and functionality – besides which the airport as a whole has been designated "Best in Southern Europe" at Skytrax's World Airport Awards 2017.
36. Iberia hosts some 42,000 unaccompanied minors every year, children or adolescents between five and 17 years old travelling totally alone, taking them gently in hand from the moment they arrive at the airport to the moment they're picked up at the arrival airport.
37. Iberia is a very pet-friendly airline, transporting more that 5,000 animals per year (mostly dogs).
38. Since 2016, we've expanded our routes to Asia, with nonstop service to Tokyo and Shanghai. And on those routes, we've done our best to make the experience in keeping with the destinations, with Chinese and Japanese cabin crew as well as Asian menu options. Our inflight magazine Ronda now is also published in Mandarin and Japanese.
39. Iberia belongs to the 14-airline oneworld alliance (along with airberlin, American Airlines, British Airways, Cathay Pacific, Finnair, JAL, Latam, Malaysia Airlines, Qantas, Qatar Airways, Royal Jordanian, S7, and SriLankan Airlines). Together, the alliance offers more than 14,000 daily flights to some 1,000 airports in more than 150 countries.
40. Yes, we admit it – our aircraft do not have a row 13. 😉 (Yet this post was written on the 13th floor of Iberia's corporate offices in Madrid – go figure!)
41. Our website Iberia.com has versions in ten languages in 48 countries, receives an average of 6.5 million monthly visits, and facilitates the issuance of around 15,000 boarding passes each and every day.
42. Each day through Iberia.com we also auction off flights to various destinations at very economical fares – you simply choose the fare you want. For example, a few days ago some passengers snagged a Madrid-Chicago round-trip for just 260 euros, others, the same to Brussels for a mere 57 euros.
43. Furthermore, Iberia.com also allows you to reserve hotels and care hires, as part of an economical package price that comes out cheaper than booking them separately.
44. We also have an Iberia Joven portal in five languages dedicated to young travellers, which besides useful travel information and destination guides also offers discounts and benefits such as higher baggage allowances.
45. Iberia is active on all the major social-media channels, starting of course with Facebook and Twitter (in Spanish, English, French, German, Italian, Portuguese, and Japanese), but also LinkedIN, Instagram, Pinterest, and Google+. Furthermore, our Chinese friends can find us on Weibo and WeChat. Our SM following numbers more than 2.5 million, and we also provide excellent 24/7 customer service on Facebook and Twitter.
Whew. Stay tuned for next week's installment!