Once notorious as the Alcatraz or Devil's Island of the Mediterranean, these days hilly, petite Asinara Island (just 52 square kilometres/20 sq. miles) off the northwestern tip of Sardinia is a nature paradise that is one of Europe's under-the-radar ecological treasures. Most visitors leave anxious to come back soon.
According to Greek mythology, the demigod hero Hercules while heading west came across Asinara and was struck by its sublime beauty. He wanted to caress it, but such was his strength that he ended up changing the island, bestowing the indented shape it has today, wide at either end and narrow in the middle.
Named for its albino, blue-eyed breed of indigenous feral donkey (asinello) dating back to the mid-19th century, Asinara has had a number of roles over the centuries. Once fought over by several Mediterranean powers, it was at various points colonised by shepherds, fishermen, and farmers; became a penal colony and leper colony; was used as a POW camp; and in the 1970s through 1990s ended up as a maximum-security prison for mafiosi and terrorists. After that was closed in 1997, it finally was turned into the national park it is today.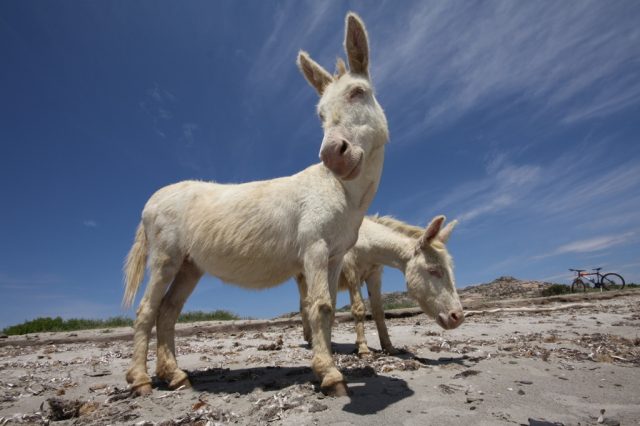 asibiri
The island's longtime isolation and prohibition on new construction for more than a century has left it in remarkably pristine condition, featuring sweet little coves with limpid water and shining white sands; vertiginous sea cliffs; and scrub forests and expansive, colourful meadows. The sky here is almost always deep blue, and the silence blessed and nearly absolute, unsullied by so-called civilisation. Plus, in addition to some 700 species of flora and the distinctive wild donkeys, the island's also home to some 150 species of birds, 12 kinds of reptiles, and ten breeds of mammal.
Visitors can reach Asinara via ferry (an hour and 15 minutes long) from Porto Torres, and can get around via escorted tours, but can also rent bikes or electric cars in the quaint little whitewashed village Cala d'Oliva.