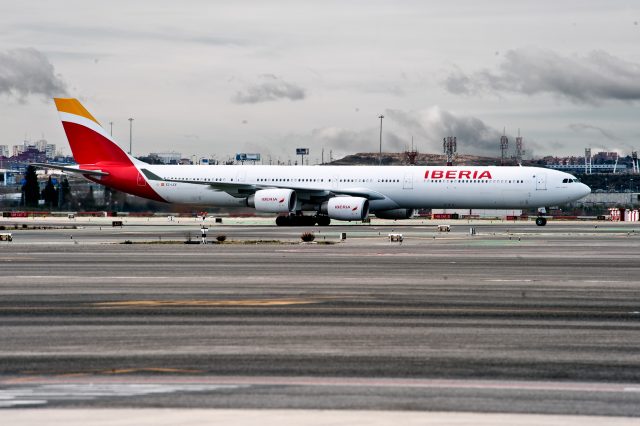 Mankind has always been attracted to flight, from Icarus of ancient Greek mythology to the Wright Brothers and now the exploration of space. These days, aviation still holds a certain fascination for both kids and grown-ups (even beyond that doughty tribe of aviation geeks). So for both the aviation-obsessed and the idly curious, we've put together a list of 90 cool bits of history, lore, and trivia about our 90 years of operation. Enjoy!
A Bit of History
1. 2017 is a year of big anniversaries for us! Not just the 90th of our company's founding and the beginning of flights, but also the 25th of our loyalty programme Iberia Plus. Plus the 50th of our service to the Dominican Republic and Guatemala, along with the 70th of our route to Geneva.
2. Our very first route connected, not surprisingly, Madrid and Barcelona. Internationally, Lisbon was our first destination, and on intercontinental long-haul, it was Buenos Aires.
3. The seats on the first flight were made of – wicker!
4. In the early days, all passengers and their luggage were weighed before embarking. Careful weight control was critical back in those times!
5. Iberia was the first carrier to fly to South America after World War II, to Buenos Aires in 1946. The 36-hour flight hopskotched from Madrid to Villa Cisneros in the Western Sahara (now Morocco), then across to the Brazilian cities of Natal and Río de Janeiro, before finally alighting in B.A.'s Morón Airport. This was also the route where the first flight attendants were introduced.
6. The first male flight attendant was added in 1947. Fernando Castillo, had until then been a waiter at the Madrid's famous Café Chipén.
7. Our first destination in the USA was New York City, beginning in August 1954.
8. The first Iberia airliners serving the Americas, a trio of Lockheed Super Constellations, were baptised Niña, Pinta, and Santa María, after the famous ships of Christopher Columbus.
9. Celebrities who have flown Iberia include Sofia Loren, Ava Gardner, John Wayne, Muhammad Ali, the Beatles, Princess Grace of Monaco, and of course almost all Spaniards of major note, from Antonio Banderas, Penelope Cruz , and Salvador Dalí to politicians, industrialists, sport stars, and royalty.
10. Iberia's first jet aircraft was the DC-8, introduced in May 1961.
11. Our flight attendant uniforms have since the 1940s been designed by some of Spain's greatest fashion designers, including Manuel Pertegaz and Elio Berhnayer; the current uniform is by Adolfo Domínguez. (For a history of Iberia uniforms, click here.)
12. The Madrid-Barcelona Puente Aéreo (Air Bridge), with hourly flights per day, was inaugurated in 1974 with the slogan "arrive and fly"). And now, as of August, we'll be relaunching it with even more services and flight options and flexibility.
13. Iberia was Spain's first airline to hire a female pilot, in 1985. María Aburto was the first of many; today we have 67.
14. The popular radio programme Vuelo 605 (1963-2004) was a pioneer of English-language pop music in Spain, and its presenter for many years, Ángel Álvarez, was an Iberia flight mechanic who thanks to his job flew to the U.S. often, bringing back the latest records.
15. Iberia's Hangar 6 at Barajas Airport in 1990 made the Guinness Book of World Records for being Europe's largest transparent hangar without columns. Its roof was constructed on the ground and lifted by crane, and what supports the entire structure is a huge yellow arch, visible from planes coming in for a landing.
Stay tuned for more installments of fun facts 16-90!