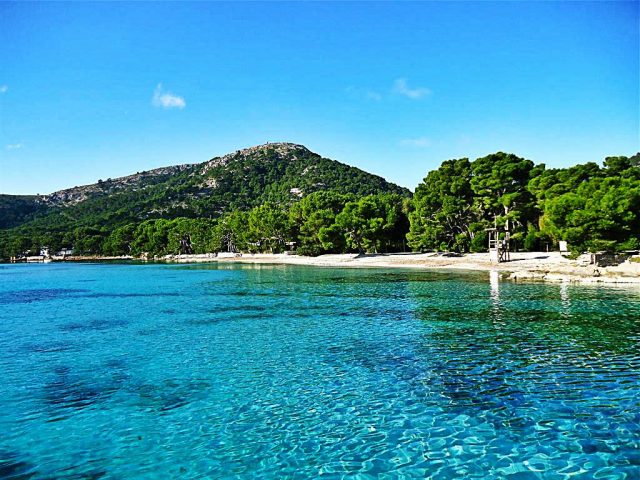 Besides the cultural offerings of capital Palma de Mallorca and various other towns, the largest of Spain's Balearic Islands is a true natural paradise, which helps make it one of Europe's top sun 'n' sand destinations. Yes, it has its mass tourism side, but is also full of intimate corners perfect for a romantic getaway. Top of the list among these are the various little coves dotting its Mediterranean coastline.
For example, up in Majorca's northeast on the Tramuntana coast you'll find Sa Calobra, with several rock-enclosed coves in a truly magical natural setting. You get down to S'Olla via a kind of huge natural amphitheatre, while Cala Sant Vicenç is a trio of coves: Barques, (the biggest), Cala Clara (the smallest), and Cala Molins (the narrowest). The diving/snorkeling hereabouts is especially enticing, with plenty of fish and cool rock formations.
Also up north but a couple hour's drive west, Cala Torta, is tucked away amid leafy greenery near lovely Alcudia Bay, while just a bit south of here, intimate Cala Ratjada with its fine white sand is an ideal place to unplug and kick back – it's something of a secret getaway for locals of the fishing village of Capdepera. And right nearby, Cala Mesquida is another treasure, with sand dunes, calm water, and a rocky bottom – declared a "Natural Area of Special Interest" by the Balearic Islands government.
The last spot up north worth mentioning is about an hour and a half north of here: Cap Formentor, a windswept cape whose cove is considered by many Majorca's most impressive. With a nearby lighthouse standing vigil over the coast, this lovely, pine-clad beach has views of the mountains and the elegant, 87-year-old Hotel Formentor stand serenely at one end.
Heading south, way down on the island's southern tip, Santanyí was once a haven for pirates and is now one of Majorca's best known and most beautiful beaches, with easy access, parking, eateries, hammocks for hanging out. Also in this area, Cala d'Or is a truly splendid trio of connected coves with powdery sand and turquoise waters.
Just down the coast from here, Es Carbó, is an area of wild nature with some sweet views over Cabrera National Park. And just a hop and a skip north of that, Es Trenc, is known for its exuberant beauty – so much so that it's been declared a "protected natural site" by the Balearic Islands government.
Meanwhile, some 40 minutes up the east coast from this southern tip, Cala Varques in Manacor has a more Robinson Crusoe vibe, and you can explore your more adventurous side by swimming around sea caves (and speaking of caves, throw in a visit to the magnificent nearby underworld that is the famous Cova del Drac).
Ah, so many coves, so little time…