This week Madrid is awash in rainbow colours and welcoming gay folks from all over the planet as it pulls out the stops for World Pride with parties (of course), concerts, and other cultural happenings of all types. Museums get in on the act, too, and here are two in Madrid and one in London. 
Museo Thyssen-Bornemisza
Celebrating its 25th anniversary this year (ah, they grow up so fast, don't they?), this prestigious art museum is running now through mid-October an audio-guided visit called Amor Diverso (Inclusive Love). The tour covers 15 paintings and sculptures illustrating themes, iconography and figures relating to the LGTBQ culture, sensibility and experience which have always been present in art, although often in an almost invisible manner, running from the Saint Sebastian of 16th-century Florentine Bronzino to the depiction of the gay 20th-century Greek poet Nikos Cavafy by the late American painter R.B. Kitaj, with others including Cranach the Elder, Caravaggio, Auguste Rodin, Édouard Manet, Marc Chagall, Robert Rauschenberg, and Francis Bacon (above, his painting of his lover George Dyer).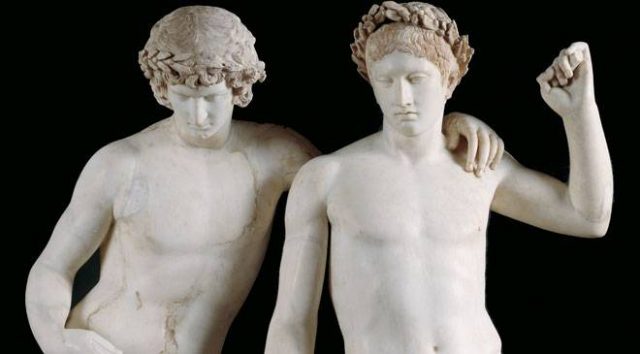 Museo del Prado
If anything even more prestigious, Spain's venerable national art museum through October 9 offers the special themed itinerary La Mirada del Otro: Escenarios para la Diferencia (The Others' Gaze: Spaces of Difference), which makes use of art-historical theory to analyse 30 works from its collection. Structured in six thematic routes, it includes iconic works such as the sculpture Orestes and Pylades (above) by the School of Praxiteles and Caravaggio's David with the Head of Goliath, as well as lesser known works such as El Cid by Rosa Bonheur and Francisco Goya's El Maricón de la Tía Gila.
Tate Britain
Hopping up to Merry Old England, through October 1 the Tate in London offers its own remarkable curation of its permanent collection with Queer British Art 1861-1967. The first exhibition of its kind brings together paintings, drawings, personal photographs and film from artists such as Dora Carrington, Duncan Grant, David Hockney, John Singer Sargent, and Simeon Solomon (who back in the Victorian era specialised in themes of Jewishness as well as same-sex desire, as in his 1864 Sappho and Erinne in a Garden at Mytilene, above).