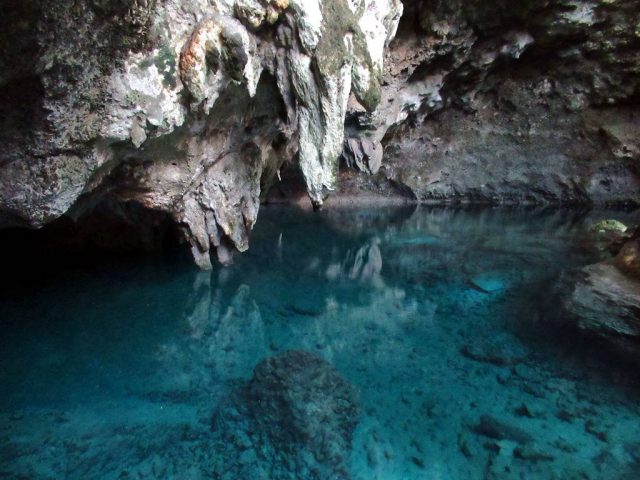 The Dominican Republic is of course well known as a destination for marvelous beaches, cool adventure sports, and the historic corners of its capital Santo Domingo. Much more "under cover," if you will, is what's underground: thousands upon thousands of caves, the most of any Caribbean country. It's a subterranean world filled not just with amazing formations and even lakes, but also the artifacts of ancient civilisations. 
The DR averages one cave for each square kilometre of territory, but has areas where they're especially concentrated, such as Los Haitises National Park, with more than 15,000, thanks to the filtration of rainwater into the porous local limestone – an erosion which over aeons has created passageways of extraordinary beauty.
Luckily for visitors, many of these caverns are accesssible to the public – adding another dimension to the country's ecotourism, cultural, and even adventure offerings (more about that below) – along with a literally cool respite from the usually sultry temperatures on the surface.  A few have been turned into organised attractions, while many others can be visited for free, but it's highly recommended to hire guides, both for safety reasons as well as to guide you to lesser known areas of the caves and relate the histories and legends that surround them.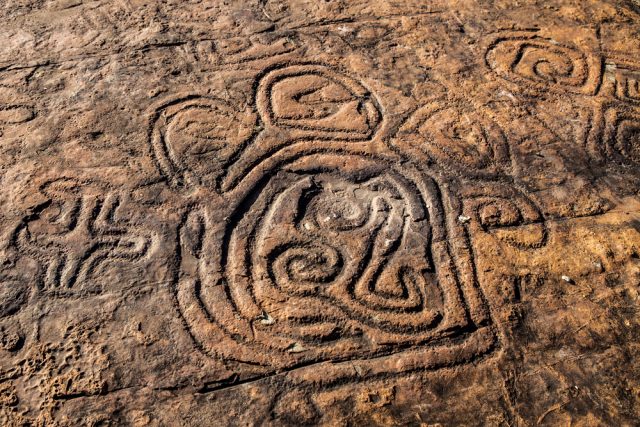 Tres Ojos Cave (top) is the most prominent in the Santo Domingo area, located in a park of the same name. That name, "three eyes", refers to its three underground lakes (there's actually also a fourth lake, right outside, surrounded by vegetation). Lago Azufre, is four metres (13 feet) deep, and so called ("Sulfur Lake") because of the whitish colour created by the minerals in the water. La Nevera ("The Icebox") is so called because of its cool temperatures, never receiving the light of the sun; you reach it by descending a stairway, and can navigate it by rowboat. The Lago de las Damas ("Lake of the Ladies") was back in the day used as a kind of spa, and frequented especially by women.
Just over a half hour west of the capital, in the town of San Cristóbal, is another landmark cave especially marvelous for spelunking. The Cuevas del Pomier (aka Cuevas del Borbón) is home to the Caribbean's best display of prehistoric art, 55 especially beautiful caves with lakes and more than 4,000 paintings and petroglyphs discovered in the mid-19th century – some more than 2,000 years old.
Some 90 minutes east of Santo Domingo, right on the highway near the city of La Romana and Nueva Romana Beach, the Cueva de las Maravillas ("Cave of Wonders") also boasts quite a bit of artwork (and of some of the country's best quality) of the Pre-Columbian Taíno people, 500 to 800 years old. There's a 240-metre (787-ft) route down here which takes you past many of the 500 or so paintings of human figures along with myriad animals including iguanas, snakes, owls, and bats.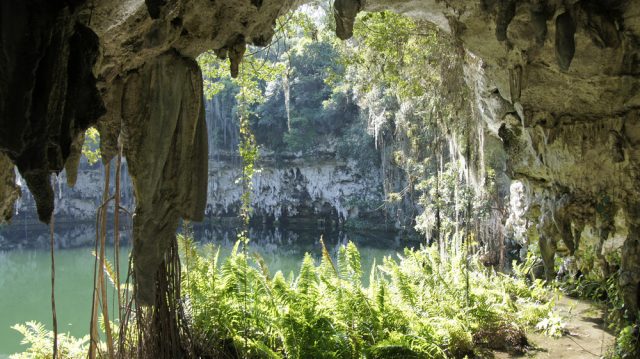 You'll also find many wonderful examples up in the northeastern province of Samaná, with three standouts, all featuring fantastic stalactites (limestone formations hanging down, formed by dripping water) and stalagmites (growing upward): Cueva Religiosa, Cueva de la Arena (also with Taíno art), and Cueva de  San Gabriel (the largest in the area, believed to have been a onetime pirates of the Caribbean hideout and location of buried treasure).
In several Dominican caves you can also combine cool subterranean scenery with some adrenaline-pumping adventure. A nearly four-hour drive south of Samaná and a bit over two hours from Santo Domingo, Cueva Fun Fun is situated amid an impressive panorama in the rain forests of Rancho Capote in Hato Mayor province. It offers experiences such as hearing the zenlike drip, drip, drip of water upon rock against the backdrop of profound silence… but also lets you take a dip in its underground river and rappel down vertical shafts. You'll of course want an experienced guide for this one!
Caribbean caving in the DR – an experience you'll never forget…