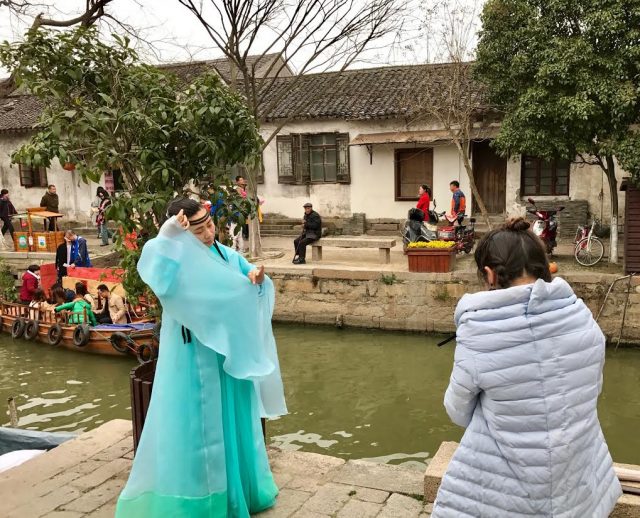 David Paul Appell
China's largest city is unquestionably an amazing, fun, and fascinating place to visit – a mix of ancient and cutting-edge culture/architecture, along with fabulous dining, shopping, and entertainment. But on weekends, many Shanghainese love nothing more than to ditch the Big Wonton and head out west into the countryside to reconnect with traditional Chinese culture and history in a handful of charming, historic towns, whose islands and canals make them feel like magical, Far-East versions of Venice. Visitable in one day but ideally for an overnight, many are serviced by public or tourist buses from Shanghai (tourist busses from the Shanghai Sightseeing Bus Center), in addition to all manner of guided tours which can be organised via your hotel or numerous travel agencies/tour operators.
On my most recent Middle Kingdom visit, a couple of months ago, I followed their example, and after asking a number of opinions settled on a day trip to one of the smaller ones, Tongli, an hour-and-a-half drive from Shanghai and a half hour outside the big city of Suzhou. This collection of small islands amid five lakes and 15 rivers, like many of the other local water towns, dates back to the Song Dynasty (960-1279), though much of what you see now is from the Ming (14th-17th centuries) and Ching (17th to early 20th), all built in the same distinctive traditional style. If you're in this neck of the woods, don't pass up a visit to one of these – truly a magical experience like none other I've had in China.
Over several of the 49 traditional arched bridges leading from the less-than-lovely newer section of town to the 33-hectare (82-square-mile) historic core, you pay an entrance fee of 100 yuan (at press time about 13€, 15USD, £11), which includes admission to most of the visitable gardens and houses, but not boat rides. In addition to just roaming the cobblestone lanes; browsing sundry fascinating shops; ducking into lovely townhouses, museums, and gardens; and grazing at various eateries, tea houses, and snack vendors, you'll definitely want to take a half-hour cruise on the local hand-steered equivalent of a gondola through the picturesque canals lined with willows and exquisite traditional architecture.
By the way, you'll spot lots of Chinese visitors being photographed in traditional costumes along said picturesque canals (top); indeed, it's quite the big business here. I myself had a photo session tarted up in yellow-silk finery as a Ching-dynasty emperor – attracting quite the group of giggling onlookers, quite tickled at the sight of a tall, bearded, "hairy barbarian" emperor (But also speaking of photo ops, one thing I most certainly did not like was seeing one of those boats moored to one side with several unfortunate birds tied to it for just that purpose.)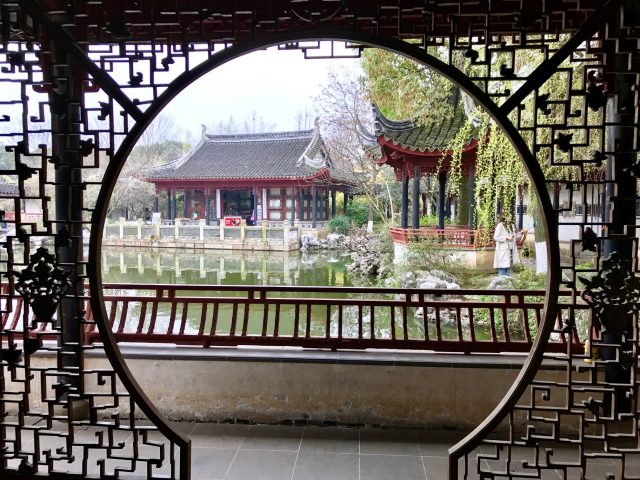 David Paul Appell
If you can possibly go on a weekday, by all means do so, as weekends do tend to be crowded. But even on weekends, the tourists are at least all Chinese; pretty much all of the water towns have various degrees of "touristy" feel to them, but Tongli and one or two others less so (see below).
Here are some Tongli highlights (though sadly, the sex museum, with its huge collection of traditional art and artifacts, has recently closed its legs):
Classical Chinese gardens including Tuisi Garden, Chongben Hall, and Jiayin Hall.
Townhouse complexes such as Gengle Hall (17th century), as well as the Fundamental Values Residence (early 20th century).
The traditional folklore museum focussing especially on wedding customs.
The Tea House of South Garden, a dark, atmospheric two-storey affair dating back to 1898 – truly a terrific time capsule.
Street food such as the local speciality: sesame cakes in both a savoury and sweet version.
And now here are the other seven water towns within a similar distance from Shanghai:
Luzhi
Especially noted for its lovely 41 remaining bridges, the 6th-century Baosheng Buddhist temple, ancient ginko trees, and a museum devoted to the distinctive dress of local women. About an hour and a half from Shanghai, it's one of the lesser known water towns, so not overrun.
The farthest from Shanghai (two hours), this water town (above) is the most tranquil and least well known – and, say connoisseurs, therefore the least overrun and touristy – of the bunch. Founded a bit later than other water towns – just 750 or so years ago – parts of this 218-hectare (539-acre) old settlement also display an interesting mix of traditional Chinese and late 19th/early 20th-century Western architecture.
Qibao
The closest but smallest of the water towns near Shanghai (a half-hour drive – and you can even reach it via Metro line 9!), it's particularly well known for "cricket fighting" (there's even a museum dedicated to this), and as the origin of traditional "shadow plays" once quite popular in Shanghainese society.
The farthest of the group from Shanghai (around two hours), Wuzhen is felt by many to be more of a "tourist trap" than its brethren, both pricier and more crowded. But of course the picturesque atmosphere is undeniable, and highlights include China's first museum devoted to antique beds; a wedding museum that's interactive and stages re-enactments; and a shadow play theatre.
Around an hour and a half from Shanghai, Xitang is divided into eight sections crisscrossed by nine rivers, it's noted for its roofed corridors, bridges, and lanes, and is especially lovely at night. You may have even seen it; a dramatic running scene from Mission Impossible 3 (2006, above) was shot here.
Also about an hour and a half away, this small town (50 hectares/124 acres) is the oldest and perhaps the best known of the bunch – and therefore one of the most popular, crowded, and commercialised – water towns of the bunch. Apart from its  picturesque canals and 36 stone bridges, highlights include the 11th-century Chengxu Taoist temple.
Zhujiajiao
Just under an hour from the big city, covering some 47 hectares (116 acres), it's one of the best preserved water towns, with 36 wooden and stone bridges, and charges no entrance fee. Besides the tourist trade and the folks who've lived here for generations, Zhujiaojiao has also become somewhat popular with Shanghai hipsters, with cool bars, cafés, and shops to show for it.
The Shanghai region's traditional water towns – I guarantee they'll really float your boat.
More information in English: Suzhou.gov.cn, Frommers.com; best fares from the UK, from Spain.