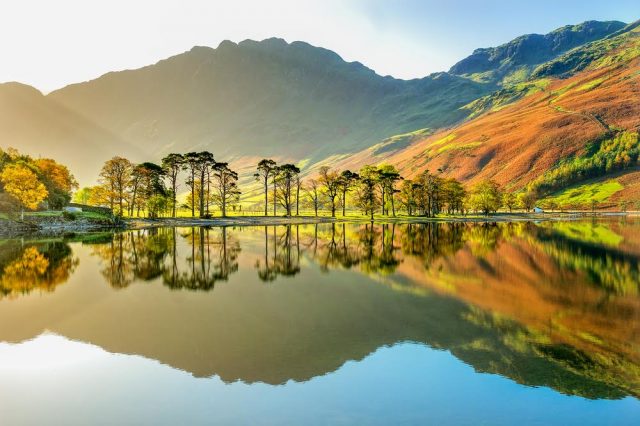 Undivided
I wander'd lonely as a cloud
That floats on high o'er vales and hills,
When all at once I saw a crowd,
A host, of golden daffodils;
Beside the lake, beneath the trees,
Fluttering and dancing in the breeze.
This, one of the loveliest English-language poems of the 19th century, by William Wordsworth, is just one of the many literary works inspired by what many consider to be this country's most gorgeous patch of real estate – some 2,400 square kilometres (912 sq. miles) of not just lakes and myriad smaller bodies of water but moors, forests, and mountains (here called "fells"). In England's far northwest, five to six hours from London by road or rail, the Lake District (also referred to as the Lakeland) occupies more than a third of largely rural Cumbria County, and is in turn mostly occupied by the 66-year-old Lake District National Park, England's largest and Britain's most visited.
Perhaps the best known of the lakes is also the district's (as well as all of England's) biggest, Windemere Lake, where at the touristy but cute town of Bowness-on-Windemere you can catch a cruise around the lake and its 18 islets. Bowness is also home to an attraction called World of Beatrix Potter, recreating the Peter Rabbit tales of the onetime Lake District resident. This and the nearby towns of Ambleside, Keswick (below), and Windemere are among its main tourism centres.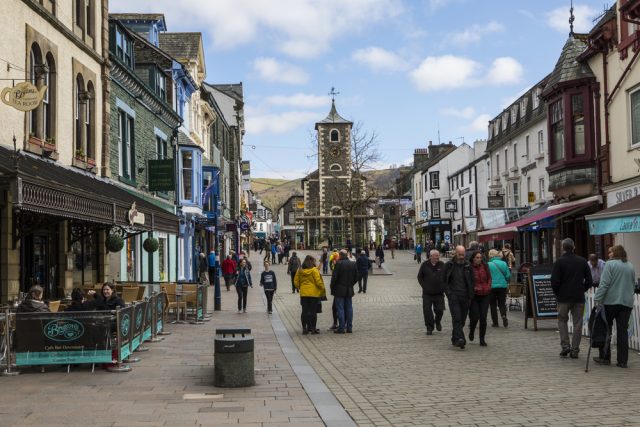 chrisdorney

In addition to biking and water activities such as kayaking, canoeing, sailing, waterskiing, and paddleboarding, in recent years more soft-adventure options have been added, such as canyoning, ziplines, and the like. Still, traditionally the main activity since Victorian times has been hiking, and trails abound.
And it's not just the scenery and the outdoorsy stuff, of course. There are tours of the slate mines at Honister Pass with associated climbing adventures not for the faint of heart. But there are plenty of more sedate options, too – lovely gardens and historic homes to visit, as well as a good dollop of cultural tourism, thanks to the region's ties not just with Wordsworth (a nine-year resident who wrote the first travel guide to the area), and Potter, but many other artists and especially writers including Samuel Taylor Coleridge, John Keats, Percy Bysshe Shelley, Sir Walter Scott, and Alfred Lord Tennyson. You can visit Wordsworth's Dove Cottage (below) near Grasmere; Potter's Hill Top in Ambleside; and Coleridge's whitewashed Greta Hall in Keswick, which is actually these days a bed and breakfast.
Andrew Rowland

Speaking of literature and the arts, the region also has a robust theatre and festivals calendar, with summer and holiday performances at venues such as Kewick's Century Theatre and Theatre by the Lake. This town is also the site of summer festivals combining sport and culture in Keswick and Kendal.
And by the way, there are also some very worthwhile things to see and do up here in Cumbria outside the Lake District proper. This area was for example once the northern frontier of the Roman Empire province of Britannia, and so you can visit remnants such as the 2nd-century Hardknott Roman Fort and the UNESCO World Heritage Site Hadrian's Wall, the largest still existing ancient Roman structure anywhere. Evocative medieval landmarks in the area include Carlisle and Brough castles (11th century), as well as Furness Abbey (12th century).
Finally, there are of course plenty of lovely small hotels, inns, and guest houses in the Lake District, as well as as formidable concentration of high-quality eating and drinking options, including multiple microbreweries as well as more traditional pubs. On the culinary front, there are even four Michelin-starred restaurants: Windemere's Gilpin Hotel, L'Enclume in Cartmel, the Samling in Ambleside, and Grasmere's the Forest Side.
More information: GoLakes.co.uk, VsitCumbria.com, VisitEngland.com.