Spain's verdant northwestern region Galicia is full of wonderful destinations, from cities like Santiago de Compostela and A Coruña to verdant countryside of spots like Rias Baixas coastal fjords and small, atmospheric towns such as O Cebreiro. But the region's oldest city is still very much under the radar. Welcome to Lugo.
The original settlement founded by Celtic tribes was in 25 BC turned into Lucus Augusti by the invading Romans, and it's their legacy which has made this city of 99,000, on an inland hill above three rivers unique in all the world. You see, it's the only city anywhere completely surrounded by intact Roman walls (top), more than two kilometres (1¼ miles) of them, built in the 3rd century AD. Punctuated by 85 towers and ten gates, these impressive ramparts stand eight to 12 metres (26-39 feet) high and just over four metres (13 ft.) wide, with a walkway along the top and a visitor centre explaining chapter and verse about their construction and history. Unsurprisingly, these imposing walls are a UNESCO World Heritage Site.
And Lugo's not done Roman just yet. For example, there's a Roman bridge over the Miño River, more than a hundred metres (328 ft.) long, which when illuminated at night is an especially jawdropping sight. Not far outside the walls, you can also visit the remains of its ancient Roman baths, now within the Hotel Balneario de Lugo. And the Museo Provincial displays some remarkable art and artifacts, of particular note being the lovely mosaics depicting mythological figures like Daedalus and Pasiphaë.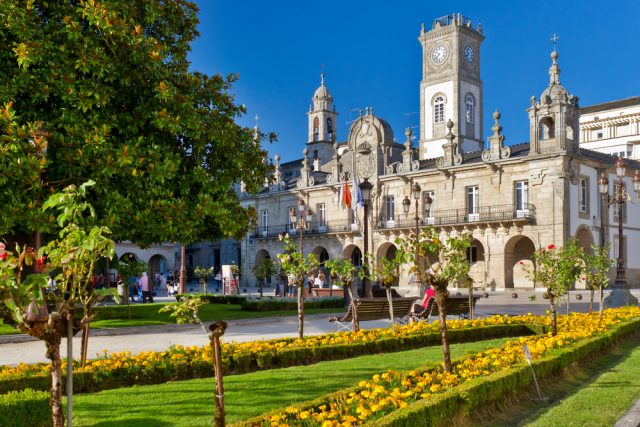 arousa
The old quarter inside the walls also boasts plenty of impressive history and architecture, most notably the 13th-century Catedral de Santa María, an imposing mix of Romanesque, Baroque, and neoclassical. The Virgen de los Ojos Grandes (Madonna of the Large Eyes) and the Most Holy Sacrament are the two most cherished totems, recognized by the pope. There are a number of wonderful churches to be explored here – their existence in part due to the fact that Lugo was an important stop on the so-called "Original Way" of the Way of St. James, the celebrated mediaeval pilgrimage route to Santiago de Compostela. They include the Church of San Pedro, with its distinctive mudéjar roof (in a style influenced by Spain's mediaeval Muslim rulers, very unusual here in Galicia); the Church of San Froilán, the city's patron saint; and the Church of San Pedro, [?] with a luminous High Chapel.
Meanwhile, as in many other Spanish cities and towns, the focal point of the historic centre is the Praza Mayor, ringed by its most distinguished historic buildings, such as the 18th-century Baroque city hall (above); the late-19th-century Torre del Reloj (Clock Tower) is especially imposing. Other musts in the historic centre include the Círculo de las Artes and the popular Praza do Campo.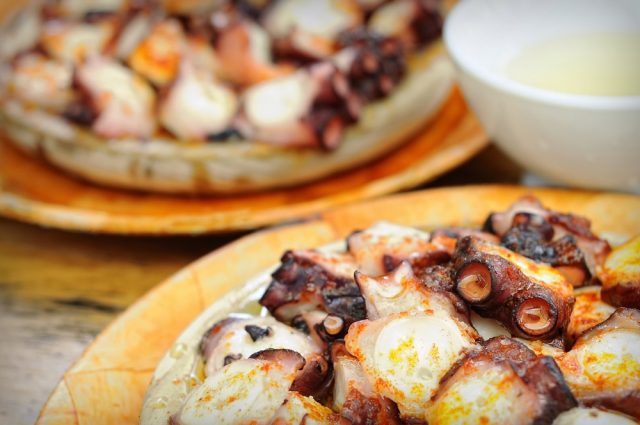 StockPhotoAstur
As in the rest of Galicia (and Spain, for that matter), eating in Lugo is a treat in its multifarious forms. The Spanish custom of tapas is as popular here as anywhere in the country, with the added bonus that like in certain other places such as Granada, here they often are served vhere free with each drink you order.
Galician specialities you can enjoy all over town include polbo á feira (boiled octopus with olive oil, salt, and paprika, above),  lacón con grelos (boiled ham with turnip tops), and raxo galego (breaded pork chunks with chips), all to be ideally washed down by a crisp local beer or fragrant Galician wine such as Ribeiro or Albariño and followed by a shot of the delicious local coffee liqueur.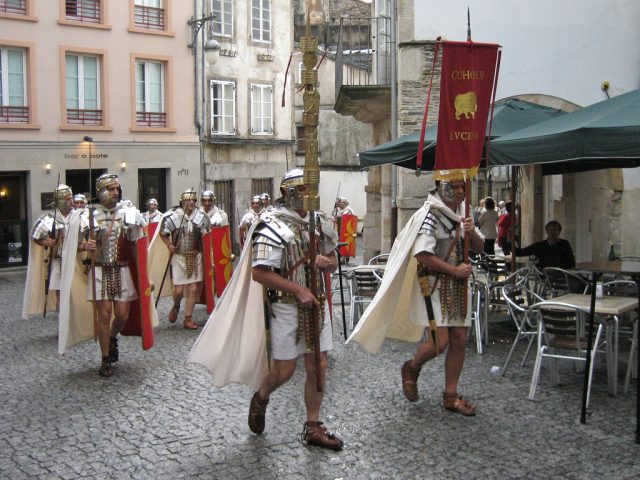 Tanya Hart
And if you possibly can, try to arrange a visit during one of the city's fantastic fiestas. Key parts of town already sport a lively atmosphere from Thursday through Sunday throughout much of the year thanks to Lugo's considerable student population. But the calendar is also peppered with parties with festive regularity, starting with Carnaval in February or March, with various street processions, music events, contests, and fairs. In mid-June comes Arde Lucus (above), when locals commemorate their Roman and Celtic history with processions, pageantry, and historic recreations including military encampments and gladiator fights, even traditional Celtic wedding ceremonies.
Perhaps the top local celebration, however, is early October's Fiestas de San Froilán, held in honour of the city's patron saint and a magnet for attendees from all over the north of Spain and even beyond. The traditional fiestas' key events are religiously and/or culturally oriented, such as the Domingo das Mozas (Maidens' Sunday), with a focus on Galician traditional costumes and dances, as well as the works of Galicia's most distinguished literary figure, the 19th-century poet Rosalía de Castro.
Lugo is an hour and a half from Santiago de Compostela; just over an hour from A Coruña; and just under 2½ hours from Vigo. More information in English: Turismo.gal; best fares to A Coruña from the UK, from the USA.