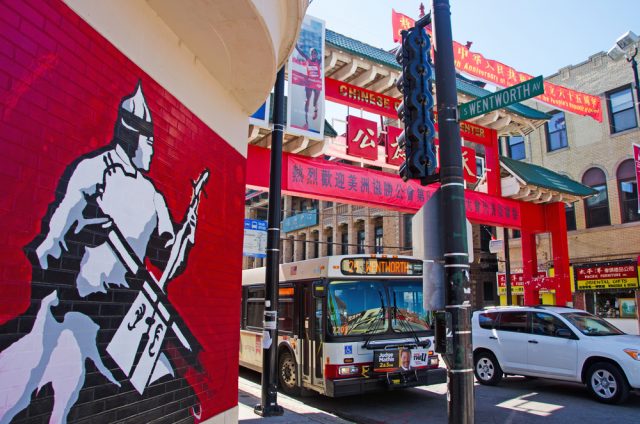 photo | Naeblys
The USA's second largest city, like most of the country's most vibrant cities, derives much of that vibrancy from its immigrants. And one of the tastiest legacies of all those generations of immigration is a spectacular array of ethnic eats that are truly globe spanning. Whenever I'm in Chicago, I always concentrate on seeking out the coolest and most exotic. Here's just a sampling of what's on the multicultural menu!
Chinese
Welcome to the Midwest's Middle Kingdom! On Chi-Town's South Side, one of the USA's oldest and largest Chinatowns (top), centred on Cermak and Wentworth Avenues, is a must, with a mix of old-school spots like Won Kow Restaurant (2237 South Wentworth Avenue), Xi'an Cuisine (225 West Cermak Road), Evergreen Restaurant (2411 S. Wentworth Ave.), and Phoenix (2131 S. Archer Ave.), these days supplemented with newer/hipper entries such as MingHin Cuisine (2168 S. Archer Ave.), Go 4 Food (212 W. 23rd Street) and Chi Café (2160-A S. Archer Ave.).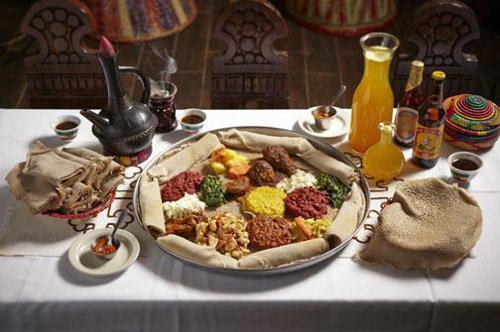 photo | Ethiopian Diamond Restaurant
Ethiopian
Come back, little Sheba! If you're curious to try African cuisine (and especially Ethiopian, which is a pretty unique dining experience in various senses), head to the Far North Side, with long-standing stalwarts like Ethiopian Diamond (6120 N. Broadway St.) in Rogers Park; Uptown's Demera (4801 N. Broadway St.); and Ras Dashen (5846 N. Broadway St.) in Edgewater.
Indian/Pakistani
Lassi, come home! Way up on the city's North Side, the prosperous West Ridge neighbourhood is home to Devon Avenue's Little India, where more than a few shop windows are filled with saris and you can explore the various regional cuisines of India as well as Pakistan at spots like Hema's Kitchen (2439 West Devon Avenue), Khan BBQ (2401 W. Devon), Sabri Nihari Restaurant (2502 W. Devon), Ghareeb Nawaz (2032 W. Devon), and Uru-Swati (2629 W. Devon).
Italian
It's Little Italy, amore!  This Near West Side neighbourhood is still home to old-timey ristoranti like Pompeii (1531 W. Taylor St.), founded way back in 1909, and Tufano's Vernon Park Tap (1073 W. Vernon Park Place), dating back to 1930. They've been joined by newer spots like romantic Davanti Enoteca (1359 W. Taylor St.) and laid-back trattoria Tuscany on Taylor (1014 W. Taylor St.).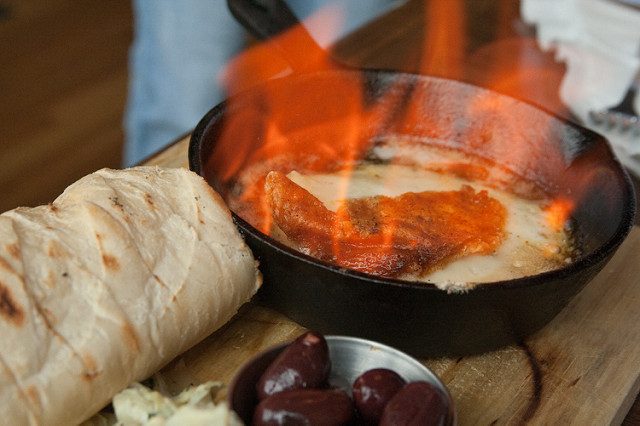 photo | Stephen DePolo
Greek
It's Greek to me, thee and we. Also in Near West, in Greektown (world's third largest Greek population, setting for My Big Fat Greek Wedding) flaming saganaki (fried cheese, above) is lit up in restaurants all along Halsted Street between Van Buren and Madison Streets (though this was invented right here, not in the old country). Go for breakfast at Meli's Café & Juice Bar (301 S. Halsted St.), named for the Greek word for "honey", which has a special place on the menu. Grab dessert from Pan Hellenic Pastry Shop (322 S. Halsted St.) or Artopolis Bakery, Café & Agora (306 S. Halsted St.). And go full opa at stalwarts Santorini (800 W. Adams St.), Greek Islands (200 S. Halsted St.), Pegasus Restaurant & Taverna (130 S. Halsted St.), and Athena Greek Restaurant (212 S. Halsted St.).
Mexican
Ay, Chihuahua! The epicenter of Chicago's Chicano and Mexican immigrant community is Pilsen on the Lower West Side, with top eateries including DeCOLORES galería y sabores (1626 S. Halsted St.), Don Pedro Carnitas (1113 W. 18th St.), Taquería El Milagro (1923 S. Blue Island Ave.), Taquería Los Comales 3 (1544 W. 18th St.), and Birriería Reyes de Ocotlán (1322 W. 18th St.). Another very vibrant Latino neighbourhood with mucho mexicano is located a few blocks west, in Little Village (aka La Villita), where standouts include El Milagro Tortillería (3050 W. 26th St.), Mi Tierra (2528 S. Kedzie Ave.), La Casa de Samuel (2834 W. Cermak Rd.), and Taquería Los Comales (3141 West 26th St.).
Polish
Definitely no Poles apart here. Immigrants from Poland have been a defining ethnic group in Chicago for generations, and even today the community is said to be the world's largest outside Warsaw. To get a feel for it, head up to the Northwest Side and dig into the kielbasa, blintzes, and Old-World ambiance at Staropolska (3030 N. Milwaukee Ave.) in Logan Square; Smak-Tak (5961 N. Elston Ave.) in Jefferson Park; and Podhalanka (1549 W. Division St.), at an intersection dubbed the "Polish Triangle." Oh, and let's not forget University Village's Jim's Original (1250 S. Union Ave.), Chi-town's foremost purveyor of Polish sausages. Smacznego!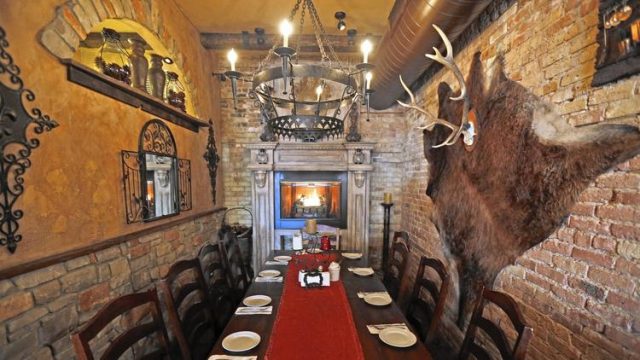 photo | Staropolska Restaurant 
Puerto Rican
Ay, bendito! In Humboldt Park out west, the "Paseo Boricua" is a mile-long stretch lined with street murals, community spaces,  and of course restaurants such as El Nuevo Borínquen (1720 N. California Ave.), sleek Coco (2743 W. Division St.), La Palma (1340 N. Homan Ave.), La Plena (2617 W. Division St.), Café Colao (2638 W. Division St.), and Papa's Caché Sabroso (2517 W. Division St.).
Swedish
How Swede it is! Another traditionally key component of Chi-town's ethnic tapestry, Swedes settled up in the North Side's Andersonville, and you can still see the country's blue-and-yellow flag and colours here on Clark Street, as well as shopfronts, the Swedish-American Museum, and restaurants such as Svea (5236 N. Clark St.) and Swedish Bakery (3258 N. Clark St.), and Ann Sather (909 W. Belmont Ave.) Other top Swedish eateries in town include  Tre Kronor (3258 W. Foster Ave.) in North Park and two other Ann Sather locations, in Edgewater (1147 W. Granville Ave.) and Wrigleyville (3415 N. Broadway St.)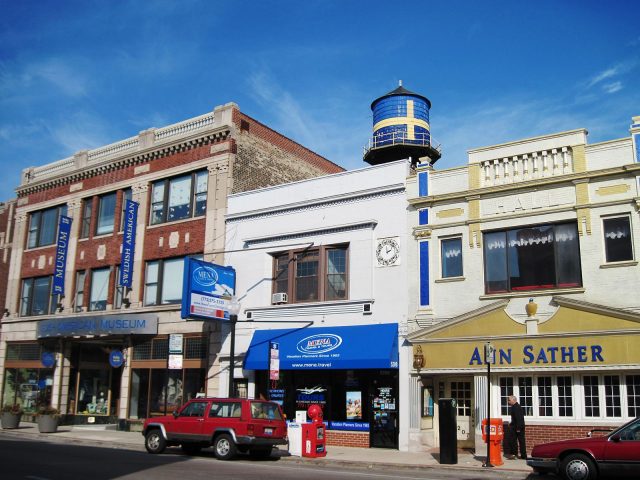 photo | Zagalejo
Vietnamese/Other Asian
Viet-neat! The historic Uptown neighbourhood, in the midst of a renaissance with a thriving music, theater and nightlife, is also home to some great Vietnamese joints along Broadway and Argyle Streets. The banh mi sandwiches are superb at Ba Le (5016 N. Broadway St.), while for pho, Tank Noodles (4953 N. Broadway St.) dishes out perhaps the best in town; other excellent choices are Pho 777 (1065 W. Argyle St.), Café Hoang (1010 W. Argyle St.) and Hai Yen Vietnamese Cuisine (1055 W. Argyle St.). And for an even wider menu of exotic Indochinese eats, check out Nha Hang Viet Nam (1032 W. Argyle St.).
This area, by the way, is also great for various other tasty Asian treats, as well For example, the Peking duck at Sun Wah BBQ (5039 N. Broadway St.), baked buns from Chiu Quon Bakery (1052 W. Argyle St.), and dim sum at Furama (4936 N. Broadway St.), along with numerous outstanding sushi spots, Thai noodle houses, and ethnic grocers.