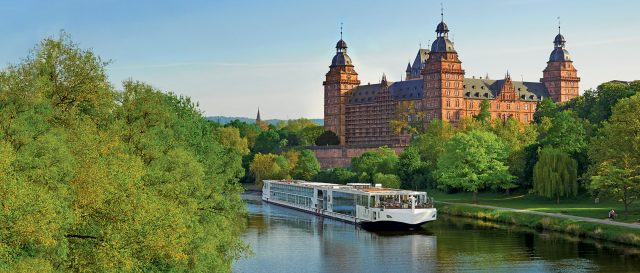 photos | Viking River Cruises
Cruising continues apace its boom of the past quarter century, and in 2017, one of luxury travel's fastest-growing sectors has become river cruising, particularly in Europe; these days, a growing number of companies ply the Danube, Rhine, Elbe, Rhone, Seine, Douro, and Po. And while many specialise in Europe river cruises, larger international players have also taken notice; upmarket Crystal Cruises introduced river cruising just last year and has two more vessels under construction.
With a season stretching generally from mid-spring through mid-fall, these cruises have become popular because they offer a particularly scenic and luxurious/comfortable way to experience various destinations on a single trip. Vessels tend to be smaller than their oceangoing counterparts – usually carrying fewer than 200 passengers – and can dock in city centres, meaning passengers can be on their sightseeing way in minutes. A number of shore excursions in each port (a mix of major and smaller cities) are included in the fare; additional tours are also offered; and staff can also arrange customised tours depending on passengers' particular interests. Entertainment is offered each evening, and it is easy to make onboard friends quickly.
Travelling solo this time, I recently experienced the eight-day "Rhine Getaway" on Viking's 190-passenger Eir, and I must say, it was absolutely glorious. I started in Amsterdam (you can also choose to start at the southern endpoint, Basel, Switzerland), and had a splendid time experiencing the six ports of call (five of which are UNESCO World Heritage Sites) in between: Strasbourg, capital of France's Alsace-Lorraine; the charming German towns of Breisach and Koblenz as well as cities Heidelberg and Cologne; and Kinderdijk, the unique 18th-century windmill town outside of Amsterdam.
In between, I greatly enjoyed relaxing in my comfortable, modern cabin as well as the luxurious lounge and the top deck as a narrator offered commentary on the history, architecture and geography of the beautiful countryside and lovely "old father Rhine". I found my fellow passengers to be primarily well travelled and highly engaged English speakers, ages mostly 50-plus, very easy and interesting to get to know. The three included meals daily were of very high quality, feature a variety of choices, and usually reflected the port of the day (the fish dishes and freshly baked breads were particularly outstanding).
At night, we were educated and entertained by talented speakers and performers such as a lecturer on current German politics, and a cellist-guitarist duo from the Cologne Symphony who just blew us away. Some evenings, games were on tap; on others, there was dancing.
My port tours included a cheesemaker outside Amsterdam (I'd already seen most of the city's major sights); the old town of Cologne, with its centerpiece is the iconic Gothic cathedral; Koblenz with its 700-year-old Marksburg Castle and early-19th-century Ehrenbreitstein Fortress; Colmar Pocket, site of a fierce and crucial World War II battle also known as the place where the war's most decorated soldier, 19-year-old Leiuetenant Audie Murphy, singlehandedly defeated an entire company of Nazi soldiers. It was truly a memorable trip, and I can't wait to go back and do Viking's other itineraries, such as "Romantic Danube", between Nuremburg, Germany and Budapest.
If the idea of European river cruising intrigues you, there are many other companies to choose from; here are several major players to check out:
Ana Waterways
Avalon Waterways
CroisiEurope
Crystal River Cruises
Emerald Waterways
Uniworld Boutique River Cruising
Marcia Levin is a Hollywood, Florida-based travel writer who specialises in topics of interest to seniors and cruise fans. A past president of the Society of American Travel Writers, her work has recently appeared in AAA Living, Porthole magazine, and numerous websites such as NeverStopTraveling.com. 
https://youtu.be/n-QGaVvEWoc