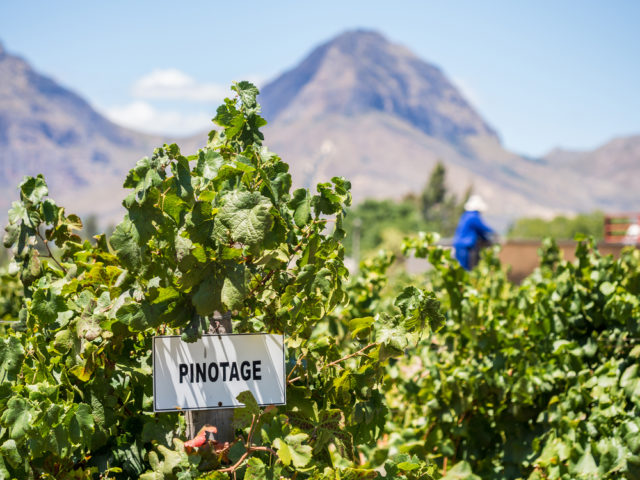 The diverse country at the bottom of the African continent has been making quite a quality name for itself in winedom in recent years – these days South Africa is the world's ninth-largest wine producer – although winemaking here dates back to the 17th century. Its wines are bold and distinctive, and the winelands in its western Cape lovely to visit. Truly an oenophile bucket-lister!
To delve into South Africa's winemaking history, we have to go back to 1655, when the Dutch governor of the region decided to plant the Cape's first vineyard. Since then, the particular local climate conditions (similar to those in the Mediterranean, with light breezes off the Atlantic Ocean), and the rocky topography have encouraged the development of a thriving wine country.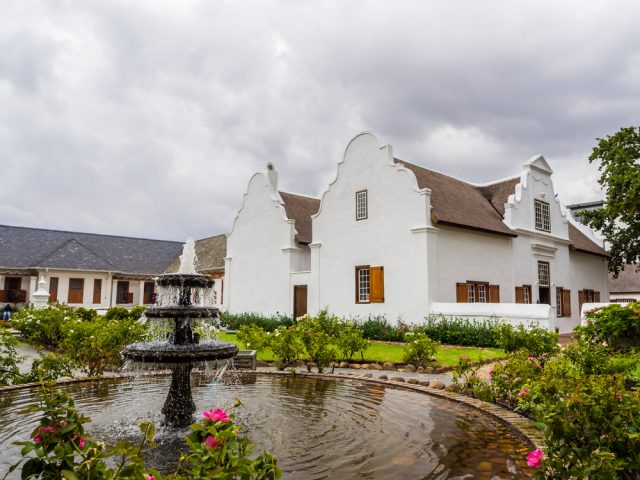 Denominations of origin have been granted to the wine made in their entirety with grapes from the same area, from the land, and there are currently around 60 varieties. More than three quarters of the South African production – with an area of close to 200,000 hectares – is orientated to white wine, with such prominent vines as Chardonnay, Chenin Blanc, and Sauvignon Blanc; the remainder is dominated by reds such as Cabernet Sauvignon, Merlot, and Shiraz.
South Africa also has its native grape vine, called Pinotage (top), created during at the beginning of the 20th century by crossing Pinot Noir and Cinsaut; it produces some great quality red wines, with fruity and lightly smoked tonalities.
Thanks to this important legacy, it was a question of time for the tour routes dedicated to wine to emerge and all that Pinotage means for the country: the main wineries offer personalised wine tasting where you can taste their best wines, to learn how to distinguish their own touches, and also taste native products like cheeses, cold meats and olive oil. From all these routes at just a few kilometres from Cape Town, I've selected three of the most prominent vineyards.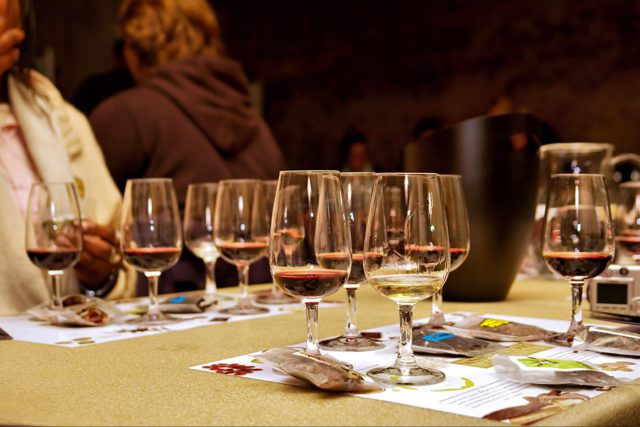 Stellenbosch (above) is the country's wine capital and a must-visit during our route: half of South Africa's wineries are located here, as is a renowned enology and viticulture faculty. The city's Dutch colonial architecture contrasts with such beautiful rocky landscapes on which the vineyards acquire a special prominence. Expect a unique experience.
Waterford Estate is one of Stellenbosch's best known wineries, a beautiful spread both rustic and elegant, offering visitors a variety of wine-tasting options with Shiraz and Cabernet Sauvignon, for example. Each sip is accompanied by interesting explanations about the grapes, the wine's own personality, and advice on how to learn and differentiate flavours and aromas, and perhaps the most popular option is the combination of wine and chocolate. They also offer the possibility of a visit round the vineyards in a jeep, making different stops to enjoy some good wine sipping amidst nature.
The Muratie vineyard, established in 1685, also deserves a mention and it's one of the oldest in the country: the charm isn't only in the wine here, as there is also the possibility to visit centuries-old buildings and facilities with somewhat peculiar decoration. The passion with which the owners work is noticeable in their friendliness and in the explanations that accompany the wines created with Pinot Noir, Chardonnay and Merlot, among other vintages.
A much more modern winery is the Delaire Graff Estate, which is able to offer not just wine tasting but also a restaurant that offers high class national cuisine, a spa, and accommodation, with some fantastic panoramic views. Either in the interior dining area, or on the outdoor terrace, the sampling of a variety made up of Chardonnay, Sauvignon Blanc, Shiraz and even some rosé will put you in a bubbly mood indeed.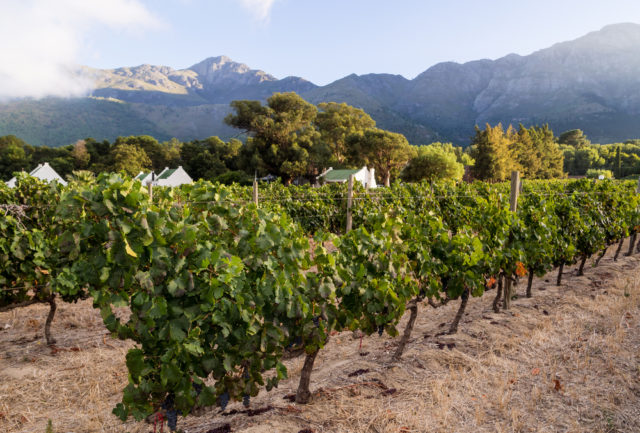 A couple of hours away from Cape Town, you'll find Franschhoek, another iconic name in the wine world thanks to a production that goes back centuries. The craggy landscapes that surround the city, upon which even snow falls during the winter, are just as spectacular, if not more than those in Stellenbosch.
A good start here would be La Motte, a picturesque enclave that offers a variety of wine-tasting options: a comparison of wines made with Shiraz, wines prized with vintage years, and as a unique feature, and a group tasting is offered on Fridays with wines and traditional recipes from the region.
Boschendal has more than three hundred years of good work on the subject of wine-making and will let you explore their vineyards and caves, while they explain every detail of the winemaking process and the aging of the product. You can taste a good Sauvignon Blanc or a pleasant Cabernet whilst enjoying a picnic on the grass overlooking beautiful landscapes. Lastly, the Lynx winery is small, but offers great quality and highly acclaimed wines.
Paarl will be our last stop on the wine route. It's a city famous for its highly regarded sparkling wines (as well as less pleasant history, as Nelson Mandela spent the last 14 months of his 27-year prison sentence here in the Victor Verster Prison, now known Drakenstein; a statue near the building pays homage to him). Here you'll find well-known wineries such as Fairview, a country estate with a family nature that produces an interesting variety of cheeses, as well as some excellent wines including Pinotage, Mourvèdre and Merlot (as to be expected, their wine tasting includes both wine and cheese). Another pair of good options are Mellasat, famous for producing wines with a rare white Pinotage, and Perdeberg, winner of multiple awards.