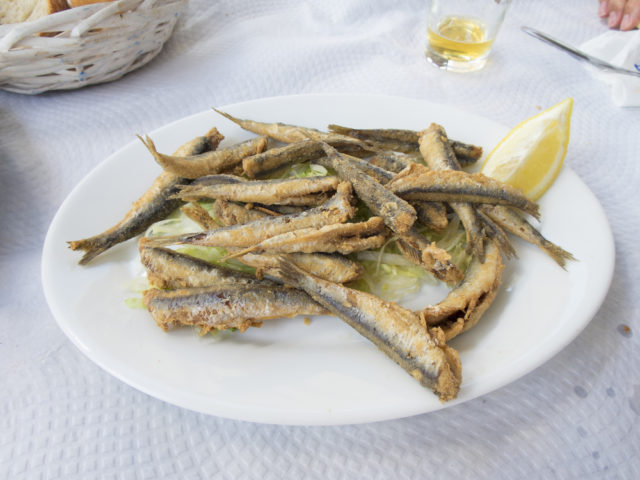 photo | Quintanilla
Known as the Spanish city with the highest quality of life, the largest metropolis on Andalusia's Costa del Sol mixes tradition and modernity, and is a sunsplashed postcard full of corners tasty to all the senses, from history to culture to beaches to food and drink. Indeed, locals are so associated with the pleasures of the table and especially seafood that they're nicknamed boquerones (anchovies), and their pescaíto frito ("little fried fish", top – not just anchovies but also sardines, sole, cod, or other white fish) is reknowned throughout Spain. 
And when it comes to sampling the local cuisine, there are a pair of pedestrian streets in Málaga's historic centre which are particularly well known as a culinary "golden mile" with some of the city's best and most typical restaurants. These, in addition to handsome historic buildings, are what give Calle Strachan and Calle la Bolsa their distinctive atmosphere.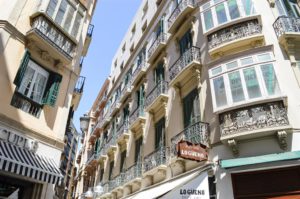 Offerings range from the irresistible meat dishes of the Mesón Lo Gueno to the succulent seafood of Casa de Botes. Another excellent spot is Mesón La Cepa, serving fine traditional cuisine with a personal touch. Heading down Strachan, right on the corner we also find a true Málaga classic, Gorki, an upmarket tapas bar with streetside tables and marvelously fresh ingredients.
Heading to Calle la Bolsa, the first restaurant we come across is El Rescoldo, whose traditional Malagueña cuisine has long given it a loyal following. Excellent choices here include solomillo de buey a la parrilla (grilled beef sirloin), rabo de buey estofado (stuffed oxtail), rape a la plancha (grilled monkfish), and crema catalana (crème brûlée).
Following our nose, we next find one of this street's best known and most popular eateries, La Reserva 12. With lots of traditional character, exquisite service, and a varied wine list, it's famous for some of this downtown's best seafood – including, of course, pescaíto frito; I'd also recommend the ensaladilla rusa (potato salad). Both more sophisticated and casual, Restaurante La Barra offers a diverse, high quality, and particularly creative menu, while Restaurante Café La Bolsa in the Hotel Larios blends skillful cookery with excellent ingredients to yield impressively delicate dishes brimming with Mediterranean flavours. Finally, there's no better place to finish our food tour than Bar La Cocotte, whose premium gin tonic I can't recommended enough.
The Málaga fine-dining scene in general has made truly impressive strides in recent years, with distinguished chefs including Dani García (Bibo), José Carlos García, Paco García (Restaurante El Lago), Diego Gallegos (Sollo), and the award-winning and Michelin-starred contemporary cuisine of Kabuki, Skina, and Messina.
Others without Michelin stars but richly deserving of praise include Marcos Granados at the above-mentioned Restaurante Café La Bolsa, Dani Carnero at La Cosmopolita, Sergio del Río and Rui Junior at Óleo, and last but not least El Refectorium del Campanario.