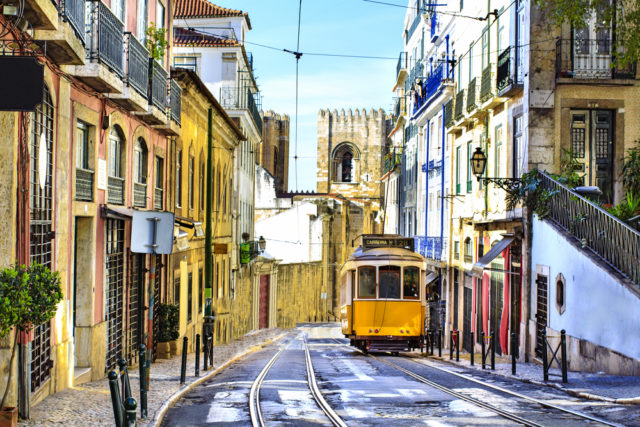 photo | Rrrainbow

Portugal's capital on the Tagus River is an atmospheric city indeed, so it's no surprise that over the years it has charmed various filmmakers into using it as a backdrop for their art, with water locations and the city's famed, antique yellow street trams. And the especially great thing about Lisbon is that it has also admirably evolved even while maintaining its inimitable essence, culture, and history.
It's this ability – with, for example, laundry still hung from windows and balconies in many residential quarters – which helps preserve my faith that there are places in the world where things can change but at a slower, more human pace.
You know, my visits to Lisbon have always ended up being with boyfriends – even though this city has always struck me as the perfect place to visit with friends, a corner of the world with so much character and things to see and experience in a group. It's a refreshing city where I love to toast with shots of typical local ginjinha (sour cherry liqueur) at the bar-restaurant of the same name (Largo São Domingos 8) in central the Rossio neighbourhood, followed by sitting around a checkered-tablecloth-covered table for a lovely Portuguese-style chicken dinner, dressed with a savoury gravy and accompanied by tasty potatoes. And when the "damage" (aka the dinner check) arrives, to marvel at how little we were paying for such a splendid repast.
https://youtu.be/Rak-qt3Fkt8
But I digress – about those Lisbon film locations…  The city has made appearances in quite a few movies, including On Her Majesty's Secret Service (1969) and The Ninth Gate (1999),  but one of my favourites focusing on the city per se is Swiss director Alain Tanner's Dans la Ville Blanche (In the White City), from 1983, about an oil tanker engineer who overstays his shore leave and becomes an aimless drifter in Lisbon, including shots of him near the reddish, Golden-Gate-like suspension bridge Ponte 25 de Abril and hopping aboard one of the famous aforementioned trams.
https://youtu.be/rjd547md2t0
Eleven years later, reknowned German director Wim Wenders has a go at it with Lisbon Story, the dreamy, introspective tale of a movie sound engineer searching for his missing film director friend and in the meantime recording the sounds and sights of the city. Those sounds include a liberal dose of fado (Portugal's answer to flamenco) from singer Teresa Salgueiro and her group Madredeus. Among the sights, the hillside Alfama district (top), the city's oldest – dating back to the Moorish rule during the Middle Ages – and certainly one of its most atmospheric. The Alfama is also the site of several venues in which to experience this plaintive, highly evocative music, such as the restaurant Sr. Fado (Rua Dos Remedios 176).
More recently, in 2013, Night Train to Lisbon starred Jeremy Irons as a Swiss teacher who by a fortuitous meeting finds himself in the city investigating the life of a member of the resistance against Portugal's Antônio Salazar dictatorship of the 1970s. Locations include the Alfama's Santa Apolónia Station; Praça Leandro da Silva in Lisbon's northeastern Chelas neighbourhood of working-class immigrants; Rua da Misericórdia, one of the sloping cobblestone streets in the mostly 16th-century Bairro Alto neighbourhood; and  Rua da Bica, an steep, cobblestone, and narrower street in the compact Bica neighbourhood between Bairro Alto and Cais do Sodré.
All ample proof that this ancient-meets-modern city is catnip for the camera as well as fodder for complex and intriguing stories. Come and you're sure to feel like the star of your own movie.
More information in English: VisitLisboa.com; best fares from Best fares from the USA, from Spain.