photo | Lionsgate
Just when you thought that Hollywood's musicals from its golden era were deep-sixed and buried six feet under, here comes La La Land, starring Ryan Gosling and Emma Stone, which recently swept the Golden Globes (with a record seven wins) as well as the Academy Awards, with 14 nominations. It doesn't hurt that the film is an ode to artists and dreamers, as well as the importance of perseverance and creativity when all hope is lost – a message that resonates deeply among today's grim headlines.

Directed by Damien Chazelle, just 32 years old, La La Land is an unabashed tribute to Technicolor musicals from the 50's like An American in Paris. It also soaks in the inspiration of David Hockney's swimming-pool paintings like A Bigger Splash, as well as Chazelle's (and, by the way, also iconic French president Charles De Gaulle's) favourite film, The Umbrellas of Cherbourg, directed by Jacques Demy in 1964.
photo | Lionsgate

The first homage to Umbrellas occurs in the opening sequence, set in the midst of one of L.A.'s many unavoidable traffic jams (above). The cacophony of horns turns into an exhilarating musical number in which a hundred dancers wear primary colors like the ones Catherine Deneuve wears in that film. Want to relive the scene? Drive to the intersection of the 105 and 110 freeways – known by the prosaic and unglamorous name of Judge Harry Pregerson Interchange (my advice is not to leave the car, though!). Chazelle had the intersection blocked for two days to shoot – in just one dazzling take – this unforgettable scene.
La La Land was filmed in some 60 locations around Los Angeles – many of which had never been shot in such a flattering way, thanks to the production designer David Wasco (who among other things has worked a lot with Quentin Tarantino on Pulp Fiction and other films).
photo | Lionsgate
For Chazelle, the Observatory in Griffith Park, with its stunning views, is a landmark as striking as Big Ben or the Arc de Triomphe. Already one of the city's top tourist destinations, it's bound to become a date magnet after the success of his film. To re-enact main characters Sebastian and Mia's dance when they fall in love (top), drive to Mount Hollywood Drive, park close to Cathy's Corner and unleash your inner Fred Astaire and Ginger Rogers. Don't forget to bring your own bench and lamppost, just like the filmmakers did, particularly if you want to recreate Gene Kelly's iconic moment from Singin' in the Rain, as Sebastian does. Oh, and please send me pictures, lol.
After your dance, drive up to the park's planetarium – where, by the way, Rebel Without a Cause with James Dean was shot back in 1954. It's here that our two stars levitate, propelled by the sheer energy of amour. They later meet to watch Dean and Natalie Wood's unforgettable film, holding hands at the red velvet seats of Pasadena's Rialto Theater (1023 South Fair Oaks Avenue, although you can see the exterior only, as these days it's only available for private events).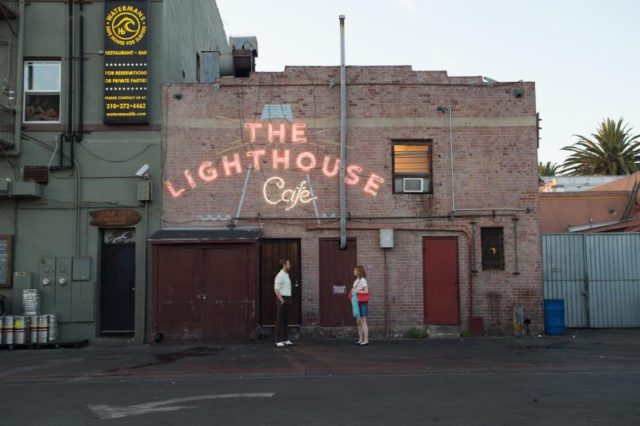 photo | Lionsgate
From here, motor to the corner of Hollywood Boulevard and Wilcox Avenue, where the You Are the Star mural features Marilyn Monroe and Humphrey Bogart, next to the Walk of Fame. This is where Mia stumbles into the piano bar where Sebastian is begrudgingly playing Christmas music (the scene was actually shot at Smoke House, a restaurant in Burbank (4420 West Lakeside Drive) which has been a hangout for movie people for decades.
The reason for that is that this restaurant is right across from Warner Brothers Studio, where, during an otherwise lovely stroll, Sebastian is appalled to find that Mia doesn't like jazz; she works as a barista in what appears to be the Warners Café. These sequences were shot, however, at the Hollywood Center Studios (1040 North Las Palmas Ave.). The real Warners Café is located at that studio lot, right in front of the window where Ingrid Bergman and Bogart look out in Casablanca; this is what inspired the numerous references to Bergman in the film – including the huge poster in Mia's bedroom.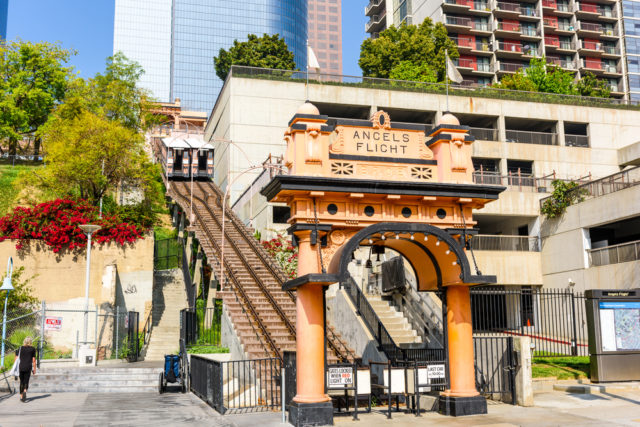 photo | Sean Pavone
Mia and Sebastian's date takes them around the city, starting at Pasadena's Colorado Street Bridge, which debuted on the big screen in Charlie Chaplin's The Kid. When they get hungry, they stop at Sarita's at historic Grand Central Market (317 S. Broadway), which has lately been overrun by hipsters and bankers who work in LA's downtown area; its famous for eateries including Eggslut, Wexler Deli, and Tacos Tumbras.
Not too far from here, in the Watts neighbourhood, is Watts Towers (1765 East 107th St.),  one of LA's quirkiest attractions, built by an Italian immigrant who constructed a dream-like complex of whimsical towers out of sparkling mosaics, scrap metal, and concrete. This romantic sequence culminates in a kiss inside the Angels Flight funicular (351 S. Hill St., below), built in 1901 but closed to the public until further notice after a derailment in 2013.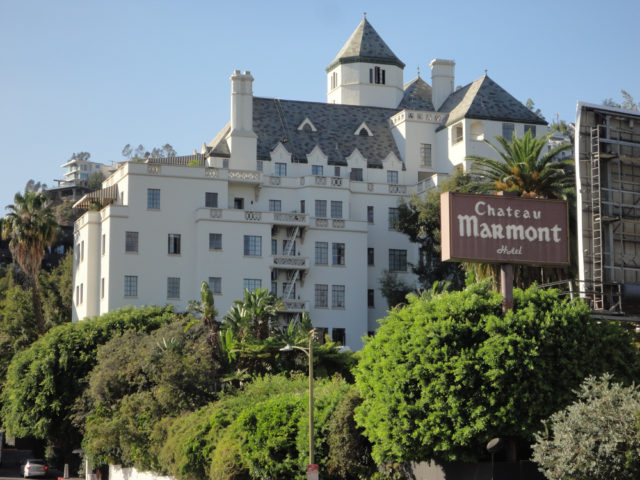 photo | Alex Millauer

Now, since L.A. has been a backdrop for so many movies over the decades, it was challenging for the production scouts to find original locations in town, and so they were forced to scout in surrounding areas, as well. For example, Mia's apartment, where she launches into a colorful dance with her roommates, is in a pink Spanish-style building known as Rose Towers in the city of Long Beach (1728 E. 3rd St, Apartment 2, to be precise!).
The magical sunset number in which Gosling sings City of Stars, meanwhile, was filmed at the pier in Hermosa Beach (above), along L.A.'s south bay – a perfect location, as the filmmakers could avoid the hordes of tourist that flock to the more popular Santa Monica pier. A short stroll from here is the Lighthouse Café (30 Pier Ave.), where Sebastian performs his jazz set. This atmospheric club, which has hosted legendary musicians such as Miles Davis, is also where Sebastian meets John Legend, in his screen debut.
Mia, now a movie star, finds Sebastian at his jazz own club, Seb's. This poignant moment was shot at Long Beach's The Blind Donkey (149 Linden Ave.). From here, she drives to her ritzy building, in no other than West Hollywood's historic Château Marmont (8221 Sunset Blvd), a hotel built in 1929 and modeled after an actual Chateau in France's Loire Valley – and which of course in real life is a few miles away!
It's all part of the magic of Tinseltown, in this tuneful love letter to the City of Stars showcased as never before.

Ignacio Darnaude has worked as a film journalist and executive vice president of international marketing at Walt Disney Studios and Sony Pictures. He is currently a film producer and a member of The Academy of Motion Pictures Arts and Sciences, as well as the Spanish Film Academy.