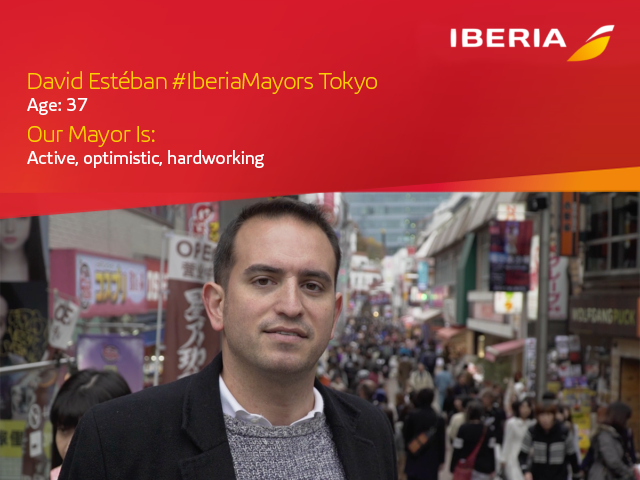 Yōkoso (welcome) to Tokyo! One of our newest #IberiaMayors, David Esteban, shows us some of the most interesting corners of his adopted city, which he describes as "huge and busy, but also full of quieter, historic areas which will take you back in time".
We begin our tour with Zojoji Temple, one of the Tokyo sites which clearly reflects the contrast between the traditional and the modern – especially because right behind it is the famous Tokyo Tower.
Japan is reknowned for its very distinct cuisine, and some of the best in town can be found at the Tsukiji Market – the world's largest – amid whose mazes you'll find a multitude of traditional eateries.
Now it's time to move on the some of the city's most iconic sites, starting with Odaiba Island, where among other things you'll find Tokyo's artifical "beach" (a favourite with locals also for enjoying sunsets) and a replica of New York City's Statue of Liberty.
Another must is a stroll through pedestrian Takeshita Street, packed with shops and young, hip locals window-shopping the colourful displays and browsing the latest trendy threads.
https://youtu.be/x_CzD0GBD-4
(A perfect modern soundtrack for Tokyo: Rising, by the Yoshida Brothers.)
Ensconced in a forested section of Shibuya, right in the city and easily accessible via metro, the Shinto Meiji Shrine, built in the early 20th century and dedicated to the spirits of the late-19th-century Meiji Emperor and Empress Shōken, is an atmospheric wonder. And from here, David recommends a stop for lunch at one of the hundreds of restaurants on Yokocho lane; some of these are so tiny there's barely any distance between the bar and the wall!
When it comes to traditional Japanese cuisine, he especially recommends shabu shabu, the local version of hot pot, whose name is onomatopeia for the sound of meats and vegetables being stirred into broth.
Last but most certainly not least, we pay a visit to Shibuya Crossing, the world's busiest pedestrian thoroughfare, right in the heart of the city. There are plenty of bars and clubs nearby, and David also reminds us we need to think vertical – many of these might be located up on a seventh, or seventeenth, floor!
Time for our #IberiaMayor to bid us sayonara, but not before reiterating that what visitors to Tokyo are usually most struck by is the harmony of the Japanese along with "the tremendous contrast between tradition and modernity".
Have a look and a listen below (and be sure to switch on English subtitles), then please let us take you to terrific Tokyo! Best fares from the UK, from the US.