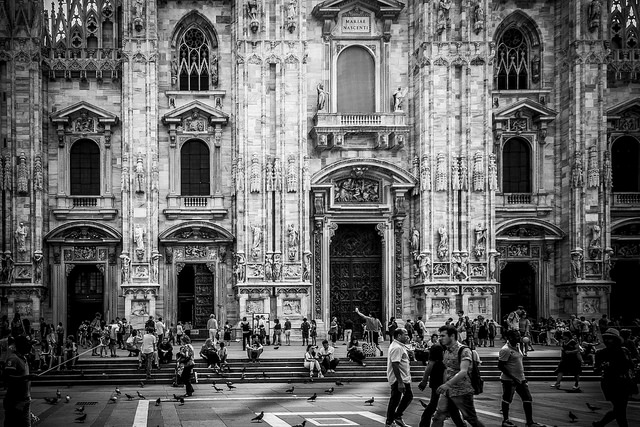 Mamma mia! What is it about Milan that mosts entices people into visiting and experience this city? The monuments and art? The gelato? Or the chic that among other things helps make it one of the world's foremost fashion capitals?  Or all of the above. In any case, today we're going round some of the chic and historic spots which make Milan what it is.
We start our day at the delightful Moleskine Café. Yes, this iconic brand now has a tribute café at Corso Garibaldi 65 – an idea adapted from the classic literary cafés whose cozy, welcoming rooms are perfect for nurturing personal and professional creativity. Here the morning kicks off with the aroma of Italian coffee and healthy breakfasts.
To continue the route, there's nothing better than going up the Breda Tower. This is a 117-metre (384-foot) construction which dates back to 1954 and offers you some of the most amazing views of the Milanese skyline. The tower is open from 9 am and stays open right through to 7 pm. If you are up for visiting the tower, it costs 9 euros and you go up 500 steps, or you simply pay 13 euros, if you prefer to take the lift. Whether you choose plan A or plan B… the next visit is even more cultural, look, look…
Oh Leonardo! We couldn't miss your set table – thirteen diners at what will always be the biggest masterpieces of all time. To see The Last Supper should always be a must-visit here. We'll head along to the Santa Maria delle Grazie church to see this, but with a prior booking of course. Be well aware of this, otherwise you won't be able to see this play. Bookings for access to the play are made at vivaticket.it. So, for you to have an idea of how popular this play is, the bookings are usually made up to four months in advance.
And that's how we spent the morning. A break for lunch will be very welcome, and more so if we go to a traditional and friendly place, which is also chic with good Italian food of course. The Trattoria La Madonnina is a restaurant offering home-cooked dishes where 70 to 80 Milanese are served every day. It goes without saying what the house speciality is: thinly sliced Milanesas with a small bone and a delicious breaded coating are a delight for anyone's taste buds. Don't even think about ordering ketchup! They'll give you a strange look, and you'll spoil the essence of their flavour!
Ready to continue the route, we head for one of the most famous, glamorous and of course chic areas in the city, which is the area for fashion home to the Quadrilatero d'Oro and Galería Vittorio Emanuele II. There's a little time for you to do some shopping here, or at least some window shopping, and whether you like or dislike this world of fashion, or planning to buy something or not, it would be a sin not to wander round this area when you are in Milan. If you feel like something sweet in the afternoon, head along to the legendary Cova delicatessen, as their panettones are world famous and simply outstanding.
How are we doing? Feeling a little tired? If you still have some energy left we can round off the afternoon in Teatro alla Scala, since the world's most famous opera house always has something interesting to offer. Try planning it in advance and you'll make the most of it.
The day has almost come to an end. We can round it off with a strategic stop to taste some Italian snacks in the evening: a drink as well as an open bar offering salads, pizzas and pickles. The Drogheria Milanese is a good choice, but if you change your mind and prefer to order from the menu, their dishes are outstanding.
What? We're leaving now? Well, not before we drop by Surfer's Den, as this cocktail bar is a must during the night in Milan. Here, you'll find a chic and surfing atmosphere in a very interesting place.