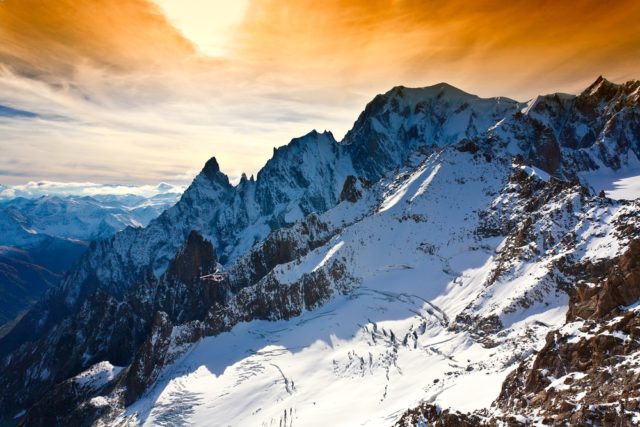 photo | Alexey U
Italy is too often overlooked by non-Italians as a mainstream winter sports destination, but there are plenty of factors that make it an attractive choice indeed.
For a start, it's cheaper to visit than France, Switzerland, or Austria, and also boasts spectacular scenery, ranging from peaks of the Mont Blanc massif to the craggy cathedrals of the Dolomites, which turn a delicate hue of rose pink in the light of the setting sun.
The resorts are, without exception, family friendly. Most hotel and restaurants welcome small children with open arms, but the ironic downside is that you can't always find decent childcare – since many Italian families tend to bring granny along with them to look after their little ones!
Then there's the huge variety of skiing and snowboarding, ranging from excellent beginner slopes in places like Cervinia, to long intermediate pistes in Corvara and the Sella Ronda, to steep and deep descents in the Monte Rosa area (including heli-skiing, which is banned in many neighbouring countries).
Last but certainly not least is the food, a mix of classic Italian and hearty Tyrolean specialities, which of course is all fabulous, whether it's at the cheaper end with wood-fired pizzas or chic restaurants serving gourmet cuisine.
Here I've divided the skiing according to the mountain ranges that set the stage so spectacularly.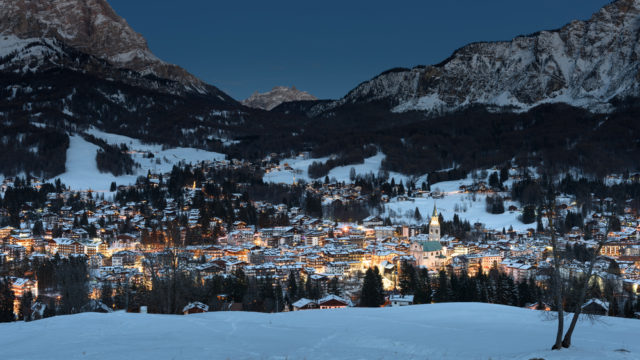 photo | Gito Trevisan
Ski the Dolomites
In the South Tyrol, San Cassiano is a small village just off the Sella Ronda, a circuit that can be skied in either direction and takes around four hours to complete.
Apart from the huge amount of skiing, the immediate area is known for its fabulous restaurants both off and on the mountain – no more so than the lovely Hotel Rosa Alpina, which has been owned by the Pizzinini family since 1940 and houses one of the best Michelin-starred restaurants in the area, where chef Norbert Niederkofler creates local dishes with a gourmet twist.
The skiing here is flatteringly enjoyable, with one delightful village leading to another via gondola, chair-lift, and a network of trails. However, this is certainly not an area solely for intermediates: the off-piste is demanding and should only be undertaken in the company of a qualified local guide. Book a stay at the Rosa Alpina with Ski Independence.
At the opposite end of the ski area is Arabba and Sëlva Valgardena – the latter is the most popular resort in the area, so during high-season weeks it can become quite crowded. Stay in centrally-located Hotel Antares in Sëlva, which has easy access to the slopes. Book a holiday here with Inghams.
Off the beaten track is another mountain hotel that is worth a mention here. Exquisite Adler Mountain Lodge is set completely on its own, in the middle of the piste above the town of Ortisei (Urtijëi in local Tyrolean dialect). From here you can ski, with a bit of effort, across to Sëlva to join the Sella Ronda circuit. But that's probably not why most of its guests come here – there's ample, easy, local skiing. The hotel is in a beautifully designed wood-and-glass building, with one complete wall of glass in the lobby that almost seems to bring the outside in. And the views are to die for.
The Adler is a veritable hideaway that is hard to leave during the day – and you don't have to, if you don't want to. All food and wine is included in the price, along with ski guiding, snowshoeing, toboggans, daily yoga and even stargazing. The bedrooms, suites and little chalets in the grounds are gorgeous, as is the pool and spa area. Book a stay here with Snow-Wise.
Closest major air gateways to Val Gardena are Milan, about 3½ hours away, and Munich, just over three hours.
No list of the best Italian resorts would be complete without Cortina (above), the glamorous old ski town which is Italy's answer to St. Moritz or Aspen. Although it is more expensive than other ski resorts in Italy, prices remain favourable in comparison to resorts of this caliber and renown in other countries.
The skiing is good, if a bit scattered around the resort, some of it a bus ride away. As in the rest of the Dolomites, there are some exquisite places to eat. My favourite is Rifugio Averau, in the Cinque Torri area out of town. It's one of the top mountain restaurants in Italy, officially located in one of Cortina's ski areas but also reachable by bus from Armentarola in the Sella Ronda.
Stay at the Belle-Époque-style Hotel Concordia, a five-minute walk from the lifts, with Snowfinders.
The nearest major air gateway is Venice, just over two hours' drive.
Also in the Dolomites, but over in the Trentino ski area of Val Rendena, this ranks as Italy's top ski resort for piste grooming – meaning it's a great place to hone your skills on the slopes. Although suitable for all abilities and with some good nursery slopes, to get the best out of Madonna you ideally need to be an intermediate looking for some relaxing skiing.
The slopes are tree-lined and there's a modern lift system. With the Superskirama lift pass you'll also have access to the neighbouring resorts of Marileva, Folgarida, and Pinzola.
Madonna remains relatively uncrowded throughout the season, with some good restaurants and some excellent hotels. Stay in DV Chalet, which has cool and contemporary interiors, a spa, and 20 bedrooms. Book a stay here with Momentum Ski.
The closest major gateway is Milan, 3½ hours.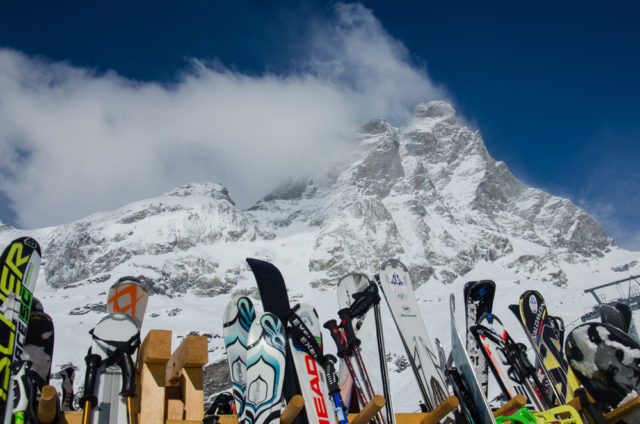 photo | Olga Koberidze
Ski the Matterhorn
This high-altitude resort at the foot of the famous Matterhorn (it's called "il Cervino on the Italian side). There's guaranteed snow here from early in the season to very late, including summer skiing, making it a popular year-round destination. The scenery is lovely, and the slopes are wide and moderately easy.
Beginners have a nursery slope right at the centre of the village, and intermediates will love the seemingly endless Ventina run – at 13 kilometres (eight miles) it's one of the longest in Europe. And, as if this isn't enough, your lift pass covers you to ski across the border into neighbouring Zermatt, Switzerland.
Zermatt is well known for its wonderful mountain eateries. But Cervinia itself also has a range of fabulous restaurants both on and off the slopes, and they are considerably lower in price.
A great new place to stay in Cervinia is the White Angel, a modern four-star hotel with relaxed service and stylish accommodation, in a ski-in ski-out location. Book a stay here with SNO.
Closest gateways: Turin (just under two hours), Milan (just under 2½ hours).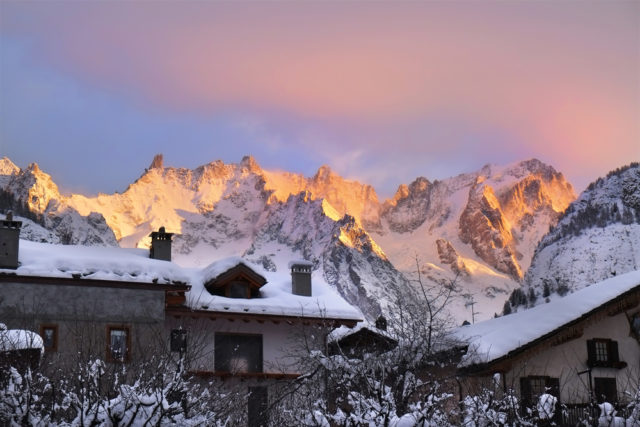 photo | pixbull

Ski Mont Blanc
Another resort at the foot of another great mountain – this time Mont Blanc – so it's close to Chamonix in France. Like Chamonix, Courmayeur (above and top) is an all-round destination with varied skiing to suit all abilities and some of the best off-piste in the Alps, with itineraries such as the Vallée Blanche and the Toula glacier. And there's affordable heli-skiing, too.
A lot of Italians who come here are keener on eating and shopping on the fashionable high street than skiing, and there's a host of restaurants to fulfill this need, as well as some fabulous boutiques.
Stay in Au Coeur des Neiges, a private enclave housing chalets of different sizes, as well as a spa and bar. Some of the chalets even have private pools. The whole thing is a hybrid of chalet/apartment/hotel, with a choice of shopping online for your order then having it delivered to your door, completely self-catering, or having staff prepare meals for you in your chalet kitchen.
Gateways: Geneva (around 90 minutes), Turin (just under two hours), Milan (just under 2½ hours).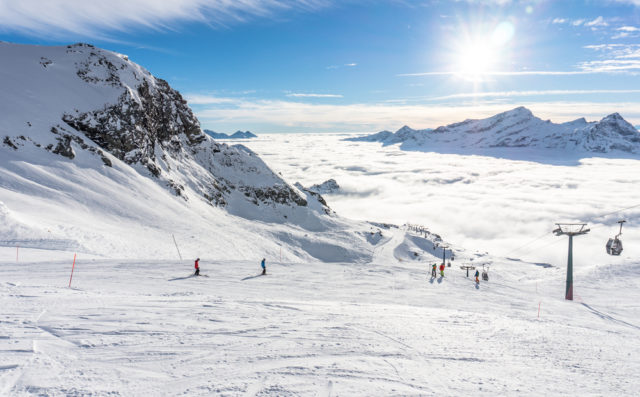 photo | Luciano Fochi
Ski Monte Rosa
Located in an attractive valley, surrounded by forest and ten mountain peaks that rise to over 4,000 metres (13,120 feet), the skiing here at Champoluc is a bit like an Italian version of the Three Valleys in France, but on a smaller scale, less well known, and with prices considerably lower.
Whether you're after family skiing or some nightlife, then Champoluc village itself is the best place to base yourself here – it's the prettiest and also has the best beginner slopes and family facilities. Alagna is where to stay if you're an expert skier or boarder. When the snow conditions are good there's some excellent heli-skiing here.
Stay at Hostellerie de Mascognaz, which is a lovely hideaway – accessible from Champoluc only by snowmobile or a piste machine during the winter. It's decorated with sumptuous fabrics and lovely furniture, with modern bathrooms. The spa has a swimming-pool, and a variety of treatments on offer including massages and hydro mud therapy. Book a stay here with Ski2.
Gateways: Milan (two hours 15 minutes) and Turin (an hour 45 minutes).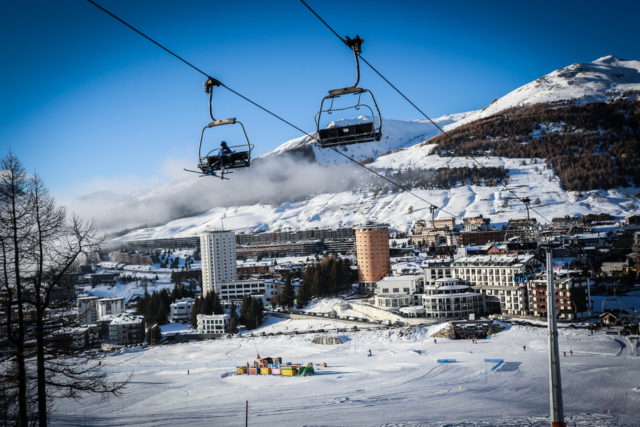 photo | MikeDotta
Ski the Turin Olympic Resorts
Although there is no well-known mountain here, the resorts of the 2006 Winter Olympic Games certainly deserve a mention. Some of Italy's best piste skiing is here in the Vialattea ski area, with the slopes of Sestriere (above), Sansicario, and Sauze d'Oulx linked across the French border to Montgenevre.
During the 1970s and 1980s, Sauze d'Oulx had a reputation as something of a Benidorm-on-snow, with pubs taking precedence over pistes. In the last few years a big change has taken place, and Sauze is now back as the charming – and quieter – Italian village it once was. It has an attractive old quarter at the centre.
As in most Italian resorts, prices in the restaurants are roughly a third of those in the A-list French ski resorts. A favourite of mine, tucked away in the woods, is Ciao Pais, which offers local dishes with some gorgeous antipasti starters. It's open for lunch and in the evening, with seven bedrooms for those who can't manage to ski down after dinner! Also on the slopes is the Michelin-starred restaurant Naskira in Chalet Il Capricorno, which is every bit as chic as a Courchevel restaurant – but without the high prices.
Stay at Grand Hotel Besson in the Old Town. It has a wine bar with live music, a cava for wine tasting, a swimming-pool and spa. Book to stay here with Inghams.
Gateway: Turin (90 minutes).
Felice Hardy is co-editor of the ski information website WeLove2Ski.com.