all photos | Dani Keral
These days, for European travellers, the northern Italian city of Bergamo looms larger as a destination thanks to an increasing number of airlines flying here as an alternative to Milan, an hour to the southeast. And so more people have been discovering the historic core, a thing of rare beauty, of this prosperous city of pop. 119,000) at the foot of Lombardy's Bergamo Alps.

That historic core is the hilltop Città Alta (upper city), as opposed to the Città Bassa (lower city), the busy modern part of town. Reached via funicular, this old quarter was founded as a Celtic settlement and in 49 AD became the Roman town Bergomum. What we see here today – a UNESCO World Heritage Site which is one of the few Italian towns still completely circled by its original mediaeval stone walls – dates largely back to the 16th century. It's anchored by atmospheric Piazza Vecchia, a mix of mediaeval and Renaissance architecture, with its Campanone bell tower (aka Torre Civica), whose bells peal one hundred times every evening at 10; the lovely, white-marble Contarini Fountain; and the 12th-century Palazzo della Ragione. Behind the Palazzo is the Cattedrale di Sant'Alessandro , its current incarnation dating from the mid-15th century and its neoclassical façade from the late 19th, and the Santa María Maggiore basilica, dating back to 1137.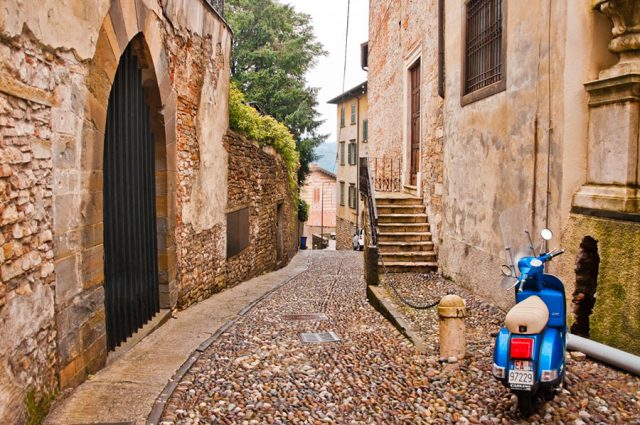 And don't forget a number of interesting museums here, as well, such as an archaeology museum, a science museum, the GAMeC gallery of modern and contemporary art, the five-year-old interactive Museum of the Venetian Age (devoted to the 16th-centuryera of Bergamo's rule by the Venetian Republic), and of course the Gaetano Donizetti Museum, devoted to the 19th-century composer who is perhaps Bergamo's most famous native. Admission to many of these and other local cultural/historic attractions is free or discounted with the purchase of a Bergamo Card.
But even beyond these specific landmarks and attractions, much of the beauty of the Old Bergamo experience resides in simply wandering its labyrinth of narrow, hilly, cobblestone streets, discovering ancient corners and lovely views out over the countryside and mountains. But even up here, there are signs of modernity, especially in the form of street art and buskers; there's even an annual Buskers Festival, held each September. Other high-profile events include the Bergamo Jazz Festival, the Arturo Benedetti Michelangeli International Piano Festival, and the Gaetano Donizetti Music Festival, all hosted at the Donizetti Theatre.
Honouring its past while building a dynamic 21st-century future, that's what this extraordinarily beautiful city is all about. A classic Italian destination not to miss.
More info: VisitBergamo.net.