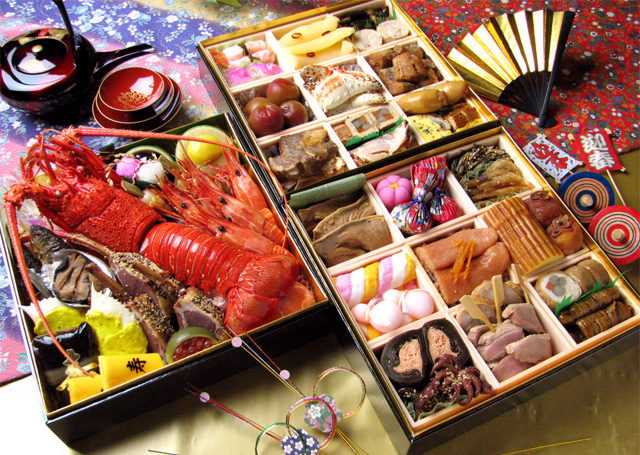 photo | sixgimic/Flickr
by Terri Marshall and Marian Goldberg
Food and eating are central to every holiday celebration, and Japan is no exception. The fresh, seasonal ingredients, precise preparation and the complete visual aesthetic – colour, balance, and design – of traditional Japanese cuisine represent thousands of years of traditions, stories, and symbolism.  But it's not just traditional Japanese food that make this country stand out in the world of gastronomy.  The Japanese are particularly adept at taking foods and traditions from other countries and turning them into something better.
Nowhere is this more evident than in Tokyo, where you'll find every type of cuisine you could ever want – and an improved version of your favorites. This city has the most Michelin-starred restaurants in the world: more than Paris and New York combined!  It's all here – every regional Japanese cuisine, as well as French, Chinese, Russian, Mexican, Thai, superlative steak houses, and more (in fact, one of the best Italian dinners I've ever eaten was in Tokyo, because of the incredibly fresh ingredients, attention to detail, and chefs trained in Italy itself).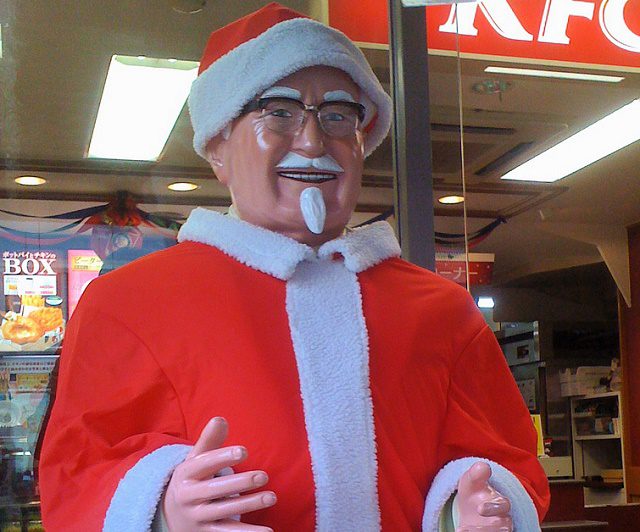 photo | rumpleteaser/Flickr
Bon Appétit and Meri Kurisumasu!
With so many dining options, you'd expect all of Tokyo residents to celebrate the holidays by dining out. But in fact, on Christmas Eve, you'll find many families waiting in line for a bucket of Kentucky Fried Chicken! Capitalizing on the lack of turkey in Japan that caused visitors to seek out fried chicken as an alternative Christmas dinner, KFC launched a brilliant advertising campaign in the 1970s.  As a result, "Saunders Claus" shows up each December and buckets of KFC are in such demand on Christmas Eve that Tokyo residents put in their orders as early as October. KFC's in Tokyo even offer champagne and cake to go with their chicken. Obviously, Japan does KFC better than the USA.
But for couples, if your idea of a romantic Christmas dinner doesn't include a bucket of crispy or original fried chicken, don't worry, top restaurants throughout Tokyo offer Christmas meals serving everything from fancy French courses to an American-style buffet with roast beef, ham, and turkey carving stations.
While Christmas is not a national holiday in Japan (fewer than three percent of Japanese are Christian), it's celebrated with Santa hats, inflatable snowmen, gift giving and beautiful holiday lights and decorations throughout the city – viewed more as a celebration of Western culture than a holiday with religion at its core. And, like any good holiday, dessert is at the center of the festivities. In this case it's the Japanese Christmas cake or kurisumasu kēki.
A sponge cake covered with snowy white whipped cream and adorned with a circle of perfectly shaped red strawberries – colours symbolic of the Japanese flag—the Japanese Christmas cake became popular after World War II.  At that time, the Japanese embraced the ideals of American holiday celebrations as symbols of prosperity – including Santa Claus, Christmas decorations and sugar- and cream-laden cakes.
Although sponge cake had been around in Japan since the 17th century, its primary ingredients – sugar, milk and butter – were only available for the wealthy. With the rebuilding of Japan's economy, those items were more readily available, and the Japanese Christmas cake became a symbol of prosperity. And BTW whether you realise it or not, you've seen this cake: it's an emoji on your smartphone!
You're going to need coffee to go with that cake, and the burgeoning Tokyo coffee culture has you covered. Coffee expert Eiichi Kunitomo believes coffee's proper place is alongside fine dining. Kunitomo launched the hugely popular Tokyo café Omotesando Koffee in 2011 and while that shop location closed, he has since increased his contribution to Tokyo's coffee scene with the opening of Toranomon Koffee in Toranomon Hills and Koffee Mameya in upscale, residential Setagaya. Taking coffee to a higher level, Kunitomo's trained baristas act as sommeliers, matching customer taste preferences with perfect blends and roasts.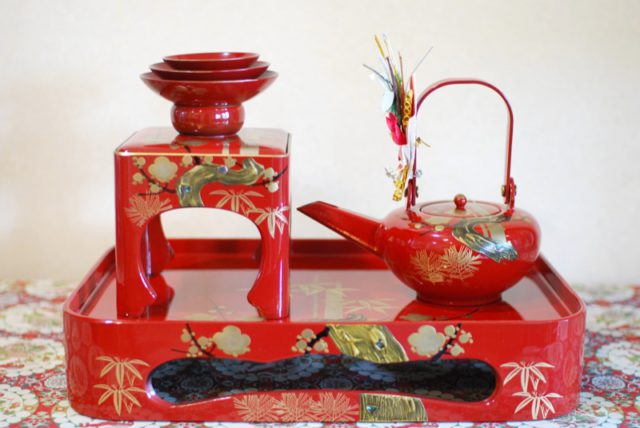 photo | midorisyu
Nipponese New Year's Nibbles & Nips
New Year's, by contrast, has long been the most important holiday for the Japanese, and comes with many traditions dating back a thousand years, including the eating of osechi ryori. Considered the most important meal of the year, it's comprised of an array of colourful dishes, often packed together in boxes called jubako (resembling Bento boxes).  So that families don't have to cook on New Year's Day, osechi ryori is prepared in advance. In fact, pre-made boxes are available everywhere – from convenience stores like 7-Eleven to exclusive department stores to top restaurants. The colours and flavours are rich in symbolism and are believed to bring to those who partake a new year filled with health, prosperity, bountiful harvests, and even children.
Another traditional New Year's specialty is ozoni, a soup containing mochi – boiled sticky rice that is mashed and formed into a white dumpling.  The soup is eaten on New Year's Day in the hopes of ringing in a good year.
The New Year's drink of choice is o-toso (above), warm saké into which a mixture of herbs and spices has been steeped for several hours, including cinnamon, rhubarb, sansho pepper, okkera, and kikyou (platycodi radix). sansho pepper, okera (atractylodis rhizome), and kikyou (platycodi radix). Drinking it with loved ones in ceremonial fashion, first thing on New Year's day, is said to ward off sickness for the entire year ahead, as well as invite peace within the household.
So whether you're visiting Tokyo or other major Japanese cities for the holidays or throughout the year, you can rest assured you will eat well. Anthony Bourdain wrote of Tokyo in his "Parts Unknown" blog: "If I had to eat only in one city for the rest of my life, Tokyo would be it". So what better place for ringing in the new year?
Terri Marshall is an independent journalist specializing in international and domestic travel with a focus on cultural experiences, adventure, multi-generational travel, food & spirits, and expat profiles. She is the "Globetrotting Grandmom" on Travelingmom.com. Marian Goldberg is a travel writer, marketer, and Japan expert who plans value-oriented travel for all budgets.