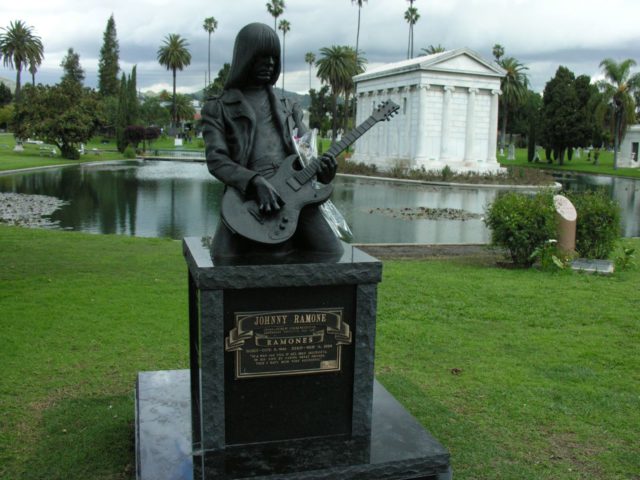 photo | Sean Russell
MGM Studios' motto during its heyday was "more stars than there are in heaven". That studio and that heyday are long gone, of course, but you can still go say hello to those stars of the golden age of Hollywood – plus a lot of the more recent ones – at several of the majestic cemeteries of Los Angeles.
Located up in the Hollywood Hills neighbourhood, this venerable institution celebrated 110 years this year and was California's number-one tourist attraction until Disneyland opened its doors in 1955. And for good reason; past its entrance, featuring the world's largest iron gates, nothing in its manicured landscapes breathes the slightest funereal air. Museum-worthy replicas of Michelangelo sculptures are scattered around stunning trees and glorious gardens, and in addition to the graves there's a museum and historical monuments, murals, and reproductions including the Liberty Bell and an exact replica of Boston's Old North Church.
But it's the celebrity stiffs which most people come to see, and when your check in at the entrance, they ask you without a tinge of irony "who you are here to see", however, they refuse to give you the location of its most famous pantheons, making the whole tour an adventure.
A director could shoot the most spectacular film ever made with the actors who, not coincidentally, chose this graveyard for their resting place. Elizabeth Taylor's monumental shrine, a gigantic angel, is a stone's throw from the modern tomb chosen by Spencer Tracy, who played her father in several films, and the secret location of the tomb of one of her greatest friends, Michael Jackson.
Clark Gable lies next to his greatest love, Carole Lombard, and a few feet away from the producer of his biggest hit, Gone With the Wind, keeping everything between friends.
The love/hate relationship with fame permeates some of the burial choices, from those who rejected it, like Humphrey Bogart, who's in an inaccessible area, to the opposite side of the equation, those whose crypts are inscribed with their autograph instead of their name, such as singer Nat King Cole or actor/producer Alan Ladd.
And even though many fans firmly believe that Walt Disney is still frozen, the undeniable truth is that his ashes are here, in a humble and intimate patio surrounded by mountains which look like the ones in his fairytales. Not far, next to a quaint chapel where Ronald Reagan got married, you can spot James Stewart's grave, with a waving American flag placed by a diehard fan.
Now we head into the heart of the city, wall to wall with Paramount Studios, where this iconic landmark rivals Forest Lawn in stardom per square foot. Founded as Hollywood Cemetery in 1899, by the late 20th century neglect by its owner had left it in utter disrepair, and it was about to shutter in 1998 when a pair of shrewd brothers purchased it for a song and brought back its original splendour, bringing in new clientele from the neighbouring Russian and Armenian communities, which now overflow its grounds (of course, they also turned out to be dodgy; one of the brothers was convicted in 2013 of embezzling proceeds from funerary insurance policies).
Funny business notwithstanding, today Hollywood Forever still makes for a splendid visit, with chock-a-block obelisks and Greek- and Roman-themed pantheons that could perfectly be a backdrop for one of the many epic films directed by Cecil B. deMille, who's buried in the thick of it.
Besides a gasp-inducing view of the famous Hollywood sign, you'll probably feel some degree of déjà-vu when you first enter its gates. The reason is that you've seen it in dozens of films and TV shows (it was prominently featured, for example, in Robert Altman's film The Player.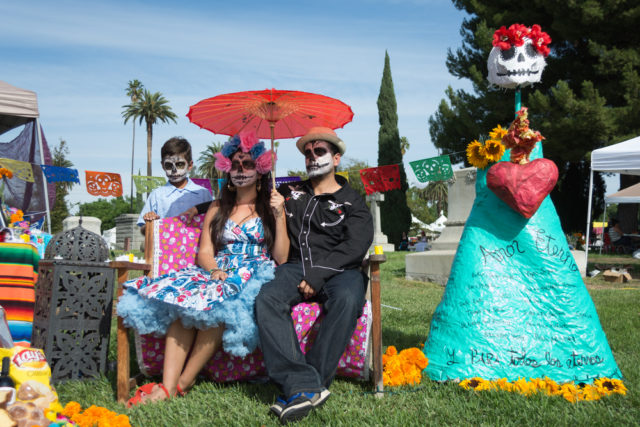 photo | betto rodrigues
On hot summer nights, it hosts outdoor screenings of classic and horror films in its lawns. You can see whole families having a bit macabre picnic next to the graves of Tyrone Power, Mickey Rooney, and the endless fountain dedicated to one of the founders of the film industry, Douglas Fairbanks. Events are regularly held here, too, such as a high-profile late-October observance of Mexico's Day of the Dead.
Its most famous resident, however, is silent-movie legend Rudolph Valentino. Inside a group crypt, his marker always boasts fresh flowers, which used to be delivered by a mysterious lady in black, who's now buried around the corner from him. Some of the other more recent memorials tend to be on the flashier side here, such as that of punk rocker Johnny Ramone (top).
The cemetery has also erected eye-catching monuments for celebrities who are not buried there, from Toto, the mischievous dog from The Wizard of Oz, to Hattie McDaniel, the unforgettable maid from Gone With the Wind. She was denied burial here in the early 1950s because until 1959, cemeteries even in California were segregated by race.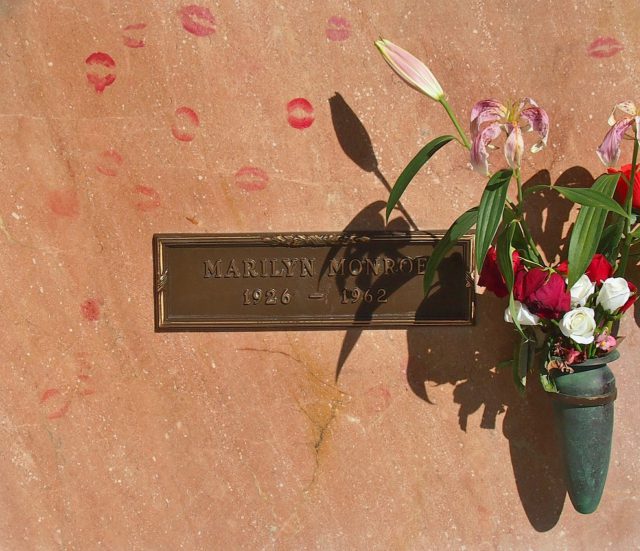 photo | Pixabay
We end our tour in a favorite location for movie buffs around the world, where I take all my guests as soon as they arrive. Hidden behind a multiplex cinema in the eponynous Westwood neighbourhood, minutes away from UCLA, this tiny but impressive cemetery first became famous in 1962, when baseball great Joe DiMaggio chose to bury his ex-wife, Marilyn Monroe, there, making it an overnight sensation and tourist magnet.
In a short stroll you stumble upon the small receptacle containing Burt Lancaster's ashes, very close to singer Dean Martin and actress Natalie Wood's, where her devoted fans constantly leave coins as mementos.
In a new garden area, Farrah Fawcett looks up from her resting place to the terrace of the apartment where she spent her last years. Next to her, two of the biggest names in classic American comedy, Jack Lemmon and his favorite director, Billy Wilder, have the last laugh.  Lemmon's tombstone says, "Jack Lemmon in", as if he is about to star in his next film. Wilder's says "I'm a writer but then nobody's perfect", bringing to life the last line form his film Some Like It Hot.
But back to Marilyn, the current (and disarmingly simple) grave marker has to be the fifth or sixth installed, because her admirers pry it open and they smother it with lipstick kisses and flowers. Playboy's founder Hugh Heffner, who made her a sex icon around the world by putting her on the cover of his magazine's first issue, has bought the space next to hers for $75,000. This only confirms that, in death as in life, being close to stardom always comes with a price.
Ignacio Darnaude has worked as a journalist and executive vice president of international marketing at Walt Disney Studios and Sony Pictures. He is presently a film producer and a member of the Academy of Motion Pictures Arts and Sciences as well as the Spanish Film Academy.