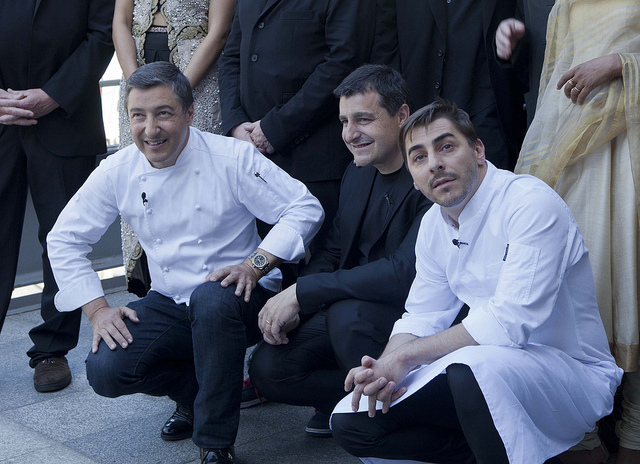 Thanks in large measure to their storied Girona restaurant Celler de Can Roca, considered the best in the world for two years running, the brothers Roca – Jordi, Joan, and Josep – are celebrities in Spain and throughout the foodie universe. And now to mark the restaurant's 30th anniversary, visitors to Barcelona can see a retrospective of their career at the Palau Robert, a former townhouse on the corner of Passeig de Gràcia and Avinguda Diagonal.
Called "From the Earth to the Moon", it lays out the brothers meteoric ascension from a small, working-class neighbourhood on the outskirts of Girona to the heights of world cuisine.
The exhibition's starting point, of course, is the old, family-run Can Roca de Talaià, where it all began, and which still thrives as a neighbourhood hangout as well as an anchor that keeps these high-flying brothers grounded in a certain way. And it travels along the stove-to-stove trajectory of the three brothers and their wildest, most ambitious dreams. Here the exhibition's originality comes into play, including a room is a kaleidoscope projecting hundreds of images of the Rocas and their life story, and three others which include images of vineyards; copies of 31 of their famous recipes; and other more personal odds and ends.
The portrait that emerges is of Joan as the most serious and organised of the brothers; Jordi has a touch of the wild and mischievous; and Josep (Pitu to his friends) is perhaps the most elegant, as well as expert in the world of wine.
The whole setup is frankly a dazzling work of art in itself, an artistic immersion in a culinary world via special effects and virtual reality that includes a visit to the Celler de Can Roca's "Masia Laboratory", where the haute-cuisine magic happens.
But there's also an earthiness and an underlying unpretentiousnes running through it all, as one of the exhibits tells us:
Behind this world of haute cuisine you'll always spot those three boys born in a humble neighbourhood, who have never forgotten where they come from.
"From the Earth to the Moon" is running at the Palau Robert through April 23, 2017.
photo | Ajuntament Barcelona