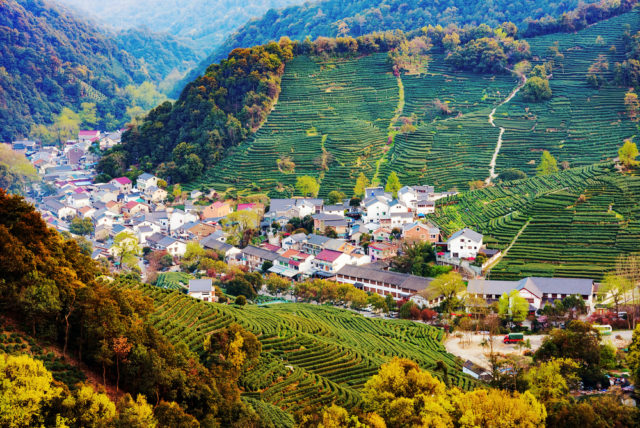 photo | asiastock

China's favourite libation is without a doubt green tea – which, after all, did originate here thousands of years ago. The Chinese have been doing green tea to a T ever since, and some of the Middle Kingdom's best brew can be explored in and around a village two hours from Shanghai.
Located near the city of Hangzhou, Longjing has long been known for its growing, processing, and serving of a distinctive, highly prized local variety of green tea known as Dragon Well, and has for that reason become a popular destination among Chinese from across the country. They come to enjoy this verdant infusion – as well as cuisine based on it – in neighbourhoods such as Mejiawu, home to popular tearooms such as Zhuzhu as well as eateries serving up the likes of shrimp with Dragon Well tea leaves.
Longjin tea culture extends to the lovely green landscapes of the surrounding hills, planted with the stuff, as well as the town's main cultural institution, the China National Tea Museum on one of its high streets, Longjing Road. It's an excellent place to explore all aspects of this plant and its contexts – cultural, social, botanical, and historical – along with no fewer than five on-premises tearooms of its own.
So come to Longjing, and you'll leave, ahem, steeped in one of the foremost icons of Asian culture. Cheers!