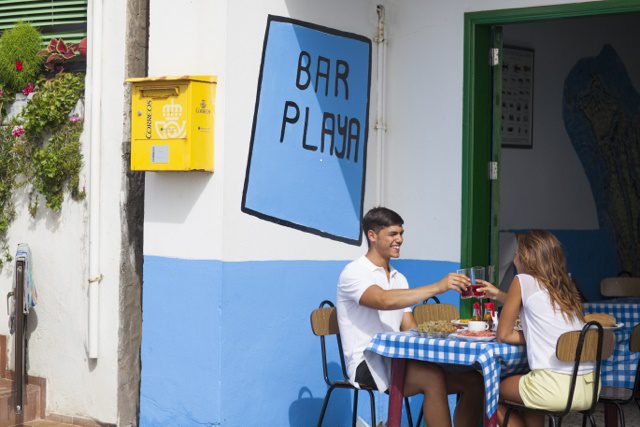 photos |
Picture a "pop-up" restaurant and you might well imagine some kind of shabby-chic hole in the wall opened temporarily in one of London's edgier districts. There's nothing either chic (nor, in many cases, temporary) about Tenerife's guachinches however. These private eateries are usually located in their owners' houses and serve up tasty, homely fare along with an intensely local experience that you'll remember long after you've returned home.
Historically, guachinches were seasonal and had more to do with wine than food – a way of selling the latest vintages and getting ride of surplus during harvest time. They would open for short periods on certain days of the week, with tables set up in country house living rooms and garages, then close for the season once the wine ran out.  They were traditionally adult-only places to visit – all you could drink was vino, with no soft drinks or even beer and coffee.
Nowadays, many still are run on the centuries-old lines outlined above, except that some operate open all year round. They're concentrated in the northwest of the island, stretching from Tacoronte down to Cruz Santa (you can locate some on Google Maps here), though getting to some of the actual establishments can be a bit tricky, given their off-the-beaten path settings and quasi-clandestine feel.
A typical guachinche, offers fare is of the simple variety – a plate of cheese or tomatoes and avocados to share to start with, followed by croquettes/goat and chips, or a hearty puchero (Canarian stew). There are usually no menus, and you get what you're given, which might be an issue for vegetarians and other fussy eaters.
At Pedro el Carpintero in Los Realejos, you'll savour the authentic flavour of Tenerife tradition. The tablecloths are the requisite checkered variety (in this case red and white); the house vino is served in a basic glass rather than fancy stemware; and there's a napkin holder stuffed full of brilliant white paper to mop up all the mess you make. And, boy, is eating at a guachinche a gloriously sloppy affair.
Elsewhere, La Victoria's Casa Pepe opens for this year's season on the 24th November. Check out the antique musical instruments and radios on the wall as you tuck into an assortment which changes on a weekly basis – everything from cheese with figs to chickpeas and meaty hotpots.
At the makeshift Guachinche Los Gomez in the Orotava Valley, the wine comes from the surrounding 30,000 square metres (7 1/2 acres) of land, on which a team of locals pick the ripe grapes during the vendimia (harvest), from the middle of September to early October. Unlike the sunnier south, it can get quite chilly in these northern parts, so you'll appreciate being warmed up by the homemade potaje (broth).
If ever a place name seemed appropriate for the world's least poncey wine bars, it would be Icod de los Vinos, which earned its moniker from vine cultivation which began in the 16th century. Here's which you'll find Casa Hilda, where house specialities include breaded rabbit and watercress stew.
In El Sauzal, a Canarian flag and a sign with an arrow and the word "Guachinche" points you in the direction of Cuesta Los Abales, where the tablecloths are again checked, but this time green and white. Here the owners recycle old Pepsi bottles as receptacles for their celebrated alcoholic vintage.
They make a break with heritage at Casa Germán in Santa Úrsula. Not only are refrescos (soft drinks) available as an alternative to the quarter-litre jugs of wine, but they do desserts, too. In fact, this is really more of a full-service restaurant – there's even a menu, and one which includes a particularly tasty a vegetarian-friendly dish, Canarian mushrooms stuffed with cheese.
Matthew Hirtes is the only broadsheet journalist living on Gran Canaria. He's covered the Canary Islands and beyond for the likes of The Huffington Post and the Telegraph Travel section. His Going Local in Gran Canaria is as much relocation manual as travel guide