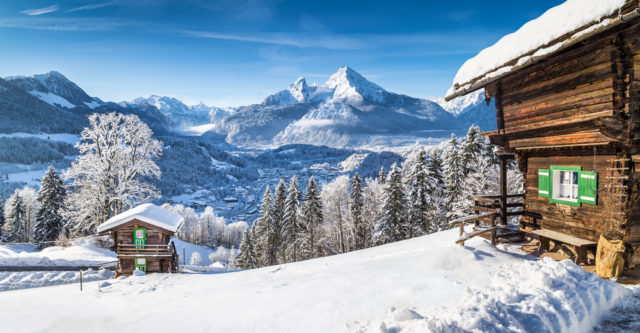 photo | canadastock
Most skiers and snowboarders don't associate Germany with skiing. But in fact there are no fewer than 293 ski resorts in Germany. Almost half are in Bavaria, including Garmisch-Partenkirchen, the only one of true international acclaim.
Outside Bavaria, Germany's other winter sport spots are in places like the Harz Mountains and the Black Forest. They're small and can't really be compared with the resorts of the Alps, but many are a good option if you happen to be in the area.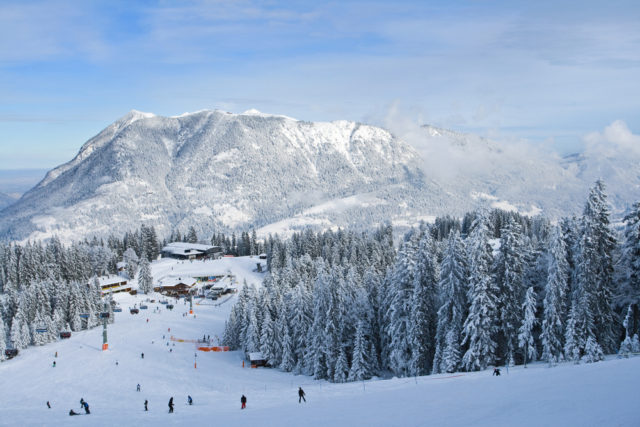 photo | n. yanchuk
This famous southeastern region is located partly in the Alps and is Germany's best region for skiing, along with having its own distinctive cuisine and culture. This includes pretzels (invented here) and at least six varieties of würst (sausage) with Bavarian sweet mustard, Knödel (dumplings), and Leberkäse (liver meatloaf). You wash all this down with some fine red and white wine from Franconia in the northwest of the state, or with steins of Weissbier and Pils – beer drinking in Bavaria is an art form, as demonstrated annually at Munich's Oktoberfest.
Bavaria borders Austria, Czechia, and Switzerland on the other side of Lake Constance. The area has pretty scenery, as well as some delightful villages and good spas. The pistes are generally quiet wherever you go, and lower down are cross-country trails winding through the forest and around the lakes.
You can visit some of Bavaria's famous sights, including Munich, Berchtesgaden, and the lakes of Königsee and Chiemsee. The region's also convenient for crossing the frontier into Austria for a day trip to the beautiful city of Salzburg at one end and Innsbruck at the other.
A few Bavarian resorts worth visiting:
At 708 metres (2,325 feet), this charming little city has a quaint railway running alongside the cross-country tracks, making it perfect for those seeking a city break-cum-skiing holiday. There's lots of history here dating back to Roman times, but it was Adolf Hitler who declared that the two towns should join forces for the 1936 Winter Olympics – which was the first to include alpine skiing. Somewhat alarmingly, some infrastructure, including the Olympic stadium and ski jumps, have barely changed in the 80 years since.
Garmisch Classic
One of the drawbacks of the 60 kilometres (36 miles) of skiing here today is that the various areas are fragmented. The nearest, Kreuzeck-Hausberg, is at the far end of town. If you're based in the centre, you can access it by train from the Zugspitze station; if you're staying outside the town you can also begin skiing farther along the railway line at the village of Kreuzeck.
There are 17 lifts here, reaching a top height of 2,050 m (6,725 ft) at Osterfelderkopf, with the tree-lined slopes connecting Hausberg and Kreuzeck. Up the mountain is a choice of a dozen mountain restaurants.
Garmisch-Partenkirchen was the venue for the Alpine Skiing World Championships in 2011. The lifts were upgraded for the occasion – including the building of the Kandahar Express – and the three-km (two-mi.) Kandahar downhill run was remodelled. There are five runs equipped with snow-cannons, so provided the weather is cold, you can ski all the way down to 700 m (2,300 ft.).
Farther along the railway track is Eibsee, where you can take a cog railway followed by a cable-car up to the Zugspitze at 2,962 m. (9,720 ft.) the highest mountain in Germany, and home to three glaciers.
There are 20 km (more than 12 mi.) of piste here; two toboggan runs; Germany's highest church; an igloo village sleeping 50 people; and two mountain restaurants – but it's worth remembering that although it is fairly close, it is not actually connected to the rest of the skiing at Garmisch. It is, however, connected to Ehrwald in Austria – by a challenging off-piste descent accompanied by a guide.
Um, just to clear this up, it's pronounced "vahnk". Anyhow, also close to Garmisch, this is a popular day trip destination, with a gondola rising to 1780 m (5,840 ft.). Here you'll find some delightful winter walks between the top lift station and Wankhaus, or you can try snowshoeing around the plateau at the summit.
During the Christmas and Fasching/Carnival week (mid-February) a 200-m (656-ft.), groomed toboggan run is open with a run that descends from the top station towards Rosswank and the valley.
Stay: Family-run Hotel Staudacherhof in Garmisch-Partnerkirchen has an excellent spa and a restaurant serving gourmet and 'Bayurvedic cuisine' (a Bavarian-Ayurvedic hybrid, if you can picture that). Airport: Munich 90 minutes.
Germany's most southernmost village rivals Garmisch-Partenkirchen as the country's top ski resort. It's a cosmopolitan place with much more than its 128 km (80 mi.) of alpine skiing – it has 76 km (47 mi.) of cross-country trails and hosts international ski-jumping competitions.
The compact town is located between Munich, Stuttgart, and Lake Konstanz. The skiing itself is extensive for Germany, and is split into three areas. The main one is the Fellhorn/Kleinwalsertal, a few kilometres out of town. Here the pistes start from a high bowl on the German side and continue into Austria. The closer, but smaller, area is Nebelhorn, which is reached by cable-car on the outskirts of the town.
Stay: Hotel Alpenhof is a family-run four star with a pool. Airports: Innsbruck two hours 15 minutes, Munich two hours, Stuttgart 2½ hours
A pretty village in the foothills of the Chiemgau Alps of southeast Bavaria, it has three ski areas, of which Unterberg is the one for complete beginners. Winklmoos and Steinplatte are a short bus-ride away, and stretch across the border to Austria. A modern gondola accesses the ski area and a chair lift connects Winklmoos with Steinplatte. The linked area has 12 lifts and 44 km (27 mi.) of mainly gentle runs.
Cross-country skiers have tracks to follow through the forest and along the lakeshore. There are three museums and the Olympic Biathlon Stadium in Ruhpolding, along with activities like snowshoeing, fat-biking, an indoor ice rink, and winter horse riding.
Stay: Hotel Steinbach or Alpenhotel Wittlesbach with Crystal Ski. Airports: Munich an hour 20 minutes, Innsbruck an hour 40 minutes, Salzburg 40 minutes.
A main town with half a dozen outlying villages, each with four or five lifts, it offers cross-country skiing at Aschauerweiher against the backdrop of Mount Watzmann, Germany's third highest mountain.
However, the area is better known for a more sinister reason. The Eagle's Nest, today a summer mountain restaurant, was constructed as a teahouse by Martin Bormann and given to Hitler on his 50th birthday. Hitler had holidayed in Berchtesgaden since the 1920s and owned a house above the town. More happily, the opening and closing scenes of The Sound of Music were also filmed in the area.
Stay: Three-star Hotel Bavaria is a short walk from the old town and known for its excellent breakfasts. Airports: Munich an hour 50 minutes, Salzburg 35 minutes.
photo | Dirk Schmidt
Beyond Bavaria, skiing and snowboarding are less distinguished, with mountains that are a lot lower and ski areas much smaller. Food-wise, the local venison is a favourite in these mountains. The other speciality from this low mountain range is Harz cheese, made from curdled milk and one of the oldest types of cheese. Some 75 percent of all Germany's curdled milk cheeses are produced here.
The Brothers Grimm collected together their stories from various places, primarily to the west of the Harz Mountains. The area has long been an important source of German folklore, and is the site of Hansel and Gretel's forest.
It may not be the Alps, but these moderate mountains offer some well-maintained slopes, modern snowmaking, affordable prices, and are ideal for beginners or for a day trip if you happen to be staying nearby.
There are 14 km (8½ mi.) of slopes and six lifts at Wurmberg, the area's leading resort. The Hexenritt black and red pistes from the Wurmberg-Alm restaurant at the summit are reached via a new four-seat chair lift.
Snow tubing is popular here, with a dedicated slope and lift on Mount Wurmberg (the highest in Lower Saxony). The area also has a ski school, ski jump, ski rental shops, and the FIS Ski Museum, which is recognised by the International Ski Federation. The Braunlage winter sports club has been active here since 1892.
Stay: Relexa Hotel at the foot of Mount Wurmberg in Braunlage. Airport: Hannover an hour 40 minutes.
photo | jeses
The northern and central Schwarzwald (Black Forest) tends to be better for cross-country rather than alpine skiing, at resorts such as Schönwald, Schonach, St. Georgen, Triberg, and Furtwangen. The slightly higher and steeper mountains are to found in the southern Black Forest, making them more suitable for downhill skiing. The highest peak here is Feldberg Mountain at 1,493 m (4,900 ft.).
The Black Forest lift pass covers some 140 ski lifts and about 250 km (155 mi.) of groomed slopes between Schonach in the central Black Forest and Höchenschwand to the south. Schonach itself is 50 km (31 mi.) southwest of Offenburg, and lies at an altitude of between 700 to 1,155 m (2,300-3,790 ft.). The resort hosts the annual Schwarzwaldpokal, part of the Nordic Combined World Cup. In 1981 and 2002 it hosted the Nordic Junior World Ski Championships. However, Schonach's biggest claim to fame is as the home to two of the world's largest cuckoo clocks – on the biggest one the bird alone is 4.2 m (14 ft.) long and weighs 150 kilos (330 pounds).
Stay: BergHotel Schiller in Schonach im Schwarzwald has skiing on the doorstep. Airports: Stuttgart an hour 40 minutes, Zurich an hour 50 minutes, Frankfurt three hours.
So if you're after a small, fun resort for a day or weekend visit, why not try Germany? You'll be sure to benefit from typical German efficiency and hospitality, as well as some hearty cuisine and lovely scenery.
Felice Hardy is co-editor of the ski information website WeLove2Ski.com.