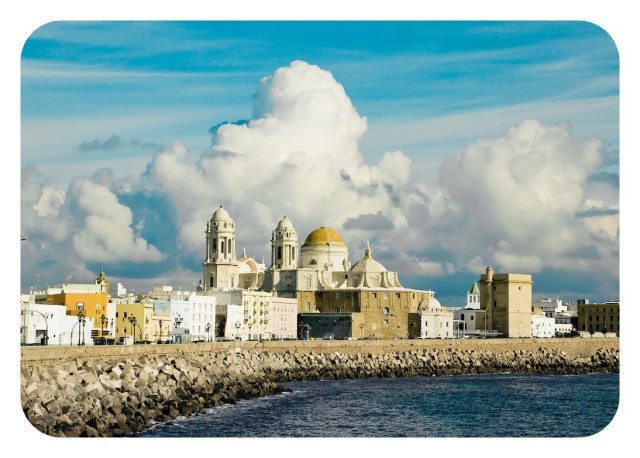 photo | Hernán Piñera
And so, slowly, Woman 10 emerges from the shining waters, as if in slow motion, revealing the relativity of time. Like a muse of the "painter of light," Sorolla, bathed in the sun's rays where the Mediterranean meets the Atlantic, calm and temptuousness, warmth and vigour.

[Scene ends]
We're convinced that you really, really need a holiday in the sunsplashed Andalusian province of Cádiz, with its graceful eponymous capital city and nearby Jerez de la Frontera. But not for the obvious reasons – or at least not just for the obvious reasons. We're talking about its wild beaches; its undulating dunes; its enchanting string of towns and villages, especially the white hill towns; its world-famous sherry and port wineries. And the people here, called gaditanos, are known for their grace and humour. But in addition to a delight for visitors – who might sometimes feel like they're on a movie set – Cádiz sometimes becomes an actual movie set, as it has proved to be catnip for filmmakers over the years.
A perfect case in point is the 2002 James Bond flick Die Another Day, when Agent 007 (then played by Pierce Brosnan) did his dashing thing on the streets of Cádiz city. During the location shoot, by the way, Brosnan stayed at the Palacio Veedor, at Old Town's Calle Veedor 3, a grandiose 18th-century affair which back in the day an abode of among other worthies was home to the Britain's Duke of Wellington during the 1807-1814 Peninsular War against Napoleon Bonaparte. Fancy digs, indeed!
Then of course there was the big moment from that same movie – in a scene supposed to be set in Cuba – when Halle Berry emerges like Venus in her orange bikini and white belt. Just a half hour's drive from the capital city, it was shot at dreamy La Caleta beach – just as luscious in its own way as the Oscar-winner herself.
The city itself also subbed for Cuba – for example, the lovely Campo del Sur for Havana's waterfront Malecón, and the picturesque, 17th-century Santa Catalina Castle (Calle Campo de las Balas 5A) as well as the 1920s Spa of Nuestra Señora de la Palma y del Real playing a hotel and bar.
Offscreen, this castle and the surrounding area host an attractive and lively scene – great for strolling, taking in some live music, and checking out the regularly staged exhibitions and special events. And by the way, speaking of special events and of cinema, Cádiz and the movies are no new phenomenon or flash in the pan. One of the big annual events in town is the Alcances Film Festival, a prestigious international documentary festival holding its 48th edition here this very week.
The small and large pleasures of Cádiz are too numerous to mention, but I'll just close with three of my favourites: a delicious shrimp omelette in the charming typical restaurant El Faro (Calle San Félix 15); some more contemporary fare like octopus with potato foam at five-year-old Código de Barra (Plaza Candelaria 12); and of course a half-hour drive over to Jerez for sherry tasting at historic Williams & Humbert bodegas, Europe's largest.
However you write your own script in Cádiz, it's sure to be a boffo hit!