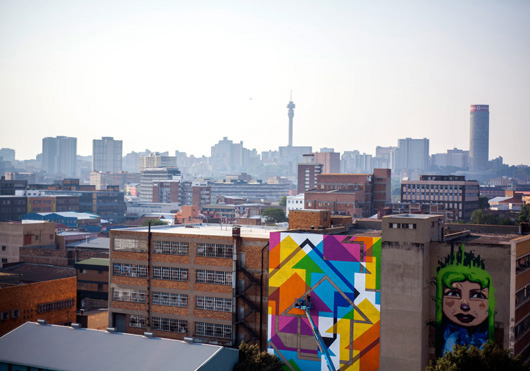 photo | City of Gold Festival
Visiting South Africa's biggest, most bustling city, there's so much to draw you in besides the standard "sightseeing". It's a hotbed of urban artists, as well as hybrid architecture and history of districts such as Jeppestown, that make Johannesburg one of this vast continent's most colourful and diverse destinations.
The artistic soul that permeates many of Jo'burg's urban precincts has been given a huge boost in recent years by the City of Gold Festival, held every October. In 2015, the biggest splash was by the international street artist ABOVE (né Tavar Zawacki, of San Francisco, California). Though these days largely based in Berlin, this 35-year-old's voice has for some years been echoing in the streets here, as well, with a tone always attuned to the social and political context of his work. Last year ABOVE created created a 400-square-metre (4,300-sq.-foot) mural (top) in the middle of outlying Jeppestown, clearly noticeable from a distance, and unforgettable, with its dramatic arrows pointing to the sky (the artist's signature shapes) enticing viewers to dream about vivid colours and dynamic movement.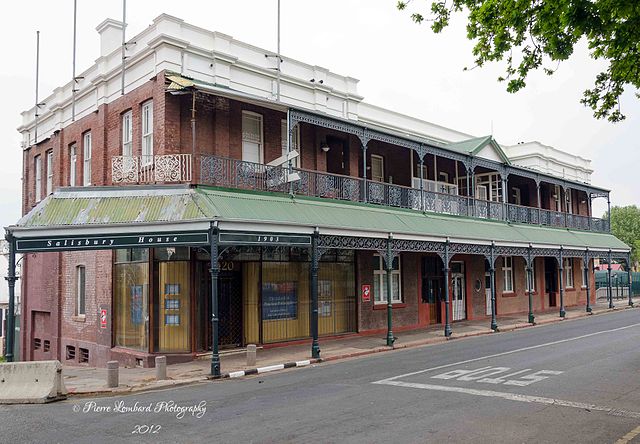 photo | Wildeside57/Wikipedia 
Shaped on the map like a crooked bottle, Johannesburg's oldest suburb (1889), a working-class affair located east of the Central Business District, is certainly on the gritty side, but fascinating – well worth worth spending a few hours to amble around. Victorian and Edwardian buildings – some with impressively decorated roofs, are particularly notable. A good example is Salisbury House (above), currently home to a school for holistic techniques; the stern and formal looking Jooste & Bryant building with some characteristic outside railings; or the even more distinguished Osborne Pharmacy, considered one of the top hundred architectural landmarks in Jozi (as Johannesburg is also fondly dubbed by locals).
The local market is also a must. Outiside the Jeppe Railway Station, it's a veritable kaledoscope of colours, from the artistic graffitti adorning its walls to the produce and other products sold in it; especially notable are the folk medicine shops where you can find a cure to what ails you – or simply some fantastic learnng and photo opportunities.
Need to refuel out here? Check out the House of Baobab at 21 Kruger Street, where yummy treats can be had from across sub-Saharan Africa – a Senegal snack here, a cup of the Congo there. A savoury accompaniment to a savoury slice of Jozi.
More information: JoburgTourism.com.