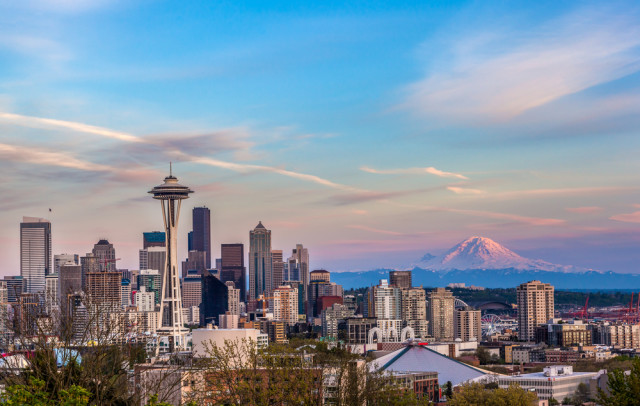 photo |  kan_khampanya
When I was growing up in New York in the 1970s, I had this lovely image of the capital of our country's Pacific Northwest region, thanks to a teen idol whose music my kid sister would play incessantly for a while there. Every day one summer, it was toothy Bobby Sherman catchily belting out:
The bluest skies you've ever seen in Seattle,
And the hills the greenest green in Seattle…
And just those simple, oft repeated phrases fixed this city's image in my imagination as an appealing place of eternal freshness – and over the years the more I heard, the more I liked. When I finally got to experience the USA's fastest growing city in person (pop. 609,000, metro area 3.7 million), I found it to be delightful in terms not just of freshness – a temperate climate and a setting amid the, yes, verdant hills along Puget Sound, surrounded by evergreen forests and the Olympic and Cascade mountains – but a progressive, dynamic feel and a Seattle slew of cool attractions; museums; architecture both cutting edge and historic; and hot dining, nightlife, and cultural scenes.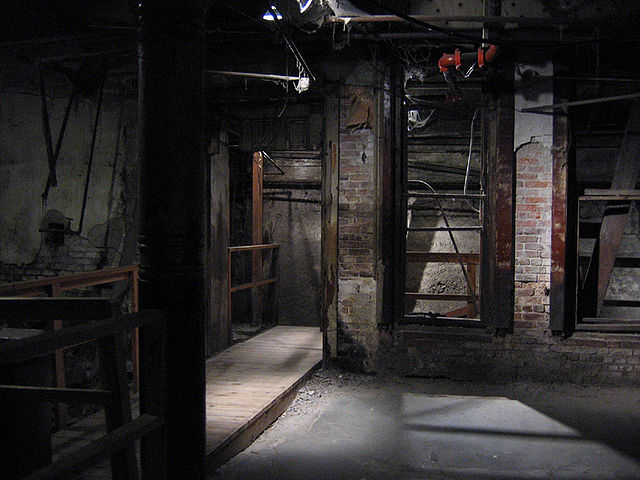 photo | Admrboltz
No better place to start exploring than downtown's Pioneer Square. It's the site of the original settlement in the 1850s, but much of the neo-Renaissance architecture we see today dates from the 1890s, after the mostly wooden original buildings were destroyed by the Great Seattle Fire of 1889. It's a great place to explore also because of its galleries, eateries, and boutique shops, but my favourite part here (and indeed, one of the most unusual attractions in the entire country) is Underground Seattle – a warren of former shops, rooms, and passageways (above) dating back to the founding era and the Gold Rush that were actually at ground level back then, but cover over in the post-fire rebuilding. Some say it's haunted down here – I don't know about that, but it sure is spooky-cool.
Not far away down on the waterfront, Seattle's most famous draws is Pike Place Market, overlooking the bay, which in 2017 marks 110 years operating as one of the USA's oldest public markets. Its central attraction is the fishmongers, who delight visitors by tossing their wares to each other (below) – but its various levels also include eateries, produce stands, crafts and collectibles vendors, and more.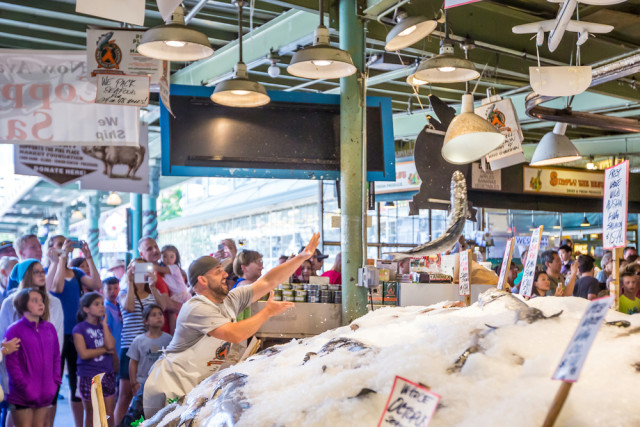 photo |  f11photo
Elsewhere downtown, check out Dutch starchitect Rem Koolhaas' cutting-edge architecture at the Central Public Library (you can even take a cell phone tour!) and art institutions such as the Seattle Art Museum (modern and Old Masters, back to ancient times, and featuring a cool collection of Aboriginal Australian art), Seattle Asian Art Museum, and Olympic Sculpture Park.
South of downtown, Chinatown-International District is also a colourful and tasty place to explore the Asian-American culture which has been so much a part of the city's fabric for generation. And down on the waterfront, the piers are packed with more eateries and shops – even a Ferris wheel – and is also home to a very cool and innovative aquarium.
Then of course there's the Space Needle – which as you can see from the photo at top is an iconic part of the city skyline. A quick hop north of downtown via taxi or public transport (including a metro rail!), the site of the 1962 World's Fair is now home to a bevy of museums and attractions, besides the 184-metre (605-foot) Needle with its observation deck and revolving restaurant offering of course some remarkable panoramas over the city and surrounding hills and peninsula. The 20-spout International Fountain is a favourite here, but so is the pop culture museum officially known as the Experience Music Project and Science Fiction Museum and Hall of Fame, in suitably futuristic digs designed by Frank Gehry. Another is the Pacific Science Center, an outstanding example of the genre including with IMAX theatres and a planetarium. And since 2012 you can also get an eyeful of the colourful work of Washington State's own famous glass artist Dale Chihuly, in a dedicated museum.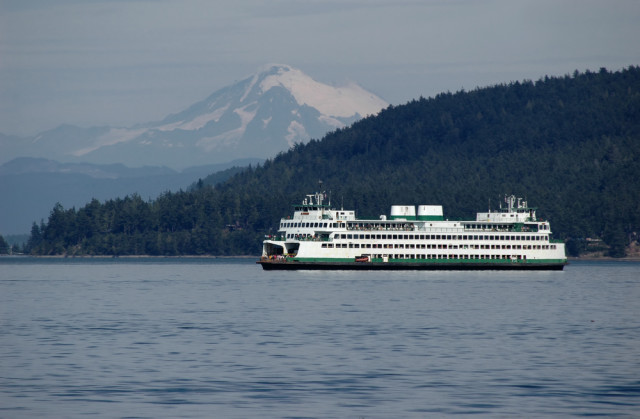 photo | Eugene Kalenkovich
Beyond all that, there's also plenty to do surrounding Seattle, on day trips and overnighters, starting with taking ferries across the Puget Sound out to the idyllic islands like Bainbridge and peninsula shore towns such as Port Orchard. And particularly in the context of an airline blog, it behooves me to mention some aviation landmarks. This area is of course the headquarters of Boeing, and a half hour north of the city in the town of Mukiteo the company operates the The Future of Flight Aviation Center & Boeing Tour, including interactive exhibits, a flight simulator, a design simulator, and 90-minute tours of the jet manufacturing plant right next door. Meanwhile, 20 minutes by car and 40 by bus south of downtown, another aviation geek playground is the Museum of Flight, right alongside the county airport. The world's largest air and space museum, it includes more than 150 aircraft both civilian and military.
And indeed, it's no exagerration to say your imagination will truly take wing in Seattle – rain or shine!
More information: VisitSeattle.org.
Best fares to Seattle from the UK, from Spain.